FREQUENTLY ASKED QUESTIONS:
What is a Chapter?
By definition, a chapter is a local branch of an organization, and in this case a Chapter of Magnificat is a local branch of the international Magnificat organization. Each local Chapter is under the vigilance and jurisdiction of the bishop in whose diocese it operates.
How does a Chapter begin and operate?
Contact the Magnificat Central Office to receive step by step instructions. (See Contact Us Section)
What is the make-up of a Chapter?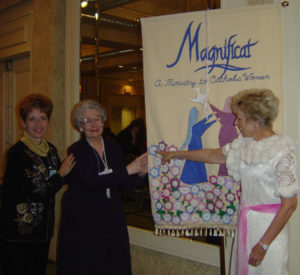 The following groups of people are essential to initiate and carry out the Chapter business:
Service Team: Five women willing to assume responsibility for administration of the Chapter and remain faithful to the purposes of Magnificat.
Spiritual Advisor: A person approved by the local ecclesiastical authority of the Roman Catholic Church willing to be the liaison for Magnificat to the local Church.
Other areas of responsibility: individuals needed to serve in tasks necessary for the Magnificat Meal such as publicity, ticket sales, hospitality, decorations and music.