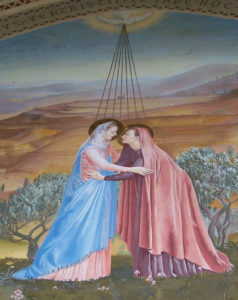 Magnificat, A Ministry to Catholic Women is a private association of the Christian faithful under the jurisdiction of the local ordinary. (Canon 305.2) Its purpose is to help Catholic women to open more and more to the Holy Spirit through a deeper commitment of their lives to Jesus as Lord and to impart the Holy Spirit to one another by their love, service and sharing the good news of salvation. It thus provides opportunities which will foster a desire to grow in holiness.
Why Magnificat?
Magnificat (pronounced Mag-nif-e-cot) is the verb in the Latin phrase "Magnificat anima mea Dominum" — "My Soul magnifies the Lord."
These words recorded in Luke 1:46 are the beginning of Mary's response to Elizabeth's joyful greeting. The entire scene of the Visitation is the inspiration for this ministry, which adopts the name of Mary's hymn of praise and the spirit of this Biblical encounter as its own. Following the example of Mary and Elizabeth, this woman-to-woman ministry within the Roman Catholic Church, attempts to generate a lively faith in God and His action in our lives along with a love for Mary and the Church.
What Does Magnificat Do?
We seek to minister to Catholic women by:
• sponsoring Magnificat Prayer Meals throughout the year, and
• providing other opportunities for spiritual growth, such as retreats, Bible Studies, Life in the Spirit seminars, and Intercessory  Prayer Groups.
Magnificat Sisters at EWTN