"Magnificat Proclaims"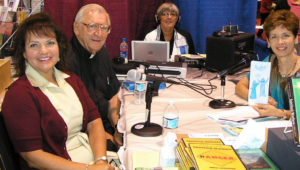 "A city set on a Mountain cannot be hidden. Nor do they light a lamp and then put it under a bushel basket; it is set on a lamp-stand where it gives light to all in the house. Just so, your light must shine before others, that they may see your good deeds and glorify your heavenly Father."  (Matthew 5:14-16)
Within our chapters, we were keeping a treasure trove of life changing witness talks under a bushel basket. Over the years, these personal testimonies have been tremendous sources of inspiration and motivation for our Magnificat prayer meal attendees.
In 2007, we felt a prompting from the Holy Spirit to place Magnificat's light upon a lamp-stand! The Magnificat Central Service Team in conjunction with Magnificat Chapters and guest speakers embarked on a journey to share these talks with a broader audience of women around the world. This endeavor brought us into collaboration with St Joseph Radio and Eternal Word Television Network (EWTN) Global  Catholic Radio in the production and airing of these talks with the series entitled "Magnificat Proclaims".
This "Magnificat Proclaims" series is now being broadcast over EWTN  Global Catholic Radio throughout the United States (US) on Sirius Satellite Radio and on EWTN Short Wave Radio (WEWN) to all English speaking countries. Hundreds of Catholic Radio Affiliates throughout the US are enthusiastically broadcasting this show as the "Radio Classics" program airing at 1PM Eastern Standard Time. One can also access the programming through EWTN's website on the Internet (www.ewtn.com). Once on the EWTN website, click on Radio Classics, scroll down to Magnificat Proclaims and then Listen Live.
CD's of these powerful programs can be obtained from St Joseph Radio by emailing Lu Cortese at lcortese@saintjosephradio.net or by contacting St Joseph Radio by telephone at 1-855-447-6000. If you prefer to write, the address is:
St. Joseph Radio
1985 Bluestone Dr. #101
St. Charles, MO 63303
Theme music for our programs is generously provided by singer, songwriter and Magnificat SE Regional Chapter Member, Elyse O'Kane. For more information about Elyse and her music, please visit her website: www.elyseokane.com.