The Magnificat Prayer Booklet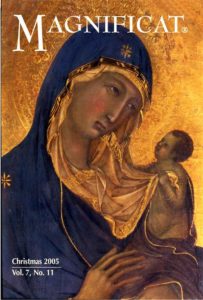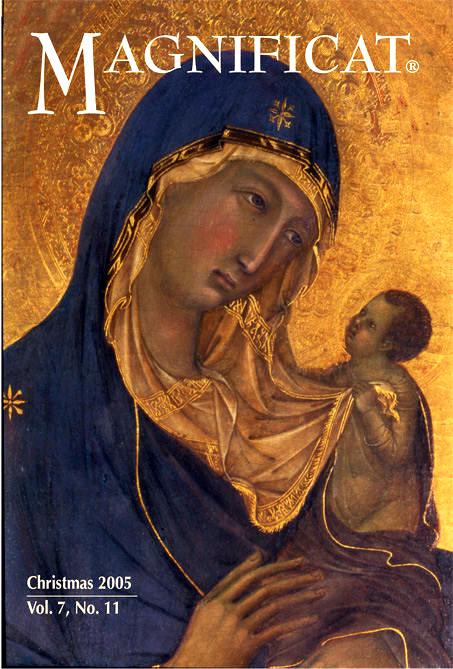 Our ministry has given the publication written permission to use our trademark name, Magnificat. As a result, the ministry financially benefits from each paid subscription. We feel this is one of those win-win situations for everyone.
Magnificat, the monthly Catholic prayer booklet and worship guide is a lavishly printed, pocket-sized worship aid designed to help you:
1) develop your prayer and spiritual life;
2) find a way to a more profound love for Our Blessed Savior; and
3) participate in the holy Mass with greater fervor.
It features beautiful prayers for both morning and evening, patterned after the treasures of the Liturgy of the Hours, and it contains the official texts of the daily Mass. It also has meditations written by the renowned Fathers of the Church, and a great variety of spiritual writings with essays on the lives of the saints of today and the past. In each Magnificat, you will also find an article giving valuable spiritual insight into a masterpiece of sacred art.
An annual subscription has fourteen issues — one for each month plus special issues for Holy Week and Christmas. If you are not already enjoying your subscription to Magnificat, we encourage you to treat yourself to this monthly liturgical prayer book filled with much to ponder on the spiritual journey. Please don't forget to share this information with your family, friends, parish and ministries.
Click here to subscribe or for more information.
MAGNIFICAT Prayer Booklet — COVID-19 Special Announcement 
Dear MAGNIFICAT Family,
During this difficult time, many of the faithful may be unable to attend Mass. To help them sanctify their day and to keep walking in the liturgical rhythm of the Church, we are honored to make our online version of MAGNIFICAT temporarily available to everyone for free.
Sincerely,
Romaine Lize
President
Please help us spread this message and share this email and link :
www.magnificat.com/free with as many people as you can.
Free temporary access is also available in Spanish : www.magnificat.com/gratis