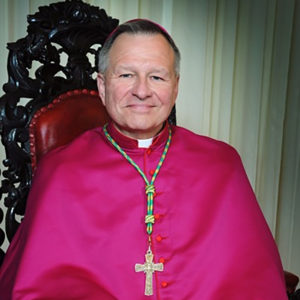 Magnificat, A Ministry to Catholic Women, began on October 7, 1981 with the encouragement of the late Bishop Stanley Ott, and the late Archbishop Philip Hannan of the Archdiocese of New Orleans. Magnificat is canonically rooted in the Church as a private association of the Christian faithful under the jurisdiction of the local ordinary. (Canon 305.2)
We are grateful that our current shepherd, Archbishop Gregory Aymond, continues to support and encourage the work of Magnificat as did his predecessors. We are pleased to share a letter with you from him expressing his appreciation for the Ministry.
Archbishop Aymond's Letter to Magnificat 12/10/12
See Archbishop Aymond's video below.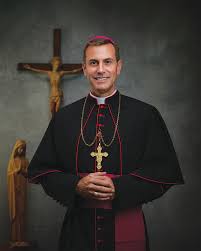 Magnificat has been very blessed to have wonderful Spiritual Advisors since its inception. Many of you fondly remember Fr. Harold Cohen, SJ and Fr. Kevin Scallon, CM. Both of these holy men provided tremendous guidance to the Ministry and touched many hearts. We will always be eternally indebted to their selflessness and generosity. We now have powerful intercessors for this beautiful Ministry.
After much prayer upon the resignation of Fr. Kevin Scallon, the CST invited Msgr. David Toups, Rector and President of St. Vincent De Paul Seminary in Boynton Beach, FL. to be our new Spiritual Advisor. We were delighted he accepted our invitation!  He assumed this role on October 5, 2017 at the opening of the Magnificat International Leaders' Conference held in Anaheim, CA.
Much to our delight, on June 9, 2020, Pope Francis appointed him to be the sixth Bishop of the Diocese of Beaumont, Texas. We are so grateful to have such a wonderful, spirit-filled shepherd to guide us. Thanks be to God!
He always tells us siempre adelante, nunca atrás – let us always move forward, never back!
Click below to read the inspiring letter that Monsignor (now Bishop) addressed to the Ministry.
Monsignor Toups Letter to Magnificat 2/11/2020
Bishops around the world are in full support of the Magnificat Ministry. Check out the list of dioceses. Our Clergy Support Magnificat!
Bishop Sam Jacobs shares his knowledge of Magnificat, a Ministry to Catholic Women