Welcome from Vancouver, British Columbia, Canada!
We welcome you to the webpage of the Our Lady of Guadalupe Chapter in Vancouver, BC-Canada. These are exciting times that we live in and Magnificat was begun in 1981 for such a time as this. There are now over 100 chapters throughout the United States and its territories and in many foreign countries.
---
You are invited to a Prayer Breakfast
Sponsored by Our Lady of Guadalupe Chapter
October 5, 2019
*Time Change*  930Am to 12:30 Pm
Doors open at 9:00am for open seating. Please arrive early.
Location:
John Paul II Pastoral Care Center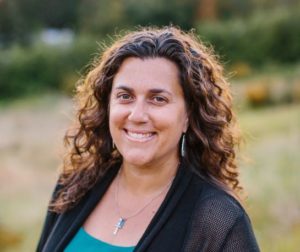 4885 Saint John Paul II Way Vancouver British Columbia
Guest Speaker: Heather Khym
Lamentations 3:22-23
Heather has been serving in ministry for 20 years and passionately shares the Gospel through leading worship, speaking, and a successful podcast called Abiding Together.  She has ministered to a variety of audiences throughout North America with the desire for people to personally encounter Christ. She attended Franciscan University of Steubenville and studied theology with a concentration in catechetics. In 2005, Heather and her husband, Jake, founded Life Restoration, a ministry which seeks to help people become fully alive and experience freedom and restoration in Jesus. Currently, Heather lives in Abbotsford, BC with her husband Jake and their 3 children Maria, Judah, and Evangeline.
---
TICKETS
Secure your reservation early as seating is limited.
Reservation(s) to the Prayer Breakfast are $25.00 and may be obtained from our Reservation Chairwoman, at 604-946-0099
Should you wish to make arrangements to pay by Cash or have any further questions please do not hesitate to contact Angela Timmins at 604.946.0099
Registration is currently open until September 30.
Sorry there are no refunds. Reservations will not be available at the door.
Please use this form for Mail-In Reservations ONLY. Complete the form below (include the names and phone numbers of other guests in your group). Your check will serve as your receipt.
[print-friendly]
$25.00 per person by mail; Registration Form must be postmarked by September 28, 2019 to receive your confirmation. (check or money order only)
Name ________________________________________________
Guest(s) Name ______________________________________________
Address ______________________________________________
City ___________________________ Province ______ Postal Code __________
Phone # ____________________
Email (Please print clearly) ______________________________
Enclosed is $ ________________ for _______________ Number of Reservations.
Please Mail Reservation Form and check for $25 per person, payable to Magnificat Vancouver to:
Vancouver Magnificat
c/o Magnificat Reservations
4816A 48 Ave Delta, BC V4K 1V1
Since the day is designed to speak to the hearts of women, free of distractions, it is respectfully requested that young children not be in attendance
---
UPCOMING MEALS FOR OUR CHAPTER — 2019
Saturday October 5, 2019
Saturday May 2, 2020 to be confirmed
---
ROSARY BLANKET OF PRAYER
Remember our chapter's commitment to Eucharistic Adoration and to pray the Rosary on the 21st of each month for the intentions of Magnificat, Sanctity of Life, Marriage and Family, and World Peace.
---
OUR PRAYER GROUPS
Magnificat Intercessory Prayer Group
Every last Tuesday of the Month (except for December)
(7Pm-8:30Pm)
Sacred Heart Ladner Parish (Library) For More information contact our Intercessory Prayer Chair woman Mary Cormier at 604-946-1137.
Life in the Spirit Seminar
When: Friday September 13 – Friday October 25
Where: Immaculate Conception North Delta
Registration: Lennie David Phone 778-597-8227 email lennieptl@telus.net
---
SERVICE TEAM MEMBERS
Mary Jane Norris, Coordinator
Anna Docherty, Assistant Coordinator
Gloria Taggart, Treasurer
Theresa Dow, Historian
Secretary Angela Timmins
Spiritual Advisor: Deacon Dileep Athaide
---
If you would like to help with a Ministry of Magnificat, or if you have a question or comment for our Service Team, or if you would like to be on our Mailing list for future events, please contact us at: magnificatvancouver@telus.net
---
HISTORY of Our Lady of Guadalupe Chapter of Magnificat
[for the Archdiocese of Vancouver,BC]
The Holy Spirit has been forming and guiding this group each step of the way in miraculous ways. It has been a long process but God's Holy Timing is perfect. Magnificat Vancouver will host their first Magnificat meal on May 12, 2018.
"My soul proclaims the greatness of the Lord, and my spirit rejoices in God My Savior"!