Welcome from Kenosha-Racine, Wisconsin!
We welcome you to Mary, Mary Servant of the Lord Chapter's webpage. These are exciting times that we live in and Magnificat was begun in 1981 for such a time as this. There are now over 100 chapters throughout the United States and its territories and in many foreign countries.
---
Welcome to Our Next Meal!
Hosted by the Mary, Servant of the Lord Chapter of Magnificat
Saturday, August 10, 2019
9:00 AM – 12:00 PM
Please arrive 15 minutes early.
Location:
Infusino's Banquet Hall
3201 Rapids Drive
Racine, WI 53404
Guest Speaker: Mary Mowry
"Whatever is true, whatever is honorable, whatever is just, whatever is pure, whatever is lovely, whatever is gracious, if there is any excellence and if there is anything worthy of praise, think about these things." – Philippians 4:8
Mary Mowry is originally from Lake in the Hills, IL, but moved to Kenosha, WI in 2014. For the past four years she has served the Kenosha Catholic community in a variety of roles, primarily as a middle and high school Theology teacher and campus minister at St. Joseph Catholic Academy.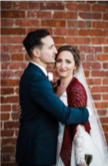 Mary and her husband Nicholas were married in December 2018 and are active members of St. Anne Catholic Church in Pleasant Prairie, WI where Mary now serves as the Director of Faith Formation. She is a strong proponent of youth ministry and discipleship, specializing in Theology of the Body; she is driven by a desire to help others discover their true identity in Christ. Mary finds inspiration in the words of St. Pope John Paul II, "Life with Christ is a wonderful adventure!" and strives to live a full, energetic life in pursuit of the beauty, truth, and goodness to which He calls us!
Her favorite passage of Scripture is Philippians 4:4-8: "Rejoice in the Lord always. I shall say it again: rejoice! Your kindness should be known to all. The Lord is near. Have no anxiety at all, but in everything, by prayer and petition, with thanksgiving, make your requests known to God. Then the peace of God that surpasses all understanding will guard your hearts and minds in Christ Jesus. Finally, brothers, whatever is true, whatever is honorable, whatever is just, whatever is pure, whatever is lovely, whatever is gracious, if there is any excellence and if there is anything worthy of praise, think about these things."
Personal Prayer ministry is available after the meal.
Religious books and CD's may be available at the meal.
Since the day is designed to speak to the hearts of women, free of distractions, it is respectfully requested that young children not be in attendance.
---
TICKETS
Please use this form for Mail-In Reservations ONLY


$12.00 
per person by mail; Registration Form must be received by
August 5th, 2019 
to receive your ticket by mail. (cash/check only)
Name ________________________________________________
Guest(s) Name ______________________________________________
Address ______________________________________________
City ___________________________ State ______ Zip __________
Phone # ____________________
Email (Please print clearly) ______________________________
Enclosed is $ ________________ for _______________ Number of Reservations.
Please Mail Reservation Form and check for $12 per person, payable to "Magnificat Kenosha" and a self-addressed stamped envelope to:
Nancy York
7120 20th Ave.
Kenosha, WI 53143
262.652.0708
---
UPCOMING MEALS FOR OUR CHAPTER — 2020
Spring 2020:  Speaker TBA
August 2020:  Speaker TBA
---
ROSARY BLANKET OF PRAYER
Remember our chapter's commitment to Eucharistic Adoration and to pray the Rosary on the 9th of each month for the intentions of Magnificat, Sanctity of Life, Marriage and Family, and World Peace.
---
OUR PRAYER GROUPS
Is God calling you to be in a Prayer Group? Jesus said "Wherever two or three are gathered in My Name, there I am in their midst." Our prayer groups are open to all.
---
For information, please call the Service Team:
SERVICE TEAM MEMBERS
Rose Nelson, Coordinator
Sue Lippert, Ass"t Coordinator, Book Sales                           Nancy York, Ass"t Coordinator, Ticket Sales
Judy Kohlmeier, Secretary
Kathy Uhl, Historian
---
HISTORY of Our Mary, Servant of the Lord Chapter
[in the Archdiocese of Milwaukee, Wisconsin]
Many of us who attended "Women's Aglow" meetings, attended a Magnificat Meal in West Bend, WI a few times.  We were very impressed with it all!  All Catholic Women coming together in different stages of their spiritual life to grow spiritually!  Ten of us got together to pray about if there was a need for a Magnificat Chapter in Kenosha/Racine area.  On June 1, 2004 we all agreed it was needed.  We had 7 more prayer meetings to pray and got in touch with the Central Service Team.  On January 5, 2005 we became a Magnificat Chapter!
History of  Our Chapter