Welcome from Pittsburgh, PA!
We welcome you to the webpage of Pittsburgh, PA the Visitation Chapter. These are exciting times that we live in, and Magnificat was begun in 1981 for such as time as this. There are now over 100 chapters throughout the United States and its territories and in many foreign countries. Our Chapter also has a website at www.magnificatpittsburgh.org
Magnificat Breakfast
Hosted by the Visitation Chapter
August 13, 2022
9:00 am – 12:00 pm
LOCATION:
Hilton Garden Inn/Southpointe
1000 Corporate Dr
Canonsburg, PA 15317
GUEST SPEAKER: Most Reverend Walter J. Waltersheid, VG,STL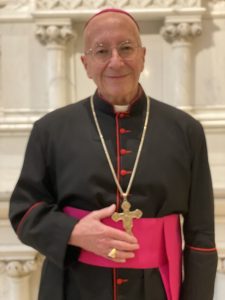 Bishop Waltersheid was born and raised in the Anthracite Coal Region of the Diocese of Harrisburg. Ordained a priest in 1992 for Harrisburg, he served as parochial vicar and pastor in various parishes. He served as Vice Rector of the Pontifical North American College in Rome and as Secretary for Clergy and Consecrated Life. Appointed Auxiliary Bishop of Pittsburgh by Pope Benedict XVI in 2011, he has served in various roles and is currently the Vicar for Evangelization in Pittsburgh.
---
Prayer teams are available following the meal.
Religious books and CD's may be available at the meal.
Since the day is designed to speak to the hearts of women, free of distractions, it is respectfully requested that young children not be in attendance.
TICKETS & RESERVATIONS
We do not assign seats so arrive early to check in at the Reservation Table and find seat(s) before the program begins.
Online Registration: www.magnificatpittsburgh.org/online-registration
Mail-In Reservation: www.magnificatpittsburgh.org/registration
---
2022 EVENTS
TBA
ROSARY BLANKET OF PRAYER
Remember our chapter's commitment to Eucharistic Adoration and to pray the Rosary on the 6th of each month for the intentions of Magnificat, the Church, a New Pentecost, Sanctity of Life, Marriage and Family, and World Peace.
---
OUR PRAYER GROUPS
Is God calling you to be in a Prayer Group? Jesus said "Wherever two or three are gathered in My Name, there I am in their midst." Our prayer groups are open to all.
---
SERVICE TEAM MEMBERS
Joyce, Coordinator
Christine, Assistant Coordinator
Donna, Treasurer
Rosemary, Secretary
Sheila, Historian
Fr. Tom Sparacino, Spiritual Advisor
---
HISTORY of the Visitation Chapter
(Diocese of Pittsburgh, PA)