Welcome from Greensburg, PA!
We welcome you to the webpage of Greensburg, PA Mystical Rose, Mary Our Mother Chapter. These are exciting times that we live in and Magnificat was begun in 1981 for such as time as this. There are now over 100 chapters throughout the United States and its territories and in many foreign countries. Our Chapter also has a website at www.magnificatgreensburg.com
Magnificat Breakfast
Hosted by Mystical Rose, Mary Our Mother Chapter
April 30, 2022
9:00 a.m.
Doors open at 8:15 a.m.
LOCATION:
Rizzo's Banquet Hall
126 Rizzo Road
Crabtree, PA 15624
GUEST SPEAKER: Pat Higginbotham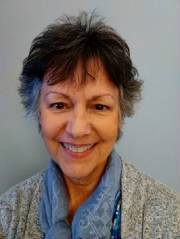 Pat Higginbotham is from Morgantown, WV and is a convert to Catholicism. She was introduced to the Charismatic Renewal 40 years ago and is eternally grateful for the changes that weekly prayer meetings brought to her life. But learning to hear and then heed the voice of the Holy Spirit was a journey fraught with both 'failure and fortune'. The realization that the Word of God was truly alive and personal became a transforming power that propelled her into service.
Pat became a prayer group leader, ministered healing prayer, and served in prison ministry. She formerly coordinated Morgantown's Magnificat Chapter and now serves on Magnificat's Central Service Team. She has been married to her husband Chuck for 48 years and has 3 children and 12 grandchildren.
---
Prayer teams are available following the meal.
Religious books and CD's may be available at the meal.
Since the day is designed to speak to the hearts of women, free of distractions, it is respectfully requested that young children not be in attendance.
TICKETS & RESERVATIONS
We do not assign seats so arrive early to check in at the Reservation Table and find seat(s) before the program begins.
Register Now –
Please advise us if you have any special needs.
Cost: $23.00 ($18.00 Students)
MAIL-IN RESERVATIONS
Deadline April 25, 2022.
April 30, 2022 Mail-in Reservation Form
(must be received by April 25th ). No walk-in registrations.
Make Checks Payable to: Magnificat Greensburg
Mail to: Brenda Concannon
162 Bus Garage Road
Greensburg, PA 15601
If registering for more than one person, the name of each person must be listed. Sorry, no refunds.
---
2022 EVENTS
July 30, 2022 Breakfast—Speaker: TBD
October 29, 2022 Breakfast—Speaker: TBD
ROSARY BLANKET OF PRAYER
Remember our chapter's commitment to Eucharistic Adoration and to pray the Rosary on the 19th of each month for the intentions of Magnificat, the Church, a New Pentecost, Sanctity of Life, Marriage and Family, and World Peace.
---
OUR PRAYER GROUPS
Is God calling you to be in a Prayer Group? Jesus said "Wherever two or three are gathered in My Name, there I am in their midst." Our prayer groups are open to all.
Day: Second Monday of each month
Time: 6:45 pm – 8:30 pm
Location: St. Paul's Parish Hall, Carbon Road, Greensburg
*Next Prayer & Praise Night, Monday, April 11, 2022
We pray the Rosary for our Blessed Mother's intentions.
We pray the Divine Mercy Chaplet.
We sing our praises to the Lord with Praise & Worship music.
We bring the intentions from our hearts to pray for those in need.
Chapter meeting for planning the next Breakfast and any updates from the Magnificat Central Service Team are presented
---
SERVICE TEAM MEMBERS
Coordinator – Patti Holtzer
Assistant Coodinator – Karen Douglas
Treasurer – Karen Stynchula
Secretary – Brenda Concannon
Spiritual Advisor – The Very Reverend Daniel C. Mahoney, VF
Patti Holtzer – (724) 516-9955
Mail:
Magnificat Greensburg
C/O Patti Holtzer
931 Mace St.
Greensburg, PA 15601
Or send an e-mail to:
prayers@womentowomenministry.org
---
HISTORY of Mystical Rose, Mary Our Mother Chapter
[Diocese of Greensburg, PA]