Bienvenidos (Welcome from) Fort Worth, TX
Le damos la bienvenida a nuestra página del Capítulo de Magnificat de Fort Worth.  Estos son momentos emocionantes en los que vivimos desde que comenzó Magnificat en el 1981.  Somos más de 100 capítulos alrededor de los Estados Unidos sus territorios e internacionalmente.
We welcome you to the webpage of the Fort Worth, TX Chapter of Magnificat. These are exciting times that we live in and Magnificat was begun in 1981 for such a time as this. There are now over 100 chapters throughout the United States and its territories and in many foreign countries.
---
Magnificat Prayer Breakfast
Hosted by Nuestra Señora de Guadalupe Chapter
Saturday, March 14, 2020
9:00 a.m. to 12:00 p.m.
Doors open at 8:45 a.m.
Location:
Sheraton Arlington Hotel
1500 Convention Center Drive
Arlington,  Texas 76011
Tel. 817.261.8200
Conferencista (Guest Speaker):Carol Rivera
"La caña cascada no la quebrará, ni apagará la mecha humeante, hasta que lleve a la victoria el juicio: en su nombre pondrán las naciones su esperanza."                                Mateo 2: 20-21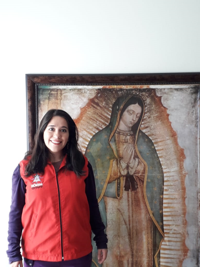 Carol Rivera Pérez es una laica comprometida, nacida en el seno de una familia católica en México, que tuvo su despertar espiritual a través de un retiro de Bautismo de Fuego, donde pudo experimentar a un Dios vivo que la amaba con infinita ternura.  A los 23 años entregó su vida a Dios haciendo experiencia en una Congregación Religiosa llamada Misioneros del Corazón del Padre que buscaba fundar el P. Daniel Gagnon. Sin embargo comprendió que la llamada de Dios la conducía a otro lugar. Fue así que en el año 2009 se unió a la Misión Por el Amor de Dios en Todo el Mundo; una Asociación Privada de Fieles por decreto de la Iglesia Católica, conformada por laicos comprometidos y clero, que movidos por el estado actual del mundo, promueven la concientización y reconocimiento de nuestra dignidad de hijos de Dios para ayudar a ponerle fin al silencio, apatía y complacencia que envuelven al mundo en estos tiempos y restaurar la conciencia que Dios debe ser el centro de nuestra vida diaria.
Actualmente está casada con dos hijos y como directora Internacional de Metanoia en la Misión, viaja por Estados Unidos y diversos países de América Latina compartiendo su fe y animando a los fieles en su proceso de conversión personal.
Online: Click on this link: March 14th, 2020 Prayer Luncheon
Online payment is available for $30.00 (includes the convenience fee) using PayPal with a credit or debit card.  You do not need to have a PayPal account.  You may also purchase additional tickets for any guests you would like to bring to the meal.  When your transaction is complete you may print your online ticket from your computer.
E-Mail: magnificatfortworthchapter@gmail.com
Mail: Tickets by mail are $30.00 per person.
Send check payable to Magnificat Forth Worth, postmarked by March 9th to:
Magnificat Tickets
1908 Natchez Avenue
Bedford, Texas 76022
Tickets for priests, deacons, religious brothers and sisters are complimentary.
Please call Martha Hernandez at 817-938-9590 or email magnificatfortworthchapter@gmail.com
to reserve your ticket.  For an accurate head count, complimentary tickets must be reserved.
If you are unable to afford a ticket but want to attend the meal, please call Carmen Berrios and arrangements will be made for a ticket to be sent to you.
---
RESERVATION FORM:
Please use this form for Mail-In Reservations ONLY. Complete the form below (include the names and phone numbers of other ticket holders in your group). Reservations CANNOT be accepted after March 9th, 2020.

Registration Form must be postmarked by
March 9th, 2020
to receive your confirmation.
 (cash/check only)
Name ________________________________________________
Guest(s) Name ______________________________________________
Address ______________________________________________
City ___________________________ State ______ Zip __________
Phone # ____________________
Email (Please print clearly) ______________________________
Enclosed is $ ________________ for _______________ Number of Reservations.
I am available to serve as:
Table Hostess ___ Greeter ___
Please Mail Reservation Form and check payable to "Magnificat" to:
Magnificat Tickets
1908 Natchez Avenue
Bedford, Texas 76022
UPCOMING MEALS FOR OUR CHAPTER — 2020
September 26, 2020 —Breakfast at Sheraton Arlington Hotel
Speaker: TBA
---
ROSARY BLANKET OF PRAYER
Remember our chapter's commitment to Eucharistic Adoration and to pray the Rosary on the 2nd of each month for the intentions of Magnificat, Sanctity of Life, Marriage and Family, and World Peace.
---
OUR PRAYER GROUPS
Is God calling you to be in a Prayer Group? Jesus said "Wherever two or three are gathered in My Name, there I am in their midst." Our prayer groups are open to all.
Rejoice in the Lord Prayer Group
Meets Wednesdays at Our Lady of Sorrows Family Life Center Library at 1:30 PM.
Contact Olga Coburn (205) 822-4366 or Janet Waters (205) 979-4196
St. Albert's Charismatic Prayer Group
Meets Thursdays at Our Lady of Sorrows Family Life Center in Room 103 at 7:00 PM
Contact Ray Makofsky (205) 999-8947
Magnify the Lord Charismatic Prayer Group
Meets the 1st and 3rd Saturdays of the month at Our Lady of Sorrows Family Life Center Library
at 9:00 AM – 11:00 AM.
Contact Lisa Henderson (205) 540-0213 or Donna Chmielarski (205) 408-0308
For more information about other Charismatic Prayer groups, visit Fort Worth Diocese Webpage.
---
SERVICE TEAM MEMBERS
Carmen Berrios-Peralta, Coordinator  817-500-3937
Martha Hernandez, Assistant Coordinator
Karen Amaya, Recording Secretary
Rosa Gabriela Valerio, Treasurer
Maria Elena Parra, Historian
Spiritual Advisor: Father Bajalli Boyolla.
---
If you would like to help with a Ministry of Magnificat, or if you have a question or comment for our Service Team,  or if you would like to be on our Mailing list for future events, please contact us at magnificatfortworhtchapter@gmail.com
---
HISTORY of Nuestra Señora de Guadalupe Chapter of Magnificat
[For the Diocese of Fort Worth]