Welcome from Stark County, OH
We welcome you to the webpage of the Mary, Queen of Heaven and Earth Chapter in Stark County, Ohio. These are exciting times that we live in and Magnificat was begun in 1981 for such a time as this. There are now over 100 chapters throughout the United States and its territories and in many foreign countries.
---
Magnificat Prayer Breakfast
Hosted by Mary, Queen of Heaven and Earth Chapter
Saturday, March 14, 2020
9:00 a.m. to noon
There will be an optional Mass at 8:00 a.m. at Our Lady of Perpetual Help Chapel (The Walsh University Chapel).
Doors open at 8:30 a.m.  We do not assign seats so arrive early to check in at the Reservation Table and find seat(s) before the program begins.
Location:
Walsh University
Barrette Center
2020 East Maple St.
North Canton, OH 44720
---
About our Guest Speaker:
ERIN CLARK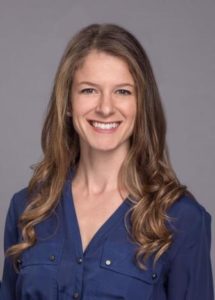 Erin Clark was raised in a strong Catholic family. She was privileged to attend Catholic schools for her entire education–Holy Family Grade School, Archbishop Hoban High School and Walsh University.
In 2012 she graduated with her BSN and then spent 3 weeks volunteering in an orphanage in Kenya. The poverty she witnessed moved her to start Love in Neglected Communities, also known as Linc Worldwide. This 501(c)(3) nonprofit focuses on helping children in neglected communities not only survive, but thrive.
After returning from Kenya, Erin began her nursing career at the Cleveland Clinic. She spent 2 years as a staff nurse and then became a travel nurse, working in several states across the country for the next 4 years.
She continues to visit Kenya as Linc Worldwide works on their project of building a Catholic primary school for orphaned and vulnerable children.
Despite a strong foundation, her faith journey experienced moments of darkness. Erin recognized God's presence as the driving force throughout her life and source of strength when faced with challenges.
---
Prayer teams are available following the meal.
Religious books and CD's may be available at the meal.
Since the day is designed to speak to the hearts of women, free of distractions, it is respectfully requested that young children under the age of 14 not be in attendance.
---
TICKETS    
Tickets must be purchased in advance to secure your reservation.  No tickets will be sold at the door.
Mail-In Reservations – $22 (your check will serve as your receipt)
Online Reservations – $23 (includes convenience fee)
To register online or for more information about our upcoming meal and chapter activities, please visit our
Chapter Website.
---
RESERVATION FORM
Please complete the Registration Form and include the names and phone numbers of other ticket holders in your group.
Mail the Registration Form and a check for $22 per person to "Magnificat of Stark County" to:
Vicki Vasto ~ 8735 Glenarden Circle NW ~ Massillon, OH 44646
*Registrations must be received by November 30, 2019.

Name: ________________________________________________
Guest Name(s):
________________________________________________
________________________________________________
________________________________________________
Address:_________________________________________
City: ____________________________________________
State: ________ Zip: _____________
Phone: _________________________
Email: (Please print clearly) ________________________________________________
Enclosed is $ ________________ for _______________ # of reservations.
I am available to serve as:  Greeter ___  Table Hostess ___  Lector ___   Morning Mass Eucharistic Minister ___
---
UPCOMING MEALS FOR OUR CHAPTER
June 13, 2020—Speaker: Father Jeremy Merzweiler
September 19, 2020—Speaker: Alexandra Andrews
December 5, 2020—Speaker: Christi Tripodi
---
ROSARY BLANKET OF PRAYER
Remember our chapter's commitment to Eucharistic Adoration and to pray the Rosary on the 24th of each month for the intentions of Magnificat, Sanctity of Life, Marriage and Family, and World Peace.
---
OUR PRAYER GROUPS
Is God calling you to be in a Prayer Group? Jesus said "Wherever two or three are gathered in My Name, there I am in their midst." Our prayer groups are open to all.
Internet Prayer Ministry
The newly initiated Magnificat Internet Prayer Ministry.
Contact Sandy Elliott at workthebeads@gmail.com.
Personal Prayer Ministry
Prays with individuals following the Magnificat Breakfast.
Contact Betty Carty at cartye@yahoo.com.
Intercessory Prayer Ministry
Meets 1st Thursday each month 1:30-2:30 p.m. at St. Paul's Church, North Canton (lower level in the parish library).  Contact Vicki Petty at victorialpetry@yahoo.com.
---
SERVICE TEAM MEMBERS
Joan Spieth, Coordinator
Rosemary Pfiffner, Asst. Coordinator
Debby Bentivegna, Secretary
Diane DeBarr, Treasurer
Diane Stropki, Historian
Spiritual Advisor: Father Thomas Cebula
---
To be added to our Mailing list, send an email to  Magnificat.Stark@gmail.com or call Joan Spieth at 330-933-8778.
---
HISTORY of Mary, Queen of Heaven and Earth Chapter of Magnificat
[For the Diocese of Youngstown in Ohio]
Est. 2001
Stark County Magnificat Chapter was established December 8, 2000 on the Feast of the Immaculate Conception.  It was licensed officially a chapter by the State of Ohio on August 31, 2001.  The first breakfast was held on December 1, 2001 at the Shady Hollow Country Club.  Ruthanne Plas was the Foundress of this chapter.
Our Chapter began to hold its breakfasts at Walsh University in North Canton in 2005.  The Spiritual name "Mary Queen of Heaven and Earth" was added in 2008.
Mary, Queen of Heaven and Earth Chapter held its last breakfast on December 16, 2012.  It remained a chapter but was inactive for 2 years.  After a lot of prayers and discernment about reactivating the chapter, it was reformed in 2014 under the leadership of Shirley DeOrio.