Welcome from Lima, Ohio!
We welcome you to Our Lady of Consolation Lima, OH Chapter webpage. These are exciting times that we live in and Magnificat was begun in 1981 for such as time as this. There are now over 100 chapters throughout the United States and its territories and in many foreign countries.
---
Magnificat Prayer Breakfast
By Our Lady of Consolation Chapter of Magnificat
September 9, 2017
9:30 AM – 12:00 PM
Please arrive 15 minutes early.
Location:
Old Barn Out Back Restaurant
3175 W. Elm Street
Lima, OH  45805
Guest Speaker: Bernie Schnipke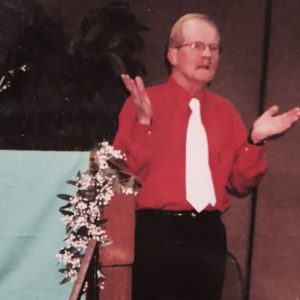 Bernie is director of a non-profit called Living Branches created to promote unity an empowerment among all Christians. Bernie is retreat director for Life in the Spirit retreats for the Diocese of Toledo. He was Director of the Holy Toledo Conference for the Diocese in 2005 & 2010. He's been active in prison ministry for the past 25 years in Allen & Van Wert county's. He also lead The Holy Spirit prayer group for many years at Delphos St. Johns. He is currently employed at Webers Funeral Home in Delphos, OH as a greeter.
---
The Old Barn Out Back Restaurant is located 3/4 mile West of St. Charles Church at the Intersection of  Elm Street and Cable Road. Turn left at the sign just past the high electrical tower.
Personal Prayer ministry is available after the meal.
Religious books and CD's may be available at the meal.
Since the day is designed to speak to the hearts of women, free of distractions, it is respectfully requested that young children not be in attendance.
---
TICKETS
Tickets to the prayer breakfast are $10.00 and may be obtained from ___. (includes breakfast, speaker, handouts)
Tickets for priests, deacons, religious brothers and sisters are complimentary, but reservations are required and this may be done by contacting ___. If you are unable to afford a ticket but want to attend the breakfast, please call ___ ( ) and arrangements will be made for a ticket to be sent to you.
Your check will serve as your receipt.
Ticket sales end Wednesday, May 4, 2017.
No tickets are sold at the door.
Please use this form for Mail-In Reservations ONLY. Complete the form below (include the names and phone numbers of other ticket holders in your group).


$15.00 per person by mail; Registration Form must be postmarked by May 4, 2017 to receive your confirmation.  (check only)
Name ________________________________________________
Guest(s) Name ______________________________________________
Address ______________________________________________
City ___________________________ State ______ Zip __________
Phone # ____________________
Email (Please print clearly) ______________________________
Enclosed is $ ________________ for _______________ Number of Reservations.
Please Mail Reservation Form and check for $15 per person, payable to "Magnificat" to:
Magnificat
Judy Brennan
5498 River Ridge Street
Elida, OH 45807
(419-339-5575)
Sorry, no refunds.
---
UPCOMING MEALS FOR OUR CHAPTER — 2017
---
ROSARY BLANKET OF PRAYER
Remember our chapter's commitment to Eucharistic Adoration and to pray the Rosary on the 4th of each month for the intentions of Magnificat, Sanctity of Life, Marriage and Family, and World Peace.
---
OUR PRAYER GROUPS
Is God calling you to be in a Prayer Group? Jesus said "Wherever two or three are gathered in My Name, there I am in their midst." Our prayer groups are open to all.
Diocese of Toledo Ministry to Catholic Charismatic Renewal
Prayer group meet at Delphos St. Johns
Contact:  Bernie Schnipke
Monday evenings at 7:30 pm
Our Bible Study Group
Is God calling you to be in a Bible Study Group?
Jesus said "Wherever two or three are gathered in My Name, there I am in their midst."
Our Bible Study group is open to all of our Magnificat sisters.
The Bible Study Group will meet at St. Gerard's Parish Hall, located in Lima, OH. Participants booklets will be sold at each Bible Study if you care to join. We already have 20 women attending our study. Praise the Lord!
---
SERVICE TEAM MEMBERS
Sharree Reehling, Coordinator
Susan Becket, Assistant Coordinator
Lisa Sciranka, Secretary
Kay Smith, Treasurer
Judy Brennan, Assistant Treasurer
Deborah Bartlett-Karbowiak, Historian
Spiritual Advisors:  Father Jerry Nowakowski
Advisory Board:  Sharon Laurent & Judy Brennan
---
Want to help with the Lima Chapter of Magnificat?
If you would like to help with the Lima Chapter of Magnificat, or if you have a question or comment for Our Service Team,  or if you would like to be on our Mailing list for future events:
Please contact Sharree Reehling, Coordinator for the Lima Chapter of Magnificat: email sharreeb64@gmail.com or 419-647-4888 and leave a message.
---
HISTORY of the Lima Chapter of Magnificat Chapter
[Diocese of Toledo, Ohio, est. 2003.]
The Lima Chapter of Magnificat Chapter, Disocese of Toledo, Ohio was started in 2003 with Sharon Laurent as their first Coordinator.  This chapter was started to meet the needs of Catholic Women who desired to share with all Catholic women the fruit we have experienced through the Catholic Charismatic Renewal.
Since its inception, our chapter has hosted a quarterly Meal which continues to touch hearts. In the words of Mary's Magnificat, "the Almighty One has done great things" through this humble ministry.