Welcome from Huron, OH.
We welcome you to the webpage of Our Lady of the Lake Huron Ohio Chapter of Magnificat. These are exciting times that we live in and Magnificat was begun in 1981 for such a time as this. There are now over 100 chapters throughout the United States and its territories and in many foreign countries.
---
Magnificat Prayer Breakfast
Hosted by Our Lady of the Lake Huron Chapter of Magnificat
Saturday, September 14, 2019
9:30 am – 12:30 pm
Doors open at 9 am. We do not assign seats so arrive early.
Location:
Anjulina's Catering
2270 Hayes Ave.
Fremont, OH 43420
Guest Speaker: Pat Higginbotham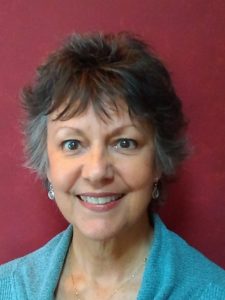 Although raised in a church-going Methodist home, Pat Higginbotham grew into a "lukewarm" Christian as a young adult. Years after she married, she converted to the Catholic faith and endured a period of trial when her weakened faith was sorely challenged by life's circumstances.
Thankfully, the Lord placed her family in a charismatic parish community of sincere believers where she was first introduced to the Third Person of the Trinity.  This was the beginning of a relationship with the Holy Spirit that changed her focus on life, ignited a desire to read scripture, opened her mind and heart to the healing ministry, and propelled her into the Lord's service in the power of the Holy Spirit.  It was also when she discovered the Mother of Jesus.
Pat and her husband, Chuck, have been married 45 years, and have three grown children and almost 11 grandchildren.  For many years, Pat was a prayer group leader and also taught religion at the local Catholic school.   She now serves as a cantor and lector in her parish and as the coordinator of the Morgantown Magnificat in West Virginia and regional representative for Region 6 of the International Magnificat Ministry to Catholic Women. She continues to pray for healing with those who ask.
Join us on Sept. 14 to hear Pat's story of growth and transformation manifested through the power of the Holy Spirit.
The breakfast will begin at 9:30 a.m. and end at 12:30 p.m. at Anjulina's Catering, 2270 Hayes Ave., Fremont.  To register,  send $18 to Hortensia Clevenger, 316 Wexford Dr., Huron, OH 44839.  Reservations must be received by September 6, 2019.  Checks should be made payable to "Magnificat." There is no registration at the door. 
We do not assign seats so arrive early to check in at the Reservation Table and find seat(s) before the program begins.
Prayer teams and opportunities to receive the sacrament of reconciliation will be available following the meal.
CD's of the speaker's talk will be available at the meal.
Since the day is designed to speak to the hearts of women, free of distractions, it is respectfully requested that young children not be in attendance.
---
TICKETS
Tickets are $18 and must be purchased in advance to secure your reservation. No tickets will be sold at the door. Your check will serve as your receipt.
RESERVATION FORM:
Please use this form for Mail-In Reservations ONLY. Complete the form below (include the names and phone numbers of other ticket holders in your group). Reservations MUST be received by September 6. Late individual reservations are $23. If you would like to register online, please go to our webpage and follow the instructions there.


$18 per person by mail or $23 after September 6, 2019. Registration Form must be received by 
September 6, 2019.
Name ________________________________________________
Guest(s) Name ______________________________________________
Address ______________________________________________
City ___________________________ State ______ Zip __________
Phone # ____________________
Email (Please print clearly) ______________________________
I am available to serve as:
Table Hostess ___ Greeter ___
Enclosed is $ ________________ for _______________ Number of Reservations.
Please Mail Reservation Form and check for $18 per person ($23 after September 6), payable to "Magnificat" to:
Hortensia Clevenger
316 Wexford Dr.
Huron, OH 44839
---
UPCOMING MEALS FOR OUR CHAPTER — 2019-2020
Sept. 14, 2019 — Speaker: Pat Higginbotham
Nov. 9, 2019 — Speaker: Diane Rowe
Feb. 8, 2020 —Speaker: Fr. Andrew Wellmann
April 25, 2020 —Speaker: Nikki Bruni
ROSARY BLANKET OF PRAYER
Remember our chapter's commitment to Eucharistic Adoration and to pray the Rosary on the 17th of each month for the intentions of Magnificat, Sanctity of Life, Marriage and Family, and World Peace.
---
OUR PRAYER GROUPS
Is God calling you to be in a Prayer Group? Jesus said "Wherever two or three are gathered in My Name, there I am in their midst." Our prayer groups are open to all.
Internet Prayer Ministry
the newly initiated Magnificat Internet Prayer Ministry.
Contact Jane Leimeister at jane22431@aol.com.
Personal Prayer Ministry
which prays with individuals following The Magnificat Breakfast.
Contact Lori Mihalek at huronmagnificat@aol.com.
Charismatic Prayer Groups
Huron Women's Prayer & Scripture Meeting, meets at 7 pm Mondays at St. Peter Parish, Huron.
Contact Diane Dudenhoefer at 419-602-0627.
Norwalk St. Paul's Prayer Group, meets at 7 pm Mondays at St. Paul's Parish, Norwalk.
Contact Bev Reichert at 419-706-0464.
Fremont Sacred Heart Prayer Group, meets at 7:30 pm on the fourth Tuesday of each month at Sacred Heart Parish, Fremont.
Contact Judy Good at 419-334-8145.
Emmaus Community Prayer Group, meets at 7 pm Wednesdays in chapel of St. Jerome Parish Life Center in Walbridge.
Contact David Bland at 419-322-8282.
Marblehead St. Joseph Prayer Group, meets at 9:30 am on the first and third Thursdays of each month at St. Joseph Parish, Marblehead.
Contact Joan Dubbert at 419-734-5650.
Fremont St. Joseph Hispanic Prayer Group, meets at 7:30 pm Saturdays at St. Joseph Parish, Fremont.
Contact Raul Gonzales, 419-332-9252.
Information about other charismatic prayer groups in the Toledo Diocese can be found here.
---
UPCOMING EVENTS
2020 Women's Winter Retreat, Jan. 10-12, Our Lady of the Pines Retreat Center, Fremont, O. Presenter: Fr. Dave Pivonka, TOR, of The Ministry of the Wild Goose. Click here for details.
SERVICE TEAM MEMBERS
Brandy Eddinger, Coordinator
Diane Dudenhoefer, Asst. Coordinator
Jane Leimeister, Secretary
Hortensia Clevenger, Treasurer
Lori Mihalek, Co-Treasurer
Sheri Glenaman, Historian
---
For more information about Magnificat, contact Diane Dudenhoefer at 419-602-0627.
To be added to our Mailing List, send an email to huronmagnificat@aol.com or call Diane Dudenhoefer at 419-602-0627.
CLICK HERE to visit our Chapter's website.
CLICK HERE to visit our Chapter's Facebook page.
---
HISTORY of Our Lady of the Lake Huron Chapter
[Diocese of Toledo, Ohio]
Est. 2006
The Huron Chapter of Magnificat, also known as Our Lady of the Lake Chapter, was founded in 2006 to serve women in the northern part of the Toledo Catholic Diocese. We currently meet quarterly in Fremont, O., for a breakfast, praise and worship, prayer, and a talk by a woman who tells how God has worked in her life. At our Magnificat meals, we try to provide something for each woman to take home with her by offering a packet of spiritual reading at each place setting.
Our chapter grew out of a prayer group that had gathered weekly in Huron, O., for more than 30 years. We decided to form a chapter of Magnificat as we realized the need to share our love of Jesus Christ with more Catholic women. At our first Magnificat meal on February 3, 2007, Donna Jones of Detroit shared the story of how she and her husband, Alex, a former Pentecostal minister, came into the Catholic Church. Since then, we have had heard many other stories of faith from some remarkable women. We record each of the talks and make CDs of them, including the most recent, available for purchase.
In addition to gathering quarterly for the Magnificat meal, we also host an annual retreat each January and seek to promote opportunities for spiritual growth in and around the diocese.