Welcome from Huron, OH.
We welcome you to the webpage of Our Lady of the Lake Huron Ohio Chapter of Magnificat. These are exciting times that we live in and Magnificat was begun in 1981 for such a time as this. There are now over 100 chapters throughout the United States and its territories and in many foreign countries.
---
Magnificat Prayer Breakfast
Hosted by Our Lady of the Lake Huron Chapter of Magnificat
Saturday, February 9, 2019
9:30 am – 12:30 pm
Doors open at 9 am. We do not assign seats so arrive early.
Location:
Anjulina's Catering
2270 Hayes Ave.
Fremont, OH 43420
Guest Speaker: Joan Nunnery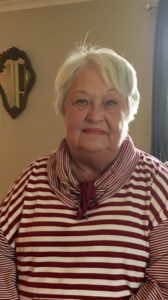 Joan Nunnery says that on the surface she is "one of thousands of unrecognizable old ladies," but deep within, she is living in joy beautifully, walking in the power of the Lord through Mary.
Baptized in the Holy Spirit in 1979 while living in Florida and active in a charismatic prayer group, Joan remembers vividly how scripture opened up to her after that. Some tough years in her journey with Jesus followed, but there were rewards throughout, including amazing ways God used her. Now, Joan says, she tries to bring Jesus to whomever He sends her. A cradle Catholic who had a devotion to Mary and the Eucharist from a young age, Joan says she gives herself to Jesus daily using a prayer of consecration she made up as a child.
After a 45-year career in nursing, Joan retired in 2012 as a nurse practitioner, after having worked in Cleveland, Parma, New York City, Long Island, Miami, Washington, D.C., northern New Jersey, Mobile, Ala., and Augsburg, Germany in settings ranging from intensive care to private practice. Before her retirement, she did volunteer work in a clinic for homeless people and a medical community center that served uninsured patients.
Joan currently lives on Catawba Island and is a member of Immaculate Conception Parish in Port Clinton, where she serves on the school advisory council and makes Rosaries with the third, fourth, and fifth-grade students. She also hosts a weekly prayer group in her home and takes part in ongoing adult formation programs.
The hobby closest to her heart is birding and spending time in nature, though she enjoys classical music, the arts, theater, and travel as well.
Plan on being with us Feb. 9 to hear Joan talk about her amazing journey. You'll want to ask a friend to join you. The breakfast will begin at 9:30 a.m. and end at 12:30 p.m. at Anjulina's Catering, 2270 Hayes Ave., Fremont.  To register,  send $18 to Hortensia Clevenger, 316 Wexford Dr., Huron, OH 44839.  Reservations must be received by Feb. 1, 2019.  Checks should be made payable to "Magnificat." There is no registration at the door. 
We do not assign seats so arrive early to check in at the Reservation Table and find seat(s) before the program begins.
Prayer teams and opportunities to receive the sacrament of reconciliation will be available following the meal.
CD's of the speaker's talk will be available at the meal.
Since the day is designed to speak to the hearts of women, free of distractions, it is respectfully requested that young children not be in attendance.
---
TICKETS
Tickets are $18 and must be purchased in advance to secure your reservation. No tickets will be sold at the door. Your check will serve as your receipt.
RESERVATION FORM:
Please use this form for Mail-In Reservations ONLY. Complete the form below (include the names and phone numbers of other ticket holders in your group). Reservations MUST be received by February 1. Late individual reservations are $23.


$18 per person by mail or $23 after February 1, 2019. Registration Form must be received by 
February 1, 2019.
Name ________________________________________________
Guest(s) Name ______________________________________________
Address ______________________________________________
City ___________________________ State ______ Zip __________
Phone # ____________________
Email (Please print clearly) ______________________________
I am available to serve as:
Table Hostess ___ Greeter ___
Enclosed is $ ________________ for _______________ Number of Reservations.
Please Mail Reservation Form and check for $18 per person ($23 after February 1), payable to "Magnificat" to:
Hortensia Clevenger
316 Wexford Dr.
Huron, OH 44839
---
UPCOMING MEALS FOR OUR CHAPTER — 2019
Feb. 9, 2019 — Speaker: Joan Nunnery
April 13, 2019 — Speaker: Fr. Jim Brown
ROSARY BLANKET OF PRAYER
Remember our chapter's commitment to Eucharistic Adoration and to pray the Rosary on the 17th of each month for the intentions of Magnificat, Sanctity of Life, Marriage and Family, and World Peace.
---
OUR PRAYER GROUPS
Is God calling you to be in a Prayer Group? Jesus said "Wherever two or three are gathered in My Name, there I am in their midst." Our prayer groups are open to all.
Internet Prayer Ministry
the newly initiated Magnificat Internet Prayer Ministry.
Contact Jane Leimeister at jane22431@aol.com.
Personal Prayer Ministry
which prays with individuals following The Magnificat Breakfast.
Contact Lori Mihalek at huronmagnificat@aol.com.
Charismatic Prayer Groups
Huron Women's Prayer & Scripture Meeting, meets at 7 pm Mondays at St. Peter Parish, Huron.
Contact Diane Dudenhoefer at 419-602-0627.
Norwalk St. Paul's Prayer Group, meets at 7 pm Mondays at St. Paul's Parish, Norwalk.
Contact Bev Reichert at 419-706-0464.
Fremont Sacred Heart Prayer Group, meets at 7:30 pm on the fourth Tuesday of each month at Sacred Heart Parish, Fremont.
Contact Judy Good at 419-334-8145.
Emmaus Community Prayer Group, meets at 7 pm Wednesdays in chapel of St. Jerome Parish Life Center in Walbridge.
Contact David Bland at 419-322-8282.
Marblehead St. Joseph Prayer Group, meets at 9:30 am on the first and third Thursdays of each month at St. Joseph Parish, Marblehead.
Contact Joan Dubbert at 419-734-5650.
Fremont St. Joseph Hispanic Prayer Group, meets at 7:30 pm Saturdays at St. Joseph Parish, Fremont.
Contact Raul Gonzales, 419-332-9252.
Information about other charismatic prayer groups in the Toledo Diocese can be found here.
---
UPCOMING EVENTS
Nov. 8, 2018: Night of Healing, 7 p.m., St. Jerome Church, 300 Warner St., Walbridge. Also on Dec. 13.
​November-January: "Stir into Flame," period of discernment for charismatic renewal in Toledo Diocese. Register here to pray and fast. Road trip to Christ the King Parish, Ann Arbor, Mich., Nov. 9, includes Mass at 5:30 p.m., followed by fellowship at 6:30 p.m., and praise and worship at 7:45 p.m.
2019 Women's Winter Retreat, Jan. 11-13, Our Lady of the Pines Retreat Center, Fremont, O. Presenter: Fr. Odo Recker (formerly Fr. Carl Recker) of Mount Angel Monastery, St. Benedict, Ore. Click here for details and to learn about the special early-bird rate.
SERVICE TEAM MEMBERS
Brandy Eddinger, Coordinator
Diane Dudenhoefer, Asst. Coordinator
Jane Leimeister, Secretary
Hortensia Clevenger, Treasurer
Lori Mihalek, Co-Treasurer
Sheri Glenaman, Historian
---
For more information about Magnificat, contact Diane Dudenhoefer at 419-602-0627.
To be added to our Mailing List, send an email to huronmagnificat@aol.com or call Diane Dudenhoefer at 419-602-0627.
CLICK HERE to visit our Chapter's website.
CLICK HERE to visit our Chapter's Facebook page.
---
HISTORY of Our Lady of the Lake Huron Chapter
[Diocese of Toledo, Ohio]
Est. 2006
The Huron Chapter of Magnificat, also known as Our Lady of the Lake Chapter, was founded in 2006 to serve women in the northern part of the Toledo Catholic Diocese. We currently meet quarterly in Fremont, O., for a breakfast, praise and worship, prayer, and a talk by a woman who tells how God has worked in her life. At our Magnificat meals, we try to provide something for each woman to take home with her by offering a packet of spiritual reading at each place setting.
Our chapter grew out of a prayer group that had gathered weekly in Huron, O., for more than 30 years. We decided to form a chapter of Magnificat as we realized the need to share our love of Jesus Christ with more Catholic women. At our first Magnificat meal on February 3, 2007, Donna Jones of Detroit shared the story of how she and her husband, Alex, a former Pentecostal minister, came into the Catholic Church. Since then, we have had heard many other stories of faith from some remarkable women. We record each of the talks and make CDs of them, including the most recent, available for purchase.
In addition to gathering quarterly for the Magnificat meal, we also host an annual retreat each January and seek to promote opportunities for spiritual growth in and around the diocese.