Welcome from Buffalo, NY!
We welcome you to the web page of the Gentle Woman, Mother of Mercy, Buffalo, N.Y. Chapter. These are exciting times that we live in and Magnificat was begun in 1981 for such a time as this. There are now over 100 chapters throughout the United States and its territories and in many foreign countries.
---
Magnificat Prayer Breakfast
Hosted by the Gentle Woman, Mother of Mercy
Buffalo, N.Y. Chapter of Magnificat
Saturday, December 8, 2018
9:45 am – 12:15 pm
(registration 9:15 am)
Location:
Millennium Hotel
2040 Walden Av
Cheektowaga, NY 14225
Guest Speaker: Amanda Torrelli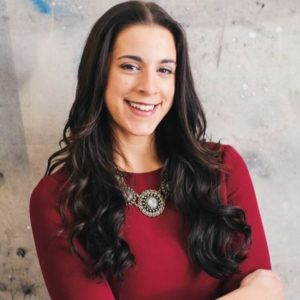 Amanda Torrelli is a part of the rising generation awakening the flame of the Holy Spirit and the saving name of our Lord Jesus Christ. How? By simply seeking and being open to the gifts of the Holy Spirit. Amanda will share how God has shown her the beauty and benefits of Kingdom Living through faith, prayer, and obedience to the Holy Spirit. The very essence and uniqueness of how YOU were created…God has plans to use you to lead others to the Kingdom. Yes, YOU! Amanda loves to network, collaborate with youth, and share her passion of God with ALL brothers and sisters in Christ Jesus. Come Holy Spirit!
"For God has not given us a spirit of fear, but of power, and love and of a sound mind."
(II Timothy 1:7)
---
Since the day is designed to speak to the hearts of women, free of distraction, it is respectfully requested that young children not be in attendance. Also please be aware that subject matter may not be suitable for children.
---
TICKETS
ALL TICKET SALES END DECEMBER 3, 2018
ONLINE TICKETS – $17, received by November 24, 2018; $22 if received after November 24, 2018
(ONLINE TICKET PRICE INCLUDES CONVENIENCE FEE)
TO ORDER TICKETS ONLINE:
SELECT THE NUMBER OF TICKETS NEEDED FROM THE DROP DOWN MENU BELOW
(TO SEE DROPDOWN MENU CLICK ON DOWNWARD ARROW TO THE RIGHT OF THE FIRST OPTION.)
THEN CLICK ON THE PAY NOW BUTTON.
TICKETS BY MAIL – $15, received by November 24, 2018
($20 if received after November 24th)
PRINT ORDER FORM BELOW

PRE-REGISTRATION IS REQUIRED
Name ________________________________________________
Guest(s) Name ______________________________________________
Address ______________________________________________
City ___________________________ State ______ Zip __________
Phone # ____________________
Email (Please print clearly) ______________________________
Enclosed is $ ________________ for _______________ Number of Reservations.
Please send this printed, completed form and a check payable to:
Magnificat-Buffalo
Christine Holden
5191 Hillcrest Drive
Clarence, NY 14031
Registration Information: Christine Holden: 716.759.8135
Email: magnificat.buffalo.1996@gmail.com
www.facebook.com/magnificatbuffalo
REMEMBER TICKET SALES END DECEMBER 3, 2018
---
UPCOMING MEAL DATES FOR OUR CHAPTER for 2019
March 16, 2019  Beverly Brunner Hofler
June 15, 2019 Eileen Benthal
September 21, 2019 Susan Pivarunas
December 7, 2019 TBA
---
ROSARY BLANKET OF PRAYER
Remember our chapter's commitment to Eucharistic Adoration and to pray the Rosary on the 8th of each month for the intentions of Magnificat, Sanctity of Life, Marriage and Family, and World Peace.
---
OUR PRAYER GROUPS:
---
SERVICE TEAM MEMBERS:
Father Eugene Ulrich, Spiritual Advisor
Mary Kay Schaub, Coordinator
Cindy Watson, Asst. Coordinator
Christine Holden, Treasurer
Liz McCormick, Corresponding Secretary
Darlene Gorski, Recording Secretary
Judy Swain, Historian
---
If you would like to help with a Ministry of Magnificat, or if you have a question or comment for Our Service Team, or if you would like to be on our Mailing list for future events, contact us by Email at magnificat.buffalo.1996@gmail.com or call: Cindy Watson @ 716.773.5976
---
HISTORY of the Gentle Woman Mother of Mercy Chapter of Magnificat
[for the Diocese of Buffalo, New York]
Approved by Bishop Henry J. Mansell, the Gentle Woman, Mother of Mercy Chapter began in November 1995 with Holy Mass celebrated by Msgr. Leonard Biniszkiewicz, the Chapter's first Spiritual Advisor. The first Breakfast was held Dec. 7,1996 with Rebecca Conaty as guest speaker and was led by the first Service Team consisting of Beryl Kinney, Coordinator,(deceased) Carol Throm (deceased,) Shirley Rinow , Cecilia Stack, (deceased) and Maura Nolan. Maura Nolan later became the Second Coordinator of the Buffalo Chapter when Beryl Kinney moved on to become the Regional Coordinator.