Welcome from Buffalo, NY!
We welcome you to the web page of the Gentle Woman, Mother of Mercy, Buffalo, N.Y. Chapter. These are exciting times that we live in and Magnificat was begun in 1981 for such a time as this. There are now over 100 chapters throughout the United States and its territories and in many foreign countries.
---
Magnificat Special Event @ Our Lady of Victory Basilica
Hosted by the Gentle Woman, Mother of Mercy
Buffalo, N.Y. Chapter of Magnificat
Saturday, December 7, 2019
7:30am / 8:30am – 12pm
(Registration in the school 6:30am-8am, doors open 9:15am)
7:30am: Mass in the Basilica (optional)
8:30am: Welcome (in the school gymnasium)
9am: Boxed Breakfast w/book signing opportunity
9:45: Father Calloway Talk #1 "A Witness to Mercy"
11am: Father Calloway Talk #2 "Our Lady"
Location:
Our Lady of Victory National Shrine & Basilica
767 Ridge Rd, Lackawanna, NY 14218
Guest Speaker: Fr. Donald Calloway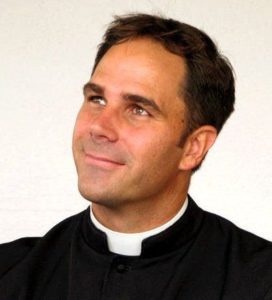 Father Calloway has been called a modern day St. Augustine, as his story begins with a life devoted to finding the next party. This "surfer dude" was a high school dropout, a run-away, a druggy, in and out of rehabilitation centers, jailed, and was even deported from Japan for criminal activity. Of course, church was completely out of the question during those rebellious teenage years. His church was the beach and his god was his surfboard.
Through it all, like St. Monica, his mom, Mrs. LaChita Calloway, never gave up on him. She kept taking him back, and she never stopped praying to Our Lady and Our Lord for her son she loved so much.
His conversion story is amazing. By the Grace of God, his life was totally transformed-dedicated to God.
Father Calloway's love for Our Lady has only increased over the years, and so he was inspired to write what is probably the most comprehensive book ever published on the Rosary. He has written many other books, videos, etc.
"For I know the plans I have for you, plans to prosper you and not to harm you,
plans to give you hope and a future"
                                                                              Jeremiah 29:11
---
Since the day is designed to speak to the hearts of women, free of distraction, it is respectfully requested that young children not be in attendance. Also please be aware that subject matter may not be suitable for children.
---
TICKETS:
ALL TICKET SALES by November 29, 2019
ONLINE TICKETS – $35, received by November 29, 2019
$40 if received after November 29, 2019
(ONLINE TICKET PRICE INCLUDES CONVENIENCE FEE)
TO ORDER TICKETS ONLINE:
Select number of tickets needed from the dropdown menu below
(To see dropdown menu, click on downward arrow to the right)
Then click on the PAY NOW button.
TICKETS BY MAIL – $35, if received by November 29, 2019
($40 if received after November 29, 2019)
PRINT ORDER FORM BELOW

PRE-REGISTRATION IS REQUIRED
Name ________________________________________________
Guest(s) Name ________________________________________
Address ______________________________________________
City __________________________ State ______ Zip_________
Phone # _____________________________________________
Email (Please print clearly) _______________________________
Enclosed is $ ______________ for _____ Number of Reservations.
Phone# & emails are important. We may need to contact you about the event.
Please send this printed, completed form and a check payable to:
Magnificat-Buffalo
Maureen Wilson
303 Meyer Rd
Apt. # 1403
West Seneca, NY 14224
Registration Information: Maureen Wilson: 716.683.2290
Email: magnificat.buffalo.1996@gmail.com
www.facebook.com/magnificatbuffalo
REMEMBER TICKET SALES BY November 29, 2019
---
UPCOMING MEAL DATES FOR OUR CHAPTER
March 21, 2020  TBA
---
ROSARY BLANKET OF PRAYER
Remember our chapter's commitment to Eucharistic Adoration and to pray the Rosary on the 8th of each month for the intentions of Magnificat, Sanctity of Life, Marriage and Family, and World Peace.
---
Bible Study and Prayer, "Women In the Bible"
St. Aloysius Church, 157 Cleveland Dr, Buffalo, NY
$20 fee includes cost of Study Book
We invite you to experience a 4-week prayer & Bible Study Event this Advent. Together, through this study and in the power of the Holy Spirit, we will come to know Our God better, hear His Voice, and consider how God is calling us into a deeper relationship with Him. 
Our focus will center on the stories of women in the Bible, who by their example, shine the light of God's presence in our lives today. Come join us on this Advent journey of discovery…discover the Bible, God and yourself.
10am-11:30am, Wednesdays, November 20, December 4, 11, 18, 2019
To register or for more information, please contact Victoria Boreanaz at: vaboreanaz@gmail.com. 
---
SERVICE TEAM MEMBERS:
Mary Kay Schaub, Coordinator
Cindy Watson, Asst. Coordinator
Christine Holden, Treasurer
Liz McCormick, Corresponding Secretary
Darlene Gorski, Recording Secretary
Judy Swain, Historian
Father Eugene Ulrich, Spiritual Advisor
---
If you would like to help with a Ministry of Magnificat, or if you have a question or comment for Our Service Team, or if you would like to be on our Mailing list for future events, contact us by Email at magnificat.buffalo.1996@gmail.com,  or call: Cindy Watson @ 716.773.5976
---
HISTORY of the Gentle Woman Mother of Mercy Chapter of Magnificat
(for the Diocese of Buffalo, New York)
Approved by Bishop Henry J. Mansell, the Gentle Woman, Mother of Mercy Chapter began in November 1995 with Holy Mass celebrated by Msgr. Leonard Biniszkiewicz, the Chapter's first Spiritual Advisor. The first Breakfast was held Dec. 7,1996 with Rebecca Conaty as guest speaker and was led by the first Service Team consisting of Beryl Kinney, Coordinator,(deceased) Carol Throm (deceased,) Shirley Rinow, Cecilia Stack, (deceased) and Maura Nolan. Maura Nolan later became the Second Coordinator of the Buffalo Chapter when Beryl Kinney moved on to become the Regional Coordinator.