Welcome from Lincoln, NE!
We welcome you to the web page of the Lincoln, Nebraska  Morning Star Chapter. These are exciting times that we live in and Magnificat was begun in 1981 for such a time as this. There are now over 100 chapters throughout the United States and its territories and in many foreign countries.
---
Women's Prayer Breakfast
Hosted by the Morning Star Chapter of Magnificat
March 10, 2018
9:00 am – 12:00 pm
(doors open at 8:30 am)
Location:
Holiday Inn Express
400 Old Loudon Road
Latham, NY  12110
Guest Speaker: Father Anthony Ligato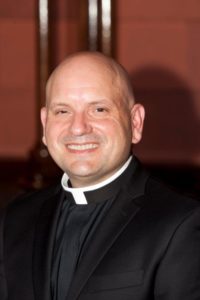 Fr. Anthony Ligato is a lifelong member of the Roman Catholic Diocese of Albany. He was born in Troy, NY, raised in the town of Brunswick, and is a 1990 graduate of Siena College.  In 1995, he graduated from St. Mary's Seminary and University in Baltimore, MD.  He has served the past 22 years in urban, rural, and suburban parishes throughout the Albany Diocese. Fr. Ligato is currently the Pastor of St. Jude the Apostle Church and School in Wynantskill, NY. He serves as the Vicar of Vocations and oversees the Formation of the Permanent Diaconate for the Roman Catholic Diocese of Albany. He works with a dedicated team of priests who recruit, form, and support those discerning priesthood and religious life.  Fr. Ligato shares that he has a "deep love for parish ministry" and is a "pastor at heart."  As Vicar of Vocations, his commitment is to the formation of faithful priests who will humbly serve the pastoral needs of the people.
"And the King will say to them in reply," Amen, I say to you, whatever you did for one of these brothers of mine, you did for me." Matthew 25:40
---
Since the day is designed to speak to the hearts of women, free of distraction, it is respectfully requested that young children not be in attendance. Also please be aware that subject matter may not be suitable for children.
---
TICKETS
REGISTER ON LINE:
http://magnificatligatobreakfast.eventzilla.net
Registration by mail received by March 5, 2018
Registration Fee: Mail – $20; Online – $22 (includes processing fees)


NO REGISTRATIONS WILL BE TAKEN AT THE DOOR.
Name ________________________________________________
Guest(s) Name ______________________________________________
Address ______________________________________________
City ___________________________ State ______ Zip __________
Phone # ____________________
Email (Please print clearly) ______________________________
Enclosed is $ ________________ for _______________ Number of Reservations.
Please send this printed, completed form and a check payable to:
Albany NY Chapter of Magnificat
PO Box 340
Clifton Park, NY 12065
Registration Information: Kelly Stiffen 518-384-0989
www.facebook.com/albanymagnificat
---
UPCOMING EVENTS FOR OUR CHAPTER — 2018
June 2, 2018
Prayer Breakfast – Guest Speaker:  Susan Conroy
November 17, 2018
Prayer Breakfast – Guest Speaker:  Priscilla "Missy" Muro
---
ROSARY BLANKET OF PRAYER
Remember our chapter's commitment to Eucharistic Adoration and to pray the Rosary on the 11th of each month for the intentions of Magnificat, Sanctity of Life, Marriage and Family, and World Peace.
---
OUR PRAYER GROUPS
---
SERVICE TEAM MEMBERS
---
If you would like to help with a Ministry of Magnificat, or if you have a question or comment for Our Service Team, or if you would like to be on our Mailing list for future events, please contact Kelly Stiffen 518-384-0989.
---
HISTORY of the Gentle Woman of Praise Chapter of Magnificat
[for the Diocese of Albany, New York]
To visit the Website of the Lincoln Nebraska Chapter of Magnificat, please click on the following link:
Magnificat – Lincoln Nebraska