Welcome from Omaha, NE!
We welcome you to the webpage of Omaha, NE Jesus Joy of Our Hearts Chapter. These are exciting times that we live in and Magnificat was begun in 1981 for such as time as this. There are now over 100 chapters throughout the United States and its territories and in many foreign countries. Our Chapter also has a website at www.magnificatomaha.org
Magnificat Summer Brunch
Hosted by Jesus Joy of Our Hearts Chapter
June 25, 2022
9:30 a.m. – 1:00 p.m.
LOCATION:
St. Robert Bellarmine
Omaha Mainelli Center
Omaha, NE
GUEST SPEAKER: Sonja Corbitt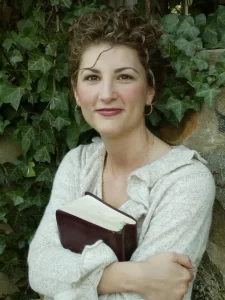 Sonja is a Catholic author who
has produced several multimedia Bible studies, including, Unleashed, Fearless, Ignite, and Fulfilled, with the LOVE the Word Bible study method. She is a Carolina native who was raised as a Southern Baptist and converted to Catholicism as an adult. She has served as director of religious education at St. John Vianney Catholic Church in Gallatin, Tennessee, and as executive director of Risen Radio in Lebanon, Tennessee.
Sonja is the host of the Bible Study Evangelista Show. She is in formation as a Third Order Carmelite, a columnist at The Great Adventure Bible Study blog, and a contributor to the Magnificat Mass publication. Her Bible study, Unleashed, was featured as a thirteen-part series on Catholic TV. A riveting guest on Catholic radio and television, she also wrote for the Gallatin News Examiner and Oremus, the Westminster Cathedral magazine. She lives in Tennessee with her husband, Bob, with whom she home schools two sons.
---
Prayer teams are available following the meal.
Religious books and CD's may be available at the meal.
Since the day is designed to speak to the hearts of women, free of distractions, it is respectfully requested that young children not be in attendance.
TICKETS & RESERVATIONS
(Reservations OPEN March 1, 2022 and will closed when filled.)
We do not assign seats so arrive early to check in at the Reservation Table and find seat(s) before the program begins.
Online Registration: magnificatomaha.org/reservations
---
2022 EVENTS
TBA
ROSARY BLANKET OF PRAYER
Remember our chapter's commitment to Eucharistic Adoration and to pray the Rosary on the 15th of each month for the intentions of Magnificat, the Church, a New Pentecost, Sanctity of Life, Marriage and Family, and World Peace.
---
OUR PRAYER GROUPS
Is God calling you to be in a Prayer Group? Jesus said "Wherever two or three are gathered in My Name, there I am in their midst." Our prayer groups are open to all.
---
SERVICE TEAM MEMBERS
Karen Dwyer, Coordinator
Kathy Andreasen, Assistant Coordinator
Marilou Lonergan, Secretary
Kathy Wheeler, Treasurer
Fr. Michael Voithofer, Spiritual Advisor
To be added to our Mailing List, send an email to: magnificatomaha@gmail.com
---
HISTORY of Jesus Joy of Our Hearts Chapter
(Diocese of Omaha, Nebraska)
Est. 2018
Magnificat-Omaha, NE has been approved by Archbishop George Lucas as an official organization for women's evangelization in the Archdiocese of Omaha.