Welcome from Clayton, NC!
We welcome you to the Clayton, NC Mother Mary Morning Star Chapter. These are exciting times that we live in and Magnificat began in 1981 for such a time as this. There are now over 100 chapters throughout the United States and its territories and in many foreign countries.
 Magnificat Prayer Afternoon Tea
Hosted by Mother Mary, Morning Star Chapter
May 14,2022
1 PM – 4 PM
Location:
Saint Andrew the Apostle Catholic Church
(Parish Center)
3008 Old Raleigh Rd, Apex , NC 27502
Guest Speaker: Fr. Tom Duggan, JCL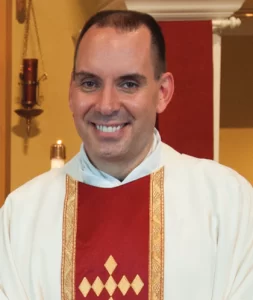 Matthew 6:26-27:
"Look at the birds in the sky; they do not sow or reap, they gather nothing into barns, yet your heavenly Father feeds them. Are not you more important than they?"
"Can any of you by worrying add a single moment to your life-span? "
Father Duggan was born in Dearborn, MI and grew up in Grand Blanc, MI. His parents, Thomas Lee Duggan and Barbara Jean Duggan, are still living. He has one sibling, his sister Marilee who is married with three children. His education was 12 years of Catholic school; BA in English from Hillsdale College in Michigan; MA in English from Oakland University in Rochester, MI. Father's main profession before Seminary was a Technical Writer for Rockwell Automation as he lived and worked for RA in the Cleveland and Milwaukee areas.
He entered seminary at the age of 36 in 2007, graduated from St. Charles Borromeo Seminary in 2013, and was ordained a priest for the Diocese of Raleigh on June 1, 2013. He has also earned a JCL degree in Canon Law from the Catholic University of America in 2018. Father Duggan currently serves as a canon lawyer for the diocese and as a member of our Marriage Tribunal. He previously served as an Ad Hoc Censor reviewing Catholic books to recommend (or not recommend) for Bishop Zarama's approval.
Fr. Tom has served at several parishes in the diocese and currently serves a Parochial Vicar at St. Ann in Clayton. He will give his testimony about his journey to priesthood.
He is very passionate about Pro Life – Movement , quoting:
"I love our Catholic faith, especially how the Church defends the right to life of every human person from conception to natural death.
I believe that the Church is never more powerful than when she is hated and a sign of contradiction to the world.
As Jesus says, He is the truth and the truth will set us free."
---
Personal Prayer Ministry is available after the meal.
Since the day is designed to speak to the hearts of women, free of distractions, it is respectfully requested that young children not be in attendance.
TICKETS/RESERVATIONS
ONLINE TICKETS are available for $23.00 per person (price includes convenience fee)
PLEASE request your tickets by May 7, 2022
You may use PayPal, Credit Card or Debit Card
Mail-In Reservations
$22 per person
Please print and use the form below to mail in reservations.
Please mail the completed form and make your check payable to : Magnificat Clayton
Peggy Morgan
182 Flowers Crest Way
Clayton NC 27527
No tickets will be sold at the door.
Your check will serve as your receipt
For questions or reservations: call Peggy Morgan 919-243-2636.
Open seating. Plan to arrive about 15 min. early
All Clergy & Religious are Complimentary – Call 252-414-7193 to confirm your attendance.
If you are not getting emails from our Chapter and would like to be added to the list, please send us your name and email to Magnificatclaytonnc@gmail.com
For questions, call chapter Coordinator Maria Jones cell # 252-414-7193.
---
Upcoming  Meals for Our Chapter in 2022
September 17th – Location and speaker TBA
December 3rd  – Location and speaker TBA
---
ROSARY BLANKET of PRAYER
Remember our chapter's commitment to Eucharistic Adoration and to pray the Rosary on the 24th of each month for the intentions of Magnificat, Sanctity of Life, Marriage and Family, and World Peace.
---
OUR PRAYER GROUPS
You are invited to pray Rosary and praise God virtually via Zoom on every 3rd Tuesday of the month at 7PM ET. Please join us and invite a friend, all are welcome. Contact us at: magnificatclaytonnc@gmail.com, to request your invitation to join Zoom meeting. Hope to see you then.
Is God calling you to be in a Prayer Group? Jesus said "Wherever two or three are gathered in My Name, there I am in their midst." Our prayer groups are open to all.
---
SERVICE TEAM MEMBERS
Coordinator, Maria Jones
Assistant Coordinator, Cecilia Soporowska
Secretary, Vita Napoli
Treasurer, Peggy Morgan
Historian, TBA
Spiritual Advisor : Fr Tom Duggan ,JCL
If you would like to help with a Ministry of Magnificat, or if you have a question or comment for our Service Team, or if you would like to be on our Mailing list for future events, please contact us at  Magnificatclaytonnc@gmail.com.
---
HISTORY of the Mother Mary Morning Star Chapter
We are the first Magnificat Chapter in North Carolina and in the Diocese of Raleigh.
The journey to establishing this Magnificat Chapter started when our founding Coordinator, Maria Jones, heard about the Magnificat Ministry at a Catholic Charismatic Conference in NC. Little did she know that the Holy Spirit was planting a seed in her heart to begin a Chapter in North Carolina. In late 2014, while in prayer, the Lord spoke to Maria's heart that he wanted her to work in women's ministry. She said yes Lord but what do you want me to do?  Magnificat is what she heard. After contacting the Central office and inquiring about the process, the discernment process began. In 2015 Maria attend the Magnificat Leadership Conference in Washington, DC.  At this conference, she met Cecilia Soporowska who would become the Assistant Coordinator. Through many prayers, perseverance, and dedication we became a licensed Chapter on July 1, 2020.