Welcome from Scarborough, ME!
We welcome you to the webpage of the Scarborough, Maine, Mary, Queen of Humility Chapter. These are exciting times that we live in and Magnificat was begun in 1981 for such a time as this. There are now over 100 chapters throughout the United States and its territories and in many foreign countries.
      Women's Prayer Breakfast
Sponsored by the Mary, Queen of Humility Chapter
August 24, 2019
9 AM-12 NOON
Doors open at 8:30 a.m. for open seating. Please arrive early.
Location:
Fireside Inn & Suites
81 Riverside St.
Portland, ME 04103
Our Speaker: Judy Landrieu Klein, PHD
————————–

Sold Out——————————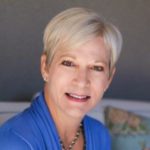 Dr. Judy Landrieu Klein is a Catholic theologian, author, inspirational speaker and counselor whose mission is to bring hope and healing to seekers and sufferers. A "revert" to Catholicism, Klein holds a Master's Degree in Theological Studies and completed post-graduate doctoral studies in Bioethics in Rome.  A Licensed Clinical Pastoral Counselor, Klein works with her husband, Dr. Mark Gelis, at My Father's House Counseling Services.
Dr. Klein is a published author whose first book Miracle Man, was an Amazon Kindle Bestseller in Catholicism.  Her newest book, Mary's Way: The Power of Entrusting Your Child to God, is a CatholicMom.com imprint book.  Both of Klein's books have received the nihil obstat from the Catholic Church, and both were published in Poland, where they are best sellers.
She is the founder of Memorare Ministries and is a regular blogger at Memorareministries.com, Aleteia, CatholicMom.com and Catholic Digest. Her growing family includes five children, nine grandchildren and two great-grandchildren.
"Not only that, but we even boast of our afflictions, knowing that affliction produces endurance, and endurance, proven character, and proven character, hope." – Romans 5: 3-4
Personal Prayer ministry is available after the meal.
Religious books and CD's may be available at the meal.
Since the day is designed to speak to the hearts of women, free of distractions, it is respectfully requested that children under the age of 14 not be in attendance.
---
TICKETS—————————-Tickets are sold out!——————————
---
UPCOMING MEALS FOR OUR CHAPTER — 2019
November 16, 2019- Father Anthony Kanagaraj
April 25, 2020-Speaker TBA
August 22, 2020-Speaker TBA
ROSARY BLANKET OF PRAYER
Remember our chapter's commitment to Eucharistic Adoration and to pray the Rosary on the 19th of each month for the intentions of Magnificat, Sanctity of Life, Marriage and Family, and World Peace.
---
OUR PRAYER GROUPS
Is God calling you to be in a Prayer Group? Jesus said "Wherever two or three are gathered in My Name, there I am in their midst." Our prayer groups are open to all.
Magnificat Intercessory Prayer Group
Every 3rd Saturday of the Month
(9AM-11:30AM)
St. Maximilian Kolbe Church, Black Point Rd.,  Scarborough, ME
For More Information, call 207-797-8413
---
SERVICE TEAM MEMBERS
Cindi Schaab, Coordinator
Cindy Andreson, Assistant Coordinator
Cathy Koenig, Treasurer
Valerie Litalien, Secretary
Shirley Estabrooks, Historian
Spiritual Advisor: Father John Bacevicius, OFM
---
If you would like to help with a Ministry of Magnificat, or if you have a question or comment for our Service Team, or if you would like to be on our Mailing list for future events, please contact us at: Scarborough Magnificat
---
HISTORY of Mary Queen of Humility Chapter of Magnificat
[for the Diocese of Portland, Maine]
In Maine a group of four women had been meeting weekly to study the bible together for over 15 years. They began to pray that God would use them to start some kind of ministry for women in the state of Maine. They were also asking God what name to call their group. The original group included Cindi Schaab, Cindy Andreson, Cathy Koenig, and Rose Clark (who has passed on to God).
In April 2010, while at Mass, Cindi Schaab was given the word "Magnificat". Excitedly, when she got home she called Cindy Andreson, one of the women in her group to tell her. Cindy Andreson, was excitedly trying to call Cindi Schaab at the very same time to tell her that she had discovered an exciting women's ministry on the internet called "Magnificat Ministry".
So, after contacting Kathy MacInnis in New Orleans, the formation began for Magnificat Maine. An intercessory prayer group was formed and has grown to more than 25 women who have  been meeting monthly to pray since May of 2010. The service team prayerfully received from the Holy Spirit,  "Mary, Queen of Humility", for their chapter name. Father John Bacevicius, OFM was knowledgeable about Magnificat and he became our chapter's Spiritual Advisor.
On September 8, 2015, the paperwork from the state of Maine for incorporation was approved. On September 15, 2016, the notification came through for acceptance in the Official Catholic Directory in the Portland, Maine Diocese. These were both Marian feast days. On November 7, 2016, Magnificat-Scarborough, ME Chapter was officially approved. Kathy MacIinnis poignantly revealed to the service team that this date of approval was very significant because it was her mother, Caroline's birthday. Her mother, Ms. Caroline, had been an enthusiastic prayer intercessor for Magnificat Ministry, and Kathy said she has entrusted Magnificat-Scarborough, ME Chapter to her mother's special intercession in Heaven.
The Holy Spirit has been forming and guiding this group each step of the way in miraculous ways. It has been a long process but God's Holy Timing is perfect. Magnificat Maine will host their first Magnificat meal on September 9, 2017.
"My soul proclaims the greatness of the Lord, and my spirit rejoices in God My Savior"!