Welcome from Scarborough, ME!
We welcome you to the webpage of the Scarborough, Maine, Mary, Queen of Humility Chapter. These are exciting times that we live in and Magnificat was begun in 1981 for such a time as this. There are now over 100 chapters throughout the United States and its territories and in many foreign countries.
---
 You are invited to a Prayer Breakfast
Sponsored by the Mary, Queen of Humility Chapter
November, 17, 2018
9 Am to 12 Noon
Doors open at 8:30 a.m. for open seating. Please arrive early.
Location:
Fireside Inn & Suites
81 Riverside St.
Portland, ME 04103
About Our Speaker: Donna Towle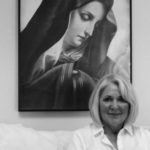 Donna Towle was born in Portland, Maine to Catholic Parents. Her parents divorced when she was 5 years old, and she was sent to the country to live with her grandparents on their farm. She attended public schools and received religious education from the religious sisters serving in the area where she lived. Upon graduating from  high school, she  traveled for a few years before marrying in 1969.
In 1978 her youngest son, Adam, died at age two from a sudden death. Without warning, God tested her resolve. This was a very a terrible tragedy  for her family,  but she immediately turned  to God and her  faith, and was so thankful for her Catholic upbringing, which helped her to cope at this sad time.
Her life took another series of changes and she found herself  attending the New England Institute of Applied Arts and Sciences in Boston to study Funeral Service. She  worked with her husband running two funeral homes  for forty years helping to console grieving families in need. She also  founded grief support groups in her area creating "The Gift of Grief" program.
In 2000, she was tested again. She  lost her  profession,  community and purpose in life following a  two-year horrendous divorce. Accepting God's will, she packed up her belongings and moved to live with her father when she  was  52 years old. This gave her another chance  to spend time with her father whom she had not lived with since the age of  5.
After two weeks, still grieving for all the losses in her life,  she  went to her doctor to get prescription for a sleep aid. Her doctor said: "You need to go to a convent for two or three months to heal from your brokenness". She said: " Are you crazy?" But she followed his prescription and her life hasn't been the same since. After all the twists and turns, God was directing her to His Heart through the Good Shepherd Sisters. Donna believes that every time a door closes, if we  trust God, He will open another one.
In 2002, she started doing prison ministry at the local city jail and she  has been there for sixteen years. In 2007, she became a Consecrated Good Shepherd Affiliate. She renews her vows of Poverty, Chastity and Obedience every year,  and try's to live  the Charism of the Good Shepherd  Foundress, Venerable Marie-Josephte Fitzbach, which is to  communicate Love, Goodness and Mercy as God Wills.
In 2010 Donna compiled a Prayer Book: "My Spiritual Guide for Souls" based on the Divine Mercy Chaplet. She is pleased to say that 10,000 copies have been sold.
Jesus I Trust in You!
---
Personal Prayer ministry is available after the meal.
Religious books and CD's may be available at the meal.
Since the day is designed to speak to the hearts of women, free of distractions, it is respectfully requested that children under the age of 12 not be in attendance.
---
TICKETS
Secure your reservation early as seating is limited.
Reservation(s) to the Prayer Breakfast are $22.00 and may be obtained from our Reservation Chairwoman, Shirley Estabrooks, beginning September 17,  2018
Reservations will be closed on November 3, 2018.
No reservations are accepted at the door.
Please use this form for Mail-In Reservations ONLY. Complete the form below (include the names and phone numbers of other ticket holders in your group). Your check will serve as your receipt.


$22.00 per person by mail; Registration Form must be postmarked by November3 , 2018 to receive your confirmation. (check or money order only)
Name ________________________________________________
Guest(s) Name ______________________________________________
Address ______________________________________________
City ___________________________ State ______ Zip __________
Phone # ____________________
Email (Please print clearly) ______________________________
Enclosed is $ ________________ for _______________ Number of Reservations.
Please Mail Reservation Form and check for $22 per person, payable to Magnificat Scarborough to:
Shirley Estabrooks
c/o Magnificat Reservations
109 Ridgeland Avenue, Apt # 229
South Portland, ME 04106
---
UPCOMING MEALS FOR OUR CHAPTER — 2018
April 27, 2019-TBA
August 24, 2019-TBA
November 16, 2019-TBA
---
ROSARY BLANKET OF PRAYER
Remember our chapter's commitment to Eucharistic Adoration and to pray the Rosary on the 19th of each month for the intentions of Magnificat, Sanctity of Life, Marriage and Family, and World Peace.
---
OUR PRAYER GROUPS
Is God calling you to be in a Prayer Group? Jesus said "Wherever two or three are gathered in My Name, there I am in their midst." Our prayer groups are open to all.
Magnificat Intercessory Prayer Group
Every 3rd Saturday of the Month
(9AM-11:30AM)
St. Maximilian Kolbe Church, Black Point Rd.,  Scarborough, ME
For More Information, call 207-797-8413
---
SERVICE TEAM MEMBERS
Cindi Schaab, Coordinator
Cindy Andreson, Assistant Coordinator
Cathy Koenig, Treasurer
Valerie Litalien, Secretary
Shirley Estabrooks, Historian
Spiritual Advisor: Father John Bacevicius, OFM
---
If you would like to help with a Ministry of Magnificat, or if you have a question or comment for our Service Team, or if you would like to be on our Mailing list for future events, please contact us at: Scarborough Magnificat
---
HISTORY of Mary Queen of Humility Chapter of Magnificat
[for the Diocese of Portland, Maine]
In Maine a group of four women had been meeting weekly to study the bible together for over 15 years. They began to pray that God would use them to start some kind of ministry for women in the state of Maine. They were also asking God what name to call their group. The original group included Cindi Schaab, Cindy Andreson, Cathy Koenig, and Rose Clark (who has passed on to God).
In April 2010, while at Mass, Cindi Schaab was given the word "Magnificat". Excitedly, when she got home she called Cindy Andreson, one of the women in her group to tell her. Cindy Andreson, was excitedly trying to call Cindi Schaab at the very same time to tell her that she had discovered an exciting women's ministry on the internet called "Magnificat Ministry".
So, after contacting Kathy MacInnis in New Orleans, the formation began for Magnificat Maine. An intercessory prayer group was formed and has grown to more than 25 women who have  been meeting monthly to pray since May of 2010. The service team prayerfully received from the Holy Spirit,  "Mary, Queen of Humility", for their chapter name. Father John Bacevicius, OFM was knowledgeable about Magnificat and he became our chapter's Spiritual Advisor.
On September 8, 2015, the paperwork from the state of Maine for incorporation was approved. On September 15, 2016, the notification came through for acceptance in the Official Catholic Directory in the Portland, Maine Diocese. These were both Marian feast days. On November 7, 2016, Magnificat-Scarborough, ME Chapter was officially approved. Kathy MacIinnis poignantly revealed to the service team that this date of approval was very significant because it was her mother, Caroline's birthday. Her mother, Ms. Caroline, had been an enthusiastic prayer intercessor for Magnificat Ministry, and Kathy said she has entrusted Magnificat-Scarborough, ME Chapter to her mother's special intercession in Heaven.
The Holy Spirit has been forming and guiding this group each step of the way in miraculous ways. It has been a long process but God's Holy Timing is perfect. Magnificat Maine will host their first Magnificat meal on September 9, 2017.
"My soul proclaims the greatness of the Lord, and my spirit rejoices in God My Savior"!