Welcome from Scarborough, ME!
We welcome you to the webpage of the Scarborough, Maine, Mary, Queen of Humility Chapter. These are exciting times that we live in and Magnificat was begun in 1981 for such a time as this. There are now over 100 chapters throughout the United States and its territories and in many foreign countries.
---
 You are invited to a Prayer Breakfast
Sponsored by the Mary, Queen of Humility Chapter
September 8, 2018
9 Am to 12 Noon
Doors open at 8:30 a.m. for open seating. Please arrive early.
Location:
Fireside Inn & Suites
81 Riverside St.
Portland, ME 04103
About Our Speaker: Maria Boylan
As the deer pants for streams of water, so my soul pants for you, my God. Psalm 42:1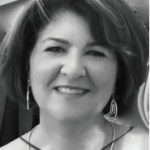 Maria was born in Rio de Janeiro, Brazil and emigrated to Canada with her family at the age of four. She was raised in a very loving family and was taught in the ways of the Catholic Church. But even as a young child, Maria was thirsty to know more about God. Discussions with her siblings about the existence of God, led her to make a decision to believe that God really did exist. Her mother taught her how to pray in preparation for her first communion and eventually her nightly prayer time changed from rote prayer to personal conversations with Father God.
Years passed and her yearning for more of God grew, however, the world and it's seductions lured her away from her first love. Fortunately, the Lord never left her. He rescued her from the pit of self-destruction and in her first year of college He brought her back to Him in a more intimate and wonderful way than ever before.Tragically, in her final year of college her parents were victims of a violent attack, which resulted in their death. This horrific event did not shake her new found faith in Jesus Christ, instead God became even more real and present to her. She and her siblings felt the supernatural protection and grace of God help them through this difficult time. Together in faith, they relied on God for provision, strength, and courage. By God's grace they were able to forgive their parents' murderer.
The following years were wrought with challenges, indecision and confusion as she sought God's will and help for her life. During a summer mission trip in Haiti, she heard the Lord calling her to "be a missionary in your own home town". She returned to her vocation as elementary school teacher, and the following year she got married. After five years of crying out to the Lord to heal her infertility, the Lord answered her prayer, and blessed her with three beautiful sons in four years!
In 2002 the family went through work related relocation to the U.S., and four moves in three different states in 10 years. Throughout these difficult moves, God revealed Himself to them in amazing ways, and kept them in peace, unity, and joy.
Maria has volunteered in street ministry, prison ministry, as a catechist, and facilitator of faith sharing groups. She has experienced many special and personal touches of God along her life journey…healing, God-sent mentors, words, pictures, and signs of guidance, inspirations and revelations from the Holy Spirit, and more that she loves sharing with others.
Recently Maria and her family were relocated to Charlotte NC, and live in Lake Wylie, South Carolina. She teaches fourth grade at St. Michael Catholic School, is a member of the Magnificat CST"s Communications Team, and is the founding member of the first (and so far only), Magnificat chapter in South Carolina. She is also a member of the Legion of Mary in her new parish and Joy in the Spirit Charismatic Prayer Group in Fort Mill, SC.
---
Personal Prayer ministry is available after the meal.
Religious books and CD's may be available at the meal.
Since the day is designed to speak to the hearts of women, free of distractions, it is respectfully requested that children under the age of 12 not be in attendance.
---
TICKETS
Secure your reservation early as seating is limited.
Reservation(s) to the Prayer Breakfast are $22.00 and may be obtained from our Reservation Chairwoman, Shirley Estabrooks, beginning June 8, 2018
Reservations will be closed on August 25, 2018.
No reservations are accepted at the door.
Please use this form for Mail-In Reservations ONLY. Complete the form below (include the names and phone numbers of other ticket holders in your group). Your check will serve as your receipt.


$22.00 per person by mail; Registration Form must be postmarked by August 25, 2018 to receive your confirmation. (check or money order only)
Name ________________________________________________
Guest(s) Name ______________________________________________
Address ______________________________________________
City ___________________________ State ______ Zip __________
Phone # ____________________
Email (Please print clearly) ______________________________
Enclosed is $ ________________ for _______________ Number of Reservations.
Please Mail Reservation Form and check for $22 per person, payable to Magnificat Scarborough to:
Shirley Estabrooks
c/o Magnificat Reservations
109 Ridgeland Avenue, Apt # 229
South Portland, ME 04106
---
UPCOMING MEALS FOR OUR CHAPTER — 2018
September 8, 2018-Maria Boylan
November 17, 2018-Donna Towle
---
ROSARY BLANKET OF PRAYER
Remember our chapter's commitment to Eucharistic Adoration and to pray the Rosary on the 19th of each month for the intentions of Magnificat, Sanctity of Life, Marriage and Family, and World Peace.
---
OUR PRAYER GROUPS
Is God calling you to be in a Prayer Group? Jesus said "Wherever two or three are gathered in My Name, there I am in their midst." Our prayer groups are open to all.
Magnificat Intercessory Prayer Group
Every 3rd Saturday of the Month
(9AM-11:30AM)
St. Maximilian Kolbe Church, Black Point Rd.,  Scarborough, ME
For More Information, call 207-797-8413
---
SERVICE TEAM MEMBERS
Cindi Schaab, Coordinator
Cindy Andreson, Assistant Coordinator
Cathy Koenig, Secretary
Valerie Litalien, Treasurer
Shirley Estabrooks, Historian
Spiritual Advisor: Father John Bacevicius, OFM
---
If you would like to help with a Ministry of Magnificat, or if you have a question or comment for our Service Team, or if you would like to be on our Mailing list for future events, please contact us at: Scarborough Magnificat
---
HISTORY of Mary Queen of Humility Chapter of Magnificat
[for the Diocese of Portland, Maine]
In Maine a group of four women had been meeting weekly to study the bible together for over 15 years. They began to pray that God would use them to start some kind of ministry for women in the state of Maine. They were also asking God what name to call their group. The original group included Cindi Schaab, Cindy Andreson, Cathy Koenig, and Rose Clark (who has passed on to God).
In April 2010, while at Mass, Cindi Schaab was given the word "Magnificat". Excitedly, when she got home she called Cindy Andreson, one of the women in her group to tell her. Cindy Andreson, was excitedly trying to call Cindi Schaab at the very same time to tell her that she had discovered an exciting women's ministry on the internet called "Magnificat Ministry".
So, after contacting Kathy MacInnis in New Orleans, the formation began for Magnificat Maine. An intercessory prayer group was formed and has grown to more than 25 women who have  been meeting monthly to pray since May of 2010. The service team prayerfully received from the Holy Spirit,  "Mary, Queen of Humility", for their chapter name. Father John Bacevicius, OFM was knowledgeable about Magnificat and he became our chapter's Spiritual Advisor.
On September 8, 2015, the paperwork from the state of Maine for incorporation was approved. On September 15, 2016, the notification came through for acceptance in the Official Catholic Directory in the Portland, Maine Diocese. These were both Marian feast days. On November 7, 2016, Magnificat-Scarborough, ME Chapter was officially approved. Kathy MacIinnis poignantly revealed to the service team that this date of approval was very significant because it was her mother, Caroline's birthday. Her mother, Ms. Caroline, had been an enthusiastic prayer intercessor for Magnificat Ministry, and Kathy said she has entrusted Magnificat-Scarborough, ME Chapter to her mother's special intercession in Heaven.
The Holy Spirit has been forming and guiding this group each step of the way in miraculous ways. It has been a long process but God's Holy Timing is perfect. Magnificat Maine will host their first Magnificat meal on September 9, 2017.
"My soul proclaims the greatness of the Lord, and my spirit rejoices in God My Savior"!