Welcome from Metairie, LA
We welcome you to the webpage of the Metairie, LA Chapter (Mother Chapter). These are exciting times that we live in and Magnificat was begun in 1981 for such a time as this. There are now over 100 chapters throughout the United States and its territories and in many foreign countries.
---
Magnificat Prayer Breakfast
Hosted by the Metairie Magnificat Chapter
Saturday, March 9, 2019
It's good advice to come at 8:30 and enjoy a cup of coffee.
You need to check in at door, before sitting.
Location:
Best Western PLUS Landmark Hotel
Chateau Ballroom, 16th Floor
2601 Severn Ave.
Metairie, LA 70002
Our Speaker:Karen Sheehy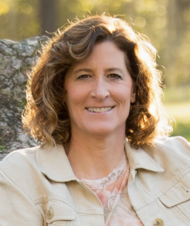 Karen Schwaner Sheehy is a devout Catholic, wife and mother, motivational speaker, blogger, president of a not-for-profit, and  developer of spiritualsafariguide.com, your passport to a world of spiritual inspiration and understanding. Karen is currently serving as a LA WINE (Women In the New Evangelization) Specialist.
Karen's life has been transformed and recreated anew. In her brokenness, the Triune God has brought healing and the intimate loving touch of each person of the divine Trinity (Father, Son and Holy Spirit).  Along the way, a great love for the Lord filled her soul, a love which has elevated and uplifted the various relationships in her  life. Her testimony also serves as a  personal invitation to turn to and approach Our Heavenly Father, His Son, our beloved Spouse, Friend, and Brother, Jesus, and the Holy Spirit of Love. Escorted by Mary, the Saints and Holy Mother Church, her prayer is that each of you experience God's love in a new and life changing way, and that you see yourself as God does, through the healing eyes of His merciful love.
---
Personal Prayer ministry is available after the meal.
Religious books and CD's are available at the end of the meal.
Since the day is designed to speak to the hearts of women, free of distractions, it is respectfully asked that children not attend.
---
RESERVATIONS • TICKETS
Reservation fee for the prayer breakfast is $22.00 please contact Jane Margavio. Please complete and mail the form below (include the names of the ladies that are included in your check).
Reservations for priests, deacons, religious brothers and sisters are complimentary, but reservations are required and this may be done by contacting Jane Margavio cell 504-884-6152.
Reservations must be made or postmarked no later than Wednesday, February 27, 2019.
$22 per person by mail. No money accepted at the door.
Reservations may also be obtained on-line for $23.00 (this includes the online convenience fee) for you and any guests by using this link: Meal Registration for Karen Sheehy Breakfast.  Payment is made through Pay Pal with your credit or debit card.
Please print and complete this form for Mail-In Reservations ONLY.
[printfriendly}
Name ________________________________________________
Guest(s) Name ______________________________________________
Address ______________________________________________
City ___________________________ State ______ Zip __________
Phone # ____________________
Email (Please print clearly) ______________________________
Enclosed is $ ________________ for _______________ Number of Reservations.
Please Mail Reservation Form and check for $22 per person, payable to "Magnificat" to:
Jane Margavio 1005 Maryland Ave., Kenner, LA  70062 or call Jane at (504) 466-2010  or (504) 884-6152
---
UPCOMING MEALS FOR OUR CHAPTER —  2019
June, 2019 To Be Announced
---
ROSARY BLANKET OF PRAYER
Remember our chapter's commitment to Eucharistic Adoration and to pray the Rosary for New Pentecost on the 1st of each month for the intentions of Magnificat, Sanctity of Life, Marriage and Family, and World Peace.
---
OUR PRAYER GROUPS
Is God calling you to be in a Prayer Group? Jesus said "Wherever two or three are gathered in My Name, there I am in their midst." Our prayer groups are open to all.
---
SERVICE TEAM MEMBERS
Melanie Baglow, Coordinator
Lisa Winter, Assistant Coordinator/Secretary
Elsa Hodges, Co-Historiian
Sylvia Thomas, Co-Historian
Jane Margavio, Treasurer
Spiritual Advisor: Fr. Beau Charbonnet
Music provided by Jaime Dilberto
---
If you would like to help with a Ministry of Magnificat, or if you have a question or comment for Our Service Team, or if you would like to be on our Mailing list for future events, please contact Melanie Baglow,  504-889-2431.
---
HISTORY of Magnificat Metairie, Mother Chapter
[Archdiocese of New Orleans]
The first Magnificat Breakfast was held in New Orleans, LA on Oct. 7, 1981. During the next 6 years expansion of the ministry took place necessitating division of duties between two teams: a central service team to concentrate on expansion and a Metairie service team to plan the MAGNIFICAT Meal locally and have the privilege of being called the "Mother Chapter."