Welcome from Metairie, LA
We welcome you to the webpage of the Metairie, LA Chapter (Mother Chapter). These are exciting times that we live in and Magnificat was begun in 1981 for such a time as this. There are now over 100 chapters throughout the United States and its territories and in many foreign countries.
---
Magnificat Prayer Breakfast
Hosted by the Metairie Magnificat Chapter
Monday, June 10, 2019
It's good advice to come at 8:30 and enjoy a cup of coffee.
You need to check in at door, before sitting.
Location:
Best Western PLUS Landmark Hotel
Chateau Ballroom, 16th Floor
2601 Severn Ave.
Metairie, LA 70002
Our Speaker: Denise Beyer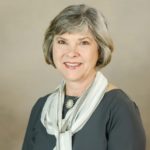 A parishioner of St. Anthony of Padua in Houma, has been married for 44 years to Roy. They have 4 grown children and 12 grandchildren. In 1994, during a time of questioning whether to remain in the Catholic Church, the Lord heard her cry for truth and she experienced a dramatic encounter of God's love during mass. Two years later she would attend a Life in the Spirit Seminar and experience His Love in a new way, in the Power of the Holy Spirit! These two events have forever changed her life!
Denise previously served as the coordinator for the Catholic Charismatic Renewal of Houma- Thibodaux for 7 years and liaison to Bishop Sam Jacobs for 3 years.
Denise currently serves as a member of the Catholic Charismatic Renewal of New Orleans (CCRNO) Core Team for Women's Retreats and Days of Refreshment as well as on the Steering Committee for the Southern Regional Conference. She is a cohost on Catholic Community Radio's "Wake Up" show on Wednesday mornings at 7:00am with Jeff Blackwell and Gaby Smith. She has a live weekly call-in radio program on Radio Maria entitled, "All Who Are Thirsty Prayer Time". In her own Diocese of Houma-Thibodaux, Denise participates in a weekly prayer meeting at Our Lady of Prompt Succor Adoration Chapel as a speaker and worship facilitator.
Denise has spoken at Days of Renewal, Retreats, Conferences, Magnificat Breakfasts, and Life in the Spirit Seminars throughout southern Louisiana, Mississippi, and Texas. She has recently gone to Brazil in conjunction with CCRNO ministries, and Seattle, WA with Hope and Purpose Ministries. It is her hope and desire to make the living Presence of Jesus and the fullness of life in the Holy Spirit known to all by proclaiming the Word of God, the richness of our Catholic faith, and the power of the Baptism in the Holy Spirit to transform lives.
"Therefore, since we have such hope, we act boldly…Now the Lord is the Spirit, and where the Spirit of the Lord is, there is freedom. All of us, gazing with unveiled faced on the glory of the Lord are being transformed into the same image from glory to glory, as from the Lord who is the Spirit." 2Cor. 3:12, 17-18
---
Personal Prayer ministry is available after the meal.
Religious books and CD's are available at the end of the meal.
Since the day is designed to speak to the hearts of women, free of distractions, it is respectfully asked that children not attend.
---
RESERVATIONS • TICKETS
Reservation fee for the prayer breakfast is $22.00 please contact Jane Margavio. Please complete and mail the form below (include the names of the ladies that are included in your check).
Reservations for priests, deacons, religious brothers and sisters are complimentary, but reservations are required and this may be done by contacting Jane Margavio cell 504-884-6152.
Reservations must be made or postmarked no later than Thursday, June 6, 2019  $22 per person by mail. No money accepted at the door.
Reservations may also be obtained on-line for $23.00 (this includes the online convenience fee) for you and any guests by using this link: Meal Registration for Denise Beyer  Payment is made through Pay Pal with your credit or debit card.
Please print and complete this form for Mail-In Reservations ONLY.
[printfriendly}
Name ________________________________________________
Guest(s) Name ______________________________________________
Address ______________________________________________
City ___________________________ State ______ Zip __________
Phone # ____________________
Email (Please print clearly) ______________________________
Enclosed is $ ________________ for _______________ Number of Reservations.
Please Mail Reservation Form and check for $22 per person, payable to "Magnificat" to:
Jane Margavio 1005 Maryland Ave., Kenner, LA  70062 or call Jane at (504) 884-6152
---
UPCOMING MEALS FOR OUR CHAPTER —  2019
September 28, 2019   Speaker to be announced
December 7, 2019    Speaker to be announced
---
ROSARY BLANKET OF PRAYER
Remember our chapter's commitment to Eucharistic Adoration and to pray the Rosary for New Pentecost on the 1st of each month for the intentions of Magnificat, Sanctity of Life, Marriage and Family, and World Peace.
---
OUR PRAYER GROUPS
Is God calling you to be in a Prayer Group? Jesus said "Wherever two or three are gathered in My Name, there I am in their midst." Our prayer groups are open to all.
---
SERVICE TEAM MEMBERS
Melanie Baglow, Coordinator
Lisa Winter, Assistant Coordinator/Secretary
Elsa Hodges, Co-Historiian
Sylvia Thomas, Co-Historian
Jane Margavio, Treasurer
Spiritual Advisor: Fr. Beau Charbonnet
Music provided by Jaime Dilberto
---
If you would like to help with a Ministry of Magnificat, or if you have a question or comment for Our Service Team, or if you would like to be on our Mailing list for future events, please contact Melanie Baglow,  504-889-2431.
---
HISTORY of Magnificat Metairie, Mother Chapter
[Archdiocese of New Orleans]
The first Magnificat Breakfast was held in New Orleans, LA on Oct. 7, 1981. During the next 6 years expansion of the ministry took place necessitating division of duties between two teams: a central service team to concentrate on expansion and a Metairie service team to plan the MAGNIFICAT Meal locally and have the privilege of being called the "Mother Chapter."