Welcome from Baton Rouge, LA!
We welcome you to the webpage of the Baton Rouge, LA St Elizabeth of the Visitation Chapter. These are exciting times that we live in and Magnificat was begun in 1981 for such a time as this. There are now over 100 chapters throughout the United States and its territories and in many foreign countries.
---
Due to the coronavirus, check here periodically for updated information regarding future Meals & Events
You are invited to a Magnificat Prayer Breakfast
Sponsored by the St. Elizabeth of the Visitation Chapter
Saturday,  TBA
9am – noon
Doors open at 8:15 a.m. for open seating. Please arrive early.
Location:
Oak Lodge Reception Center at Bricksome
2834 South Sherwood Forest Blvd.#Suite E-1
Baton Rouge, LA 70816
About Our Speaker: Lisa Flood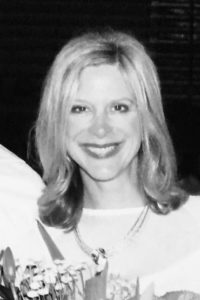 Lisa Flood is a wife, mom, and prayer warrior. A cradle Catholic from New Orleans, she likes to say that there was a time in her life when she "didn't know what she didn't know." Disillusioned by abuse scandals within the church, her family left the church  for a number of years and had no intention of returning . They loved Jesus but did not love the Catholic Church.
 It was the feast of Divine Mercy in 2008 that sparked three generations of her family to return to the faith. Through the gift of Ignatian  prayer, she has developed an intimate relationship with each member of the Trinity and she has come to experience the Blessed Mother actively mothering her from heaven.
 Lisa joyfully encourages others to frequent the Sacraments and develop  a deeper prayer life. Come hear her share how living the Divine Mercy message of love, mercy, and forgiveness lead to miracles in her family.
Although she is a  lawyer by training, Jesus had another plan.  She  has served in Catholic media for the past 10 years   as a host Of Focus Catholic tv program and  as a  co- host of Catch the Fire on Catholic Community Radio.
She and her husband, Dr Herb Flood reside in Mandeville and are the proud  parents of three sons and many spiritual children.
Personal Prayer ministry is available upon request after the meal.
Logo items and books are available for purchase.
Since the day is designed to speak to the hearts of women, free of distractions, it is respectfully requested that young children under the age of 14 not be in attendance.
---
TICKETS
Tickets to the Prayer Breakfast are $22.00.
Tickets for priests, deacons, religious brothers and sisters are complimentary, but reservations are required and this may be done online by sending an email to: Baton Rouge Tickets
Ticket sales end Wednesday,   
No tickets are sold at the door.
Please use this form for Mail-In Reservations ONLY.


Registration Form must be postmarked by Wednesday,  .  (check or money order only) Your check serves as your receipt. Your ticket will be at the door.
Name ________________________________________________
Guest(s) Name ______________________________________________
Address ______________________________________________
City ___________________________ State ______ Zip __________
Phone # ____________________
Email (Please print clearly) ______________________________
Enclosed is $ ________________ for _______________ Number of Reservations.
Please Mail Reservation Form, and a check for $22.00 per person payable to Magnificat to:
Estella Champion
8825 Wakefield Ave
Baton Rouge, LA 70806-7955
Cell: (225) 272-7607
ONLINE TICKETS are $22.00 and may be purchased by following this link: Baton Rouge Tickets
You may print your ticket after payment is received.
---
UPCOMING MEALS FOR OUR CHAPTER —2020/2021
October 17, 2020  Fr. Joshua Johnson
---
BLANKET OF PRAYER
Remember our chapter's commitment to Eucharistic Adoration and to pray the Rosary on the 5th of each month for the intentions of Magnificat, Sanctity of Life, Marriage and Family, and World Peace.
---
OUR PRAYER GROUPS
Is God calling you to be in a Prayer Group? Jesus said "Wherever two or three are gathered in My Name, there I am in their midst." Our prayer groups are open to all.
Magnificat Monthly Eucharistic Holy Hour 
First Thursday of each month In Our Lady of Mercy's Adoration Chapel
starting at 11:00 am followed by noon Mass.
Magnificat Morning of Prayer
Thursday week before the prayer breakfast at
Our Lady of Mercy Parish Activity Center
9:30-12 noon.
---
SERVICE TEAM MEMBERS
Gwen Gillis, Coordinator
Lyn Hassenboehler,  Assistant Coordinator
Estella Champion, Treasurer
Spiritual Advisor: Fr. Al Davidson
---
If you would like to help with a Ministry of Magnificat, or if you have a question or comment for our Service Team, or if you would like to be on our Mailing list for future events, please contact us at brmagnificat@yahoo.com
---
HISTORY of St. Elizabeth of the Visitation Chapter
[Baton Rouge, LA]