Welcome from Baton Rouge, LA!
We welcome you to the webpage of the Baton Rouge, LA St Elizabeth of the Visitation Chapter. These are exciting times that we live in and Magnificat was begun in 1981 for such a time as this. There are now over 100 chapters throughout the United States and its territories and in many foreign countries.
---
You are invited to a Magnificat Prayer Breakfast
Sponsored by the St. Elizabeth of the Visitation Chapter
Saturday, August 17, 2019
9am – noon
Doors open at 8:15 a.m. for open seating. Please arrive early.
Location:
Oak Lodge Reception Center at Bricksome
2834 South Sherwood Forest Blvd.#Suite E-1
Baton Rouge, LA 70816
About Our Speaker: Most Reverend Michael G. Duca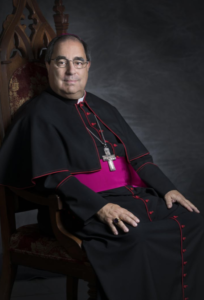 Michael Gerard Duca, a native of Dallas, Texas, was ordained a priest on April 29, 1978, for the Diocese of Dallas. On December 20, 2004, he was conferred the Title of Reverend Monsignor. He was called to the order of bishop on April 1, 2008, for service in North Louisiana. On May 19, 2008, he was ordained and installed as the second Bishop of the Diocese of Shreveport. On June 26, 2018, he was appointed as Bishop-designate for the Diocese of Baton Rouge; his installation was on August 24, 2018.
Bishop Duca attended Holy Trinity Seminary in Dallas from 1970 to 1978 and also studied in Rome from 1994 to 1996 at the Pontifical University of St. Thomas Aquinas-Angelicum University where he received his License in Canon Law.
During his active ministry as priest and prior to his appointment as diocesan bishop, Bishop Duca served in many different parishes in the Dallas area, including: All Saints Catholic Church, St. Patrick Catholic Church and St. Luke Catholic Church. He also previously served on a diocesan level in the Diocese of Dallas as Vocations Director, member of the Personnel Board, Campus Minister at Southern Methodist University, member of the Presbyteral Council, member of Board of Consultors, and Director of Ongoing Formation of Priests. From 1996 to 2008, he served as Rector at Holy Trinity Seminary in Dallas.
Bishop Duca presently serves as a member of the United States Conference of Catholic Bishops, Louisiana Conference of Catholic Bishops and Immediate Past President of the Louisiana Interchurch Conference. He serves as a trustee to Notre Dame Seminary, New Orleans and St. Joseph Seminary, Covington, LA, as well as serving on the University of Dallas Board of Trustees. He is a member of the St. Francis Medical Center Board of Directors, Monroe, LA, the Southeast Pastoral Institute (SEPI) Board of Directors, Miami, FL, the Equestrian Order of the Holy Sepulchre of Jerusalem, the Knights of ColumbusFourth Degree, and the Knights of Peter Claver-Third & Fourth Degree. In 2008, Bishop Duca received the Bishop Lynch High School Alumnus of the Year Award; in 2013 he received the University of Dallas' Distinguished Alumni Award and in 2018 he received the Bishop Lynch High School Legacy Award.
Personal Prayer ministry is available upon request after the meal.
Logo items and books are available for purchase.
Since the day is designed to speak to the hearts of women, free of distractions, it is respectfully requested that young children under the age of 14 not be in attendance.
---
TICKETS
Tickets to the Prayer Breakfast are $22.00.
Tickets for priests, deacons, religious brothers and sisters are complimentary, but reservations are required and this may be done online by sending an email to: Baton Rouge Magnificat Tickets
Ticket sales end Wednesday, August 14, 2019.
No tickets are sold at the door.
Please use this form for Mail-In Reservations ONLY.


Registration Form must be postmarked by Wednesday, August 14, 2019.  (check or money order only) Your check serves as your receipt. Your ticket will be at the door.
Name ________________________________________________
Guest(s) Name ______________________________________________
Address ______________________________________________
City ___________________________ State ______ Zip __________
Phone # ____________________
Email (Please print clearly) ______________________________
Enclosed is $ ________________ for _______________ Number of Reservations.
Please Mail Reservation Form, and a check for $22.00 per person payable to Magnificat to:
Kathy Simoneaux
Magnificat
9650 Victory Lane
Denham Springs, LA 70726-5858
ONLINE TICKETS are $22.00 and may be purchased by following this link: Baton Rouge Tickets
You may print your ticket after payment is received.
---
UPCOMING MEALS FOR OUR CHAPTER —2018/2019
April 13, 2019   Karen Sheehy
August 17, 2019: Bishop Michael Duca
October 19, 2019  Lorraine Hess
---
BLANKET OF PRAYER
Remember our chapter's commitment to Eucharistic Adoration and to pray the Rosary on the 5th of each month for the intentions of Magnificat, Sanctity of Life, Marriage and Family, and World Peace.
---
OUR PRAYER GROUPS
Is God calling you to be in a Prayer Group? Jesus said "Wherever two or three are gathered in My Name, there I am in their midst." Our prayer groups are open to all.
Magnificat Monthly Eucharistic Holy Hour 
First Thursday of each month In Our Lady of Mercy's Adoration Chapel
starting at 11:00 am followed by noon Mass.
Magnificat Morning of Prayer
Thursday week before the prayer breakfast at
Our Lady of Mercy Parish Activity Center
9:30-12 noon.
---
SERVICE TEAM MEMBERS
Gwen Gillis, Coordinator
Lyn Hassenboehler-  Assistant Coordinator
Kathy Simoneaux, Treasurer
Spiritual Advisor: Fr. Al Davidson
---
If you would like to help with a Ministry of Magnificat, or if you have a question or comment for our Service Team, or if you would like to be on our Mailing list for future events, please contact us at brmagnificat@yahoo.com
---
HISTORY of St. Elizabeth of the Visitation Chapter
[Baton Rouge, LA]