Welcome from Walker, MN
We welcome you to the webpage of the Walker MN Our Lady of the Lakes Chapter. These are exciting times that we live in and Magnificat was begun in 1981 for such a time as this. There are now over 100 Chapters throughout the United States and its territories and in many foreign countries. Our Lady of the Lakes Chapter also has a website at www.ololmagnificat.com.
---
Magnificat Prayer Breakfast
Hosted by Our Lady of the Lakes Chapter
August 12th & 13th, 2022
Meal on Friday: 6–9pm • Day of Prayer on Saturday: 9am–3pm
Location:
St. Agnes Church
210 Division Street
Walker, MN 56484
---
Guest Speaker: Maria Vadia
"Give thanks unto the Lord for His mercy endures forever."  Psalm 107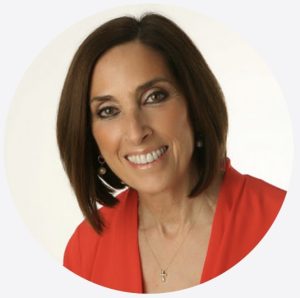 Our Lady of the Lakes Magnificat invites you to an exciting weekend of ministry at St. Agnes Church in Walker, MN on Friday, August 12, 2022 and Saturday, August 13th, 2022.  Maria Vadia, an apostle of the Lord Jesus Christ with a worldwide ministry, is committed to making Jesus known to the nations by the preaching of the Gospel in the power of the Holy Spirit and has been active in the Catholic Charismatic Renewal of the Archdiocese of Miami.
She takes the message of faith, salvation, and healing throughout the world. Among the many nations she has ministered to are Malta, Ghana, Uganda, Tanzania, Zimbabwe, Indonesia, New Zealand, Canada, India, Poland, Italy, the Caribbean, and throughout the U.S. Her foundation 'The Glory of God', led by the Holy Spirit, is helping build houses for the Pygmies in Kabale, Uganda. Together with Fr. Tom di Lorenzo of Holy Rosary Catholic Church in Winthrop, MA, she sponsors the School of the Holy Spirit and Days of Glory conferences. Maria has authored seven books: "There is Power in Your Tongue", "Pressing on in The Spirit", "An Arrow in His Hand", "Healing is for You", "Break Open Your Wells", "Victory in the Eye Gate", and "No More Orphans".
---
Cost of the dinner is $20. On Saturday, Maria will give a day of teaching. Breakfast and lunch will be provided at a cost of $20. Please call Lorri Henning at 218-507-0953 to make reservations. St. Agnes Church is located at 210 Division Street in Walker, MN.
TICKETS/RESERVATIONS
Registration will be at 8:30 with breakfast at 9:00. Cost of the meal is $20.00. To make reservations, please call Lorri at 218-507-0953.
Send check payable to Magnificat,
Lorri Henning
3080 20th Avenue
Hackensack, MN 56452-2064
Tickets for priests, deacons, religious brothers and sisters are complimentary.
RESERVATION FORM:
Please use this form for Mail-In Reservations ONLY.
Click on, print and complete the form below (include the names and phone numbers of other ticket holders in your group). Reservations CANNOT be accepted after April 25th.
Please Mail Reservation Form and check payable to "Magnificat" to:
Lorri Henning
3080 20th Avenue NW
Hackensack, MN56452-2064
For more information about our Chapter and upcoming events, go to Our Lady of the Lakes Chapter website.
---
UPCOMING MEALS FOR OUR CHAPTER —
August 12-13, 2022 – Meal and retreat, Speaker: Maria Vadia
October 8, 2022 — Breakfast, Speaker: Bishop Daniel Felton of Duluth Diocese
ROSARY BLANKET OF PRAYER
Remember our chapter's commitment to Eucharistic Adoration and to pray the Rosary on the 21st of each month for the intentions of Magnificat, Sanctity of Life, Marriage and Family, and World Peace.
---
SERVICE TEAM MEMBERS
Mary Rients, Coordinator
Linda Reis, Assistant Coordinator
Stacey O'Rourke, Recording Secretary
Jeanette Goehring, Treasurer
Lorri Henning, Historian
Spiritual Advisor: Father George Zeck
If you would like to help with a Ministry of Magnificat, or if you have a question or comment for our Service Team, or if you would like to be on our Mailing list for future events, please contact us at walkermnmagnificat@gmail.com
---
HISTORY of Our Lady of the Lakes Chapter of Magnificat
(Diocese of Duluth, Minnesota)
Est. 1992
Magnificat came to Walker, MN in 1992 through women involved in the Catholic Charismatic Renewal. These Through much prayer for direction and discernment, the answer came at a charismatic leaders' conference in Pittsburgh, PA, "Return to the Upper Room", for the 25th anniversary of the Renewal. The first night of the leaders' meetings, we were told to break into small groups and to pray for the needs of each leader. Our prayers were for direction and approval of a women's group in the Duluth, MN diocese. Before we began to pray, a lady we had never seen or heard from before stopped and said, "You are going to begin a Magnificat and your bishop will approve it. Move quickly."
The second affirmation came during the same conference. We were trying to meet with Marilyn Quirk, the Central Service Team Coordinator, whom we did not know, but had seen in years past speaking about Magnificat,
We prayed that we would recognize her in the large crowd and be able to meet with her. Looking over the large crowd of people, we spotted a person we thought might be Marilyn. We walked up to her and said, "Are you Marilyn Quirk?" She was! Father Jerry Lapatka, Betty Garoutte and Rosemary Ellis met with Marilyn of Friday, June 5, 1992 in a hospital cafeteria and completed the first step in starting our Magnificat chapter.
When we returned to MN and met with our women, we had a unanimous decision that Magnificat was right for us. We met with our parish priest, Father Tom Bouchard and we received his approval. Then with the help of Father Lapatka, our spiritual advisor, we received approval from the Magnificat service team and from our bishop, Roger Schweitz. We were overjoyed with his blessing and full approval. We completed all of the necessary procedures and legal matters and Our Lady of the Lakes chapter of Magnificat became a reality. Consecrated to the Sacred Heart of Jesus and the Immaculate Heart of Mary, and filled with the Holy Spirit, we went forth to proclaim that Jesus is Lord, active, alive and present to the Glory of the Father.