Welcome from Marrero, Louisiana! (West Bank)
We welcome you to the webpage of the West Bank (Marrero) Chapter of Magnificat! These are exciting times that we live in and Magnificat was begun in 1981 for such a time as this. There are now over 100 chapters throughout the United States and its territories and in many foreign countries.
---
Magnificat Prayer Breakfast
By the West Bank (Marrero) Chapter of Magnificat
Saturday  December 10, 2022
9:30 AM – 12:00 PM
Please arrive 15 minutes early. Open seating
Location
The Four Columns
3711 Westbank Expressway, Harvey LA.
About Our Speaker: Kim Rodriguez-Torres
"God is love." 1 John 4:16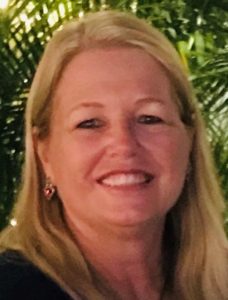 Kim Rodriguez-Torres is a wife, mother, grandmother and woman of God. She has been involved in different areas of Ministry for the past 30 years. She is a Commissioned Lay Ecclesial Minister, Certified Advanced Catechist, Retreat Facilitator, Prayer Group Leader and Evangelist. Kim has worked as a Catholic School Teacher, Representative of Family Life and MOM's Ministry.  She has assisted on the Board of the Catholic Charismatic Renewal for Orlando and the Archdiocese of Miami. Kim formerly served on the Central Service Team for Magnificat, the governing body for this World Wide International Ministry to Catholic Women.  The Magnificat Ministry was born out of the Charismatic Renewal open to the working of the Holy Spirit in sharing their love, service and good news of salvation.
Kim is the founder of "Bella's Blanket of Blessings" a prayer blanket ministry that was started after her four-year-old niece and goddaughter; Bella, became paralyzed and was diagnosed with stage 4 cancer.  These prayer blankets are for the sick, suffering and anyone else who needs prayer. These blankets have gone around the world to Canada, Haiti, India, and the Dominican Republic.  They have been sent to hospitals, nursing homes, homeless shelters and seminaries.  Bella's Blanket of Blessings helps promotes vocations to the priesthood through prayer and spiritual adoption of seminarians and priest.
Kim is willing to share the power of prayer, the love of God and the mission of Christ any chance she gets.  When you realize what happened on the Cross was done out of love for you it changes your life forever. God is love…and she strives to do all in love for the greater glory of God.
---
Personal Prayer ministry is available after the meal.
Religious books and CD's may be available at the meal.
Since the day is designed to speak to the hearts of women, free of distractions, it is respectfully requested that young children not be in attendance.
---
TICKETS
Tickets to the prayer breakfast are $20.00 and may be obtained from our ticket chairwoman, Cindy Delger (504) 319-6788 or Diane Ribando (504) 913-4903
Tickets for priests, deacons, religious brothers and sisters are complimentary, but reservations are required and this may be done by contacting Cindy Delger at (504)319-6788. 
Tickets are also available from:
Westbank Religious Supply House, Phone (504) 341-6558
Members of the Westbank Chapter Service Team of Magnificat also have tickets for sale.
Your check will serve as your receipt.
Ticket sales end December 2, 2022.
No tickets are sold at the door.
Please use this form for Mail-In Reservations ONLY. Complete the form below (include the names and phone numbers of other ticket holders in your group).
$20.00 per person by mail; Registration Form must be postmarked byDecember 2, 2022 (check or money order only).  Ticket will be held at the door.
Please Mail Reservation Form and check for $20 per person, payable to "Magnificat" to:
Magnificat Westbank Chapter
C/O Cindy Delger
231 10th St
Gretna, LA 70053
(504) 319-6788
---
UPCOMING MEALS FOR OUR CHAPTER — 2023
March 25, 2023     Very Rev. Jose Lavastida, S.T.D.
---
ROSARY BLANKET OF PRAYER
Remember our chapter's commitment to Eucharistic Adoration and to pray the Rosary on the 2nd of each month for the intentions of Magnificat, Sanctity of Life, Marriage and Family, and World Peace.
---
OUR PRAYER GROUPS
Is God calling you to be in a Prayer Group? Jesus said "Wherever two or three are gathered in My Name, there I am in their midst." Our prayer groups are open to all.
Catholic Charismatic Renewal Westbank Prayer Meeting & Mass
Prayer Meeting on the 2nd & 4th Wednesdays at 7:30PM.
Infant Jesus of Prague Church
700 Maple Ave
Harvey, LA
Rosary is prayed at 7:00PM.
Reconcilation available before Mass.
Mass starts at 8:10PM with Prayer Ministry
For information:
Diane Ribando (504) 913-4903
email: ccrwbpg@gmail.com
Center of Jesus the Lord Catholic Charismatic Worship Community at Our Lady of Good Counsel Church
1307 Louisiana Ave
New Orleans, LA 70115
Tuesdays: Praise and Worship 10:30 AM,  Mass at 11:00 AM, Fellowship after Mass.
1st Saturday: Exposition 10:00 AM, Healing Prayer 11:00 AM
Sundays: Praise and Worship 10:00 AM, Mass at 10:15 AM, Fellowship after Mass.
For information call (504) 529-1636
Website:www.centerofjesusthelord-nola.org
CCRNO – Catholic Charismatic Renewal New Orleans Prayer Meeting & Mass 
Prayer Meeting on Wednesdays at 7:30 PM at
St Benilde Catholic Church
1901 Division St
Metairie, LA.
Mass follows Prayer Meeting with Prayer Ministry after Mass.
For information call (504) 828-1368 or website: www.ccrno.org
---
SERVICE TEAM MEMBERS
Cindy Delger, Coordinator
Diane Ribando, Assistant Coordinator
Reyna Murillo, Secretary
Marina Romero, Treasurer
Margaret Andrus, Historian
Spiritual Advisor: Msgr. Lanaux Rareshide
---
If you would like to help with a Ministry of Magnificat, or if you have a question or comment for Our Service Team, or if you would like to be on our Mailing list for future events, please contact us at magnificat.westbank@gmail.com
---
HISTORY of Westbank LA Chapter of Magnificat
West Bank is the second Chapter of Magnificat. We had our first breakfast in 1985 and have been going strong ever since!