Welcome from Shreveport/Bossier City, Louisiana!
We welcome you to the webpage of NOWELA (Shreveport/Bossier City — North West Louisiana) Chapter – Our Lady of Glory. These are exciting times that we live in and Magnificat was begun in 1981 for such a time as this. There are now over 100 chapters throughout the United States and its territories and in many foreign countries and one of the Chapters is located in Shreveport/Bossier City, LA area!
---
Magnificat Prayer Breakfast
Hosted by Our Lady of Glory Chapter
March 11, 2023
10:30 AM to 1:30 PM
Doors open at 10:00 am.
Location:
The Catholic Center
3500 Fairfield Ave
Shreveport, La.  71104
---
About Our Speaker: Delia Barr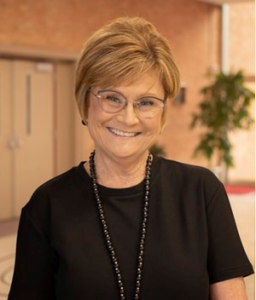 Delia is originally from Omaha, Nebraska. She was born into a Catholic family, going to Catholic school, and then attending Catholic College. She was a Catholic high school teacher and through the prompting of the Holy Spirit was approached by Monsignor Malone (Bishop Malone) to be the Director of Religious Education in Little Rock, Arkansas. Delia is going to share her story of how the Holy Spirit has guided her and her husband through the years and about her ministries through the many relocations, but most importantly, her desire to see the end of the abortion clinics throughout the world.
Join us on March 11th to hear Delia's testimony.
Personal Prayer ministry is available after the meal.
Since the day is designed to speak to the hearts of women, free of distractions, it is respectfully requested that young children not be in attendance.
---
Reservations
Reservations for the prayer brunch are $20.00.
Reservations for priests, deacons, religious brothers and sisters are complimentary. Contact us at magnificatnowela@gmail.com
Reservations are taken until March 7, 2023.
No reservations are taken at the door.
Online registration: coming soon!
You may wish to print the form below and use it to make your reservations. Please use the form below for Mail-In Reservations ONLY.
$20.00 per person by mail: Registration Form must be postmarked no later than March 7, 2023 to insure your reservation.
Please Mail Reservation Form, and $20.00 per person payable to NOWELA Magnificat to:
NOWELA Magnificat Ministry
P O Box 4293
Shreveport, La. 71134
---
UPCOMING MEALS FOR OUR CHAPTER — 2023
All speakers TBD
June 3, 2023
August 26, 2023
November 11, 2023
__________________________________________________________
ROSARY BLANKET OF PRAYER
Remember our chapter's commitment to Eucharistic Adoration and to pray the Rosary on the 30th of each month for the intentions of Magnificat, Sanctity of Life, Marriage and Family, and World Peace.
---
OUR PRAYER GROUPS
Is God calling you to be in a Prayer Group? Jesus said "Wherever two or three are gathered in My Name, there I am in their midst." Our prayer groups are open to all.
Children of Light
Every Wednesday. Contact St. John Berchman's Cathedral Office for more information.
Facebook page: Children of Light Prayer Group (Shreveport, La.) for information
Magnificat Bible Study group:
Register now for the Growth in the Spirit Webinar – begins March 2
___________________________________________________________
SERVICE TEAM MEMBERS
Linda Balistrella, Coordinator
Michele Duet, Assistant Coordinator
Belle French, Secretary
Kim DeLouche, Treasurer
Majorie Ainsworth, Historian
Rev. Jean Bosco Uwamungu, Spiritual Advisor 
---
If you would like to help with a Ministry of Magnificat, or if you have a question or comment for Our Service Team, or if you would like to be on our Mailing list for future events, please contact us at magnificatnowela@gmail.com
---
HISTORY of NOWELA Chapter of Magnificat
(Diocese of Shreveport, La.)