Welcome from Baton Rouge, LA!
We welcome you to the webpage of the Baton Rouge, LA St Elizabeth of the Visitation Chapter. These are exciting times that we live in and Magnificat was begun in 1981 for such a time as this. There are now over 100 chapters throughout the United States and its territories and in many foreign countries.
---
You are invited to a Magnificat Prayer and Praise Workshop
   Based on the Theology of Praise
Sponsored by the St. Elizabeth of the Visitation Chapter
Saturday, June 4, 2022
9:30am – 2:30pm
Fee:$30.00 (lunch included)
Registration and Coffee begins 9:30am – 10:00
Note: There will be a first Saturday Mass at 8:30am-9:30am.
All are welcome to attend Mass prior to event.
Location:
St. George Catholic Church – Parish Hall
7808 St. George Drive
Baton Rouge, LA70809
"Light the Fire in Your Worship" Workshop
Come Experience New Passion and Freedom in Praise, Worship and Prayer
About Our Speaker: Susan Potvin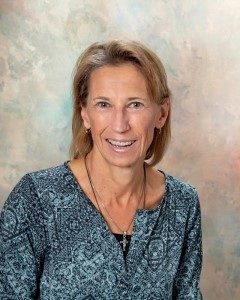 Susan Potvin, worship leader and inspirational speaker, has been involved in worship ministry for more than thirty-five years.  Susan has a passion to speak and to teach about praise and worship and to inspire others in their relationship with the Lord.  As the leader of Living Praise Worship Team, Susan travels nationally and internationally, serving such groups as Magnificat® – a Ministry to Catholic Women, Women of Grace, the National Charismatic Renewal, where she served on the advisory team, and many other groups including a newly developing Spiritual Mother's Ministry.  As the Chair for Praise and Worship for Magnificat Ministry, Susan has led worship at numerous international conferences, travels to many regions giving worship workshops, and works with a network of worship leaders from all over the world. With Living Praise, Susan has produced seven worship CD's designed to help others grow in their worship experience.  Graduation fro Franciscan University of Steubenville with a B.A. in Theology, Susan also has a Masters of Education School Counseling from Liberty University and is a trained Spiritual Director through the school of Spiritual Direction at Franciscan University.  Susan works as a school counselor at a K-12 Christian school. She and her husband Urby, who have been married for forty years, reside in Steubenville, Ohio.
_____________________________________________________________________________
Since the day is designed to speak to the hearts of women, free of distractions, it is respectfully requested that young children under the age of 14 not be in attendance.
---
TICKETS / REGISTRATION
Tickets to the Prayer and Praise Workshop are $30.00.
Tickets for priests, deacons, religious brothers and sisters are complimentary, but reservations are required. Please contact Estella Champion. (see bleow)
Ticket sales begin Wednesday, May 4, 2022 
No tickets are sold at the door.
Please use this form for Mail-In Reservations ONLY.
Registration Form must be postmarked by Wednesday, May30, 2022. (check or money order only) Your check serves as your receipt. Your ticket will be at the door.
Please Mail Reservation Form, and a check for $30.00 per person payable to Magnificat: Magnificat Baton Rouge
8825 Wakefield Ave
Baton Rouge, LA 70806-7955
Cell: (225) 272-7607
ONLINE TICKETS are $30.00 and may be purchased by following this link: https://bit.ly/MagBRJune2022
You may print your ticket after payment is received.
UPCOMING MEALS FOR OUR CHAPTER —2022
August 20, 2022 Michelle Seghers
October 29, 2022 Meghan Braud
---
BLANKET OF PRAYER
Remember our chapter's commitment to Eucharistic Adoration and to pray the Rosary on the 5th of each month for the intentions of Magnificat, Sanctity of Life, Marriage and Family, and World Peace.
---
OUR PRAYER GROUPS
Is God calling you to be in a Prayer Group? Jesus said "Wherever two or three are gathered in My Name, there I am in their midst." Our prayer groups are open to all.
Magnificat Monthly Eucharistic Holy Hour 
First Thursday of each month In Our Lady of Mercy's Adoration Chapel
starting at 11:00 am followed by noon Mass.
Magnificat Morning of Prayer
Thursday week before the prayer breakfast at
Our Lady of Mercy Parish Activity Center
9:30-12 noon.
---
SERVICE TEAM MEMBERS
Gwen Gillis, Coordinator
Estella Champion, Treasurer
Kathy Simoneaux, Asst. Treasurer
Theresa Henderson, Secretary
Spiritual Advisor: Fr. Al Davidson
---
If you would like to help with a Ministry of Magnificat, or if you have a question or comment for our Service Team, or if you would like to be on our Mailing list for future events, please contact us at brmagnificat@yahoo.com
---
HISTORY of St. Elizabeth of the Visitation Chapter
(Baton Rouge, LA)