Welcome from McHenry, IL
We welcome you to the webpage of the McHenry, IL Mary Mother of the Eucharist Chapter of Magnificat. These are exciting times that we live in and Magnificat was begun in 1981 for such a time as this. There are now over 100 chapters throughout the United States and its territories and in many foreign countries.
---
Due to the coronavirus, check here periodically for updated information regarding future Meals & Events
Magnificat Prayer Breakfast
Hosted by Mary, Mother of the Eucharist Chapter
June 26, 2021
9:00 AM to 12:30PM
Doors open at 8:30 AM
Come early to enjoy more music and fellowship!
Location:
Holiday Inn of Crystal Lake 800 South Rt 31, Crystal Lake, Illinois 60014
About our Guest Speaker:Dr Mark Nimo, PhD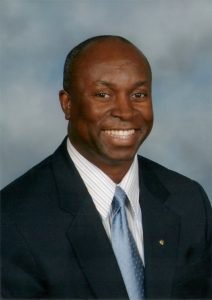 Mark Nimo was born 1964 and comes from Ghana in West Africa. He had a profound conversion experience at the age of twenty when he fathered a child out of wedlock. He became actively involved in the Catholic Charismatic Renewal Movement. Mark Nimo represented all English and Portuguese speaking countries in Africa on the International Catholic Charismatic Renewal Services (ICCRS) in the Vatican from 1994-2004. This position gave him the opportunity to minister in 37 countries on all the continents of the world.
Mark started studies at the Catholic Theological Union, Chicago in September of 2004 and graduated in May 2006 with a Master of Arts in Pastoral Studies. He currently serves as Director of Religious Education at St. Columbanus Church and also teaches at St. Dorothy School. In 2008, Mark received a Bernadin Scholarship to undertake studies for the Ecumenical Doctor of Ministry degree, with a concentration in Intercultural Studies. Mark completed his doctoral studies in May, 2012.
Mark is married to Mercy and has three daughters, Elizabeth, Michelle-Marie and Noelle.
---
Personal Prayer ministry is available after the meal by the Magnificat Service Team.
Religious books and CD's are available at the meal.
Since the day is designed to speak to the hearts of women, free of distractions, it is respectfully requested that young children under the age of 10 not be in attendance.  Nursing mothers are always welcome, however!
---
TICKETS
Tickets must be purchased in advance. No tickets will be sold at the door.
Tickets must be requested by June 23,2021
TICKETS ARE AVAILABLE:
Online Payments :
Tickets purchased before June 12th are $25, after this date tickets are $35 (small convenience fee will be added to your ticket cost) using PayPal with a credit or debit card.  You do not need to have a PayPal account.  You may also purchase additional tickets for any guests you would like to bring to the meal.  When your transaction is complete you may print your online ticket from your computer.
To order your tickets online: MagnificatBreakfast.BrownPaperTickets.com
By Phone: Call 1-800-838-3006 to phone in Reservations
By Mail: Tickets purchased before June12th are $25, after this date tickets are $35
Send check payable to Magnificat, postmarked by June10th to:
Magnificat
2404 Bennington Lane
McHenry, IL 60050
Tickets may also be purchased until Wednesday, June 23 at
The Little Way Bookstore
50 Brink Street
Crystal Lake, IL 60014
Please call Brown Paper Tickets at 1-800-838-3006 to reserve your ticket.
Tickets for priests, deacons, religious brothers and sisters are complimentary but ticket reservations are still needed. .
---
UPCOMING MEALS FOR OUR CHAPTER —  2021
---
ROSARY BLANKET OF PRAYER
Remember our chapter's commitment to Eucharistic Adoration and to pray the Rosary on the 25th of each month for the intentions of Magnificat, Sanctity of Life, Marriage and Family, and World Peace.
---
OUR PRAYER GROUPS
Is God calling you to be in a Prayer Group? Jesus said "Wherever two or three are gathered in My Name, there I am in their midst."
Our prayer groups are open to all.
Thursday mornings at the Church of Holy Apostles from 9:30-noon at 5211 Bull Valley Road in McHenry
---
SERVICE TEAM MEMBERS
Gina Rooney, Coordinator
Carrie Shannon, Assistant Coordinator
Laura Perry, Secretary
TBA, Treasurer
Valerie Kwasigroch, Historian
Cindy Widhelm, Board Member
Jessica Justen, Hostess Director
Spiritual Adviser: Deacon Joe Phelan
---
If you would like to help with a Ministry of Magnificat, or if you have a question or comment for our Service Team,  or if you would like to be on our Mailing list for future events, please contact us at Motheroftheeucharistchapter@gmail.com
---
HISTORY of McHenry, IL- Mary, Mother of the Eucharist Chapter of Magnificat
[For the Diocese of Rockford]