Welcome from McHenry, IL
We welcome you to the webpage of the McHenry, IL Mary Mother of the Eucharist Chapter of Magnificat. These are exciting times that we live in and Magnificat was begun in 1981 for such a time as this. There are now over 100 chapters throughout the United States and its territories and in many foreign countries.
---
Magnificat Prayer Breakfast
Hosted by Mary, Mother of the Eucharist Chapter
Saturday, January 26, 2019
11:00 a.m. to 2:00 p.m.
Doors open at 10:45 a.m.
The Rosary will be prayed at 10:30 a.m. in an adjoining room
Location:
Our Lady of Sorrows Catholic Church
Family Life Center, Assembly Hall
1728 Oxmoor Road
Birmingham, AL 35209
About our Guest Speaker: Father Justin Nelson Alphonse, C.P.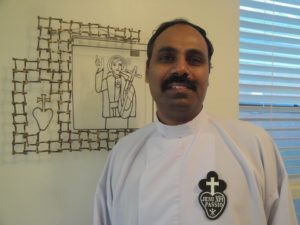 "May the Passion of Jesus Christ be always in our Hearts"
– St. Paul of the Cross
Father Nelson was born in Trichy, Tamilnadu, India, on June 10, 1973. He has two brothers, Johnson and Nixson, and a sister, Helena, all of whom are married and live with their families in different places in India. Before Father Nelson's father retired,
Mr. Alphonse was a banker while Father Nelson's mother, Caroline, cared for the family. His parents are very active in the parish church.
While in tenth grade in Coimbatore, India, Father Nelson met Father Christopher Gibson, C.P., who was speaking with students about the Passionist life and dedication to the Catholic faith. Father Nelson wrote a note to Father Christopher that read "I want to preach Christ crucified in India." Shortly afterwards, Father Nelson attended a vocation camp to learn more about the Passionist order and in 1988 was selected to attend the Passionist seminary in Cochin, India. On May 7, 2000, Father Nelson was ordained a priest in Coimbatore. Father Nelson is the child his family gave to God.
Following twelve years of seminary study and juggling ten poor parishes in India as well as several missionary appeal trips to the United States, Father Nelson was transferred to our country. His first assignment, an affluent parish near Louisville, Kentucky, was a surprise to a priest skilled at working with the poor. Although Father Nelson will spread the Gospel wherever he is called, he seems more content in his current assignment as pastor to St. Mary's Catholic Church in Fairfield and Holy Family Catholic Church in Birmingham.
Please join us in welcoming Fr. Nelson as the new spiritual advisor of our Magnificat chapter. Lunch with Fr. Nelson promises to be a faith-filled experience shared by a loving priest who often points to his heart and says, "Happiness is not out there. Happiness is in here".
---
Personal Prayer ministry is available after the meal by the Magnificat Service Team.
Confessions will be available at the end of the meal.
Religious books and CD's are available at the meal.
Since the day is designed to speak to the hearts of women, free of distractions, it is respectfully requested that young children under the age of 14 not be in attendance.
---
TICKETS
Tickets must be purchased in advance. No tickets will be sold at the door.
TICKETS ARE AVAILABLE:
Online: Click on this link: January 26,2019 Prayer Luncheon
Online payment is available for $16.00 (includes the convenience fee) using PayPal with a credit or debit card.  You do not need to have a PayPal account.  You may also purchase additional tickets for any guests you would like to bring to the meal.  When your transaction is complete you may print your online ticket from your computer.
E-Mail: magnificat0296@gmail.com
Mail: Tickets by mail are $15.00 per person.
Send check payable to Magnificat, postmarked by January 19 to:
Magnificat Tickets
5220 Crossings Parkway
Birmingham, AL 35242
Tickets for priests, deacons, religious brothers and sisters are complimentary.
Please call Donna at 205-408-0308 or email magnificat0296@gmail.com
to reserve your ticket.
If you are unable to afford a ticket but want to attend the meal, please call Donna and arrangements will be made for a ticket to be sent to you.
---
RESERVATION FORM:
Please use this form for Mail-In Reservations ONLY. Complete the form below (include the names and phone numbers of other ticket holders in your group). Reservations CANNOT be accepted after January 21, 2019.

Registration Form must be postmarked by
January 19, 2019
to receive your confirmation.
 (cash/check only)
Name ________________________________________________
Guest(s) Name ______________________________________________
Address ______________________________________________
City ___________________________ State ______ Zip __________
Phone # ____________________
Email (Please print clearly) ______________________________
Enclosed is $ ________________ for _______________ Number of Reservations.
I am available to serve as:
Table Hostess ___ Greeter ___
Please Mail Reservation Form and check payable to "Magnificat" to:
Magnificat Tickets
5220 Crossings Parkway
Birmingham, AL 35242
---
UPCOMING MEALS FOR OUR CHAPTER — 2018 – 2019
January 26, 2019 —Luncheon at Our Lady of Sorrows Family Life Center, Assembly Hall
Speaker: Fr. Justin Nelson Alphonse, C.P.
April 27, 2019 —Breakfast at St. Mary's Parish Hall, Fairfield   Speaker: Sister Karen Ann Lortscher, O.S.B.
---
ROSARY BLANKET OF PRAYER
Remember our chapter's commitment to Eucharistic Adoration and to pray the Rosary on the 2nd of each month for the intentions of Magnificat, Sanctity of Life, Marriage and Family, and World Peace.
---
OUR PRAYER GROUPS
Is God calling you to be in a Prayer Group? Jesus said "Wherever two or three are gathered in My Name, there I am in their midst." Our prayer groups are open to all.
Rejoice in the Lord Prayer Group
Meets Wednesdays at Our Lady of Sorrows Family Life Center Library at 1:30PM.
Contact Olga Coburn (205) 822-4366 or Janet Waters (205) 979-4196
St. Albert's Charismatic Prayer Group
Meets Thursdays at Our Lady of Sorrows Family Life Center in Room 103 at 7:00PM
Contact Ray Makofsky (205) 999-8947
Magnify the Lord Charismatic Prayer Group
Meets the 1st and 3rd Saturdays of the month at Our Lady of Sorrows Family Life Center Library
at 9:00 AM – 11:00AM.
Contact Lisa Henderson (205) 540-0213 or Donna Chmielarski (205) 408-0308
For more information about other Charismatic Prayer groups, visit Alabama Charismatic Prayer Groups
---
SERVICE TEAM MEMBERS
Virginia Springer, Coordinator
Barbara Cole, Assistant Coordinator
Sarah Young, Recording Secretary
Mary Margaret Rohling, Treasurer
Melanie McNary, Historian
Olga Coburn, Service Team Member
Spiritual Advisor: Father Justin Nelson Alphonse, C.P.
---
If you would like to help with a Ministry of Magnificat, or if you have a question or comment for our Service Team,  or if you would like to be on our Mailing list for future events, please contact us at magnificat0296@gmail.com
---
HISTORY of McHenry, IL- Mary, Mother of the Eucharist Chapter of Magnificat
[For the Diocese of Rockford]