Welcome from St. Petersburg, FL!
We welcome you to the web page of the Mary Immaculate Magnificat Chapter of St. Petersburg, FL. These are exciting times that we live in. Magnificat began in 1981 for such a time as this. There are now over 100 chapters throughout the United States and its territories, and in many foreign countries.
---
Due to the coronavirus, check here periodically for updated information regarding future Meals & Events
Magnificat Prayer Breakfast
Saturday, May 9, 2020
9:30 am – 12:30 pm
Doors open at 9 am. We do not assign seats, so please arrive early.
Mass will be held in the chapel at 8:15 am
Location:
Cathedral of Saint Jude the Apostle
Parish Center
5815 Fifth Avenue North
Saint Petersburg, FL 33710
About Our Speaker: Nicole Abisinio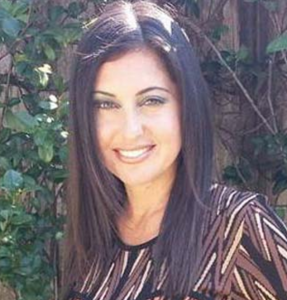 Standing on the red carpet at the Cannes Film Festival, Nicole suddenly realized something was missing. In the midst of following her worldly dreams to be a successful actress and producer, she left Jesus in the rearview mirror. Nicole had the world in the palm of her hands, "but what does it mean to gain the whole world if you lose your soul?" (Mark 8:36).
​Her identity had too often been determined by who the world said she was. To often those definitions left her feeling worthless and empty inside, and constantly chasing temporary happiness.
​It wasn't until she was gifted a Bible and read God's Word that she was able to understand her identity in Christ and how much God loves her. Her response was an overwhelming, previously unknown stirring of the Holy Spirit as the only words she could utter were "I have to find a church." She found everything she had been searching for, and never looked back, finally discovering the richness of the Catholic Church. The outcome is a constant joy and peace that the world cannot offer but that Jesus fulfills. In 2017, after she was anointed by Sister Ann Shields, the Holy Spirit spoke powerfully through Nicole to 500 adults on repentance and a teen session on the power of prayer.
​God showed Nicole how she could use the power of media for His glory and she now works exclusively for His kingdom. She also counsels filmmakers on how to navigate the cutthroat film industry, always putting God first.  She also runs a Catholic ministry, Gabriel's Messenger Ministries,  in which God uses her to evangelize young adults by helping young women choose life over abortion, teaching young Catholics filmmaking skills through hands-on experience, and spiritual coaching to help singles and couples live a chaste life until marriage. With a heart for the healing of many souls, especially in the area of sexual sin, she is excited to announce her recently published book, "Pure Power".  Her practical tools for healing from bondage are found in this Holy Spirit guided handbook!   Join us as we hear the rest of Nicole's amazing story!
---
Personal Prayer ministry is available after the meal by the Magnificat Service Team and Prayer Team.
Religious books and CD's are available for purchase after the meal.
Since the day is designed to speak to the hearts of women, free of distractions, it is respectfully requested that young children under the age of 14 not be in attendance. ADULT DAUGHTERS AND GRANDDAUGHTERS ARE WELCOME!
---
TICKETS
Tickets to the Prayer Breakfast are $16.00 and may be obtained from our ticket chairwoman, Linda Barron. Please send your name, address, city, state, zip code, phone number, and email address (include the names and phone numbers of other ticket holders in your group), with your check made out to Magnificat.
You may wish to print out the form below to send in to reserve your space. Your name will be on the list at the door. No tickets will be sold at the door. We must receive your check and reservation at least a week in advance in order to reserve your place.
If you are unable to afford a ticket but want to attend the meal, please contact us at magnificatofstpetersburg@gmail.com  and arrangements will be made for a ticket to be sent to you.
No tickets are sold at the door.
Please use this form for mail-in reservations.
$16.00 per person by mail; registration form must be received a week before the breakfast in order to reserve your spot. (check only)
Name ________________________________________________
Guest(s) Name ______________________________________________
Address ______________________________________________
City ___________________________ State ______ Zip __________
Phone # ____________________
Email (Please print clearly) ______________________________
Enclosed is $ ________________ for _______________ Number of Reservations.
Checks should be made out to "Magnificat."
Please mail this reservation form and $16.00 per person to:
Linda Barron
6069 Second Avenue North
St. Petersburg, FL
33710
---
UPCOMING MEALS FOR OUR CHAPTER —  2020-2021
SAVE THE DATE for our 2020-2021 Prayer Breakfasts at the Cathedral of St.Jude
September 12 & December 5, 2020
February 20 & April 24, 2021
---
ROSARY BLANKET OF PRAYER
Remember our chapter's commitment to Eucharistic Adoration and to pray the Rosary on the 13th of each month for the intentions of Magnificat, Sanctity of Life, Marriage and Family, and World Peace.
---
OUR PRAYER GROUPS
Is God calling you to be in a Prayer Group? Jesus said "Wherever two or three are gathered in My Name, there I am in their midst." Our prayer groups are open to all.
Light of Christ Charismatic Prayer Group
St. Patrick's Catholic Church – Largo
Parish Center
First Wednesdays at 7 PM
Fire in the Spirit Prayer Group
Cathedral of St. Jude the Apostle – St. Petersburg
Thursdays at 7:30 PM
---
SERVICE TEAM MEMBERS
Kathy Bolich, Coordinator
Jane Swan, Assistant Coordinator
Linda Barron, Treasurer
Kathy Rankin, Secretary
Spiritual Advisor – Fr. Robert Cadrecha
---
If you would like to help with the ministry of Magnificat, or if you have a question or comment for our Service Team, or if you would like to be on our mailing list for future events, please contact us at  magnificatofstpetersburg@gmail.com.
---
HISTORY of Magnificat of St. Petersburg
The origin of our Magnificat Ministry came from New Orleans. Since it was born of the Holy Spirit, the Magnificat Ministry grew and spread and found it's way to Tampa, Florida.
Helen Piazza heard about the Tampa breakfast and planned to attend. She invited Arlene Diaco, who was grieving the recent death of her mother, to attend with her. The speaker at that meeting was none other than Marilyn Quirk, one of the founders of the New Orleans Magnificat. Arlene and Helen had a wonderful morning and in thanksgiving, stayed at their table at the close of the breakfast and prayed their rosary. They were so filled with the Holy Spirit that they asked Marilyn that day how they could receive information about bringing the Magnificat to Pinellas County. Marilyn told them about a process that they would need to follow to bring the ministry to Pinellas, and it was a long process.  But another woman at the breakfast had already started the process and then had discerned that she could not complete the task, so she gave the Magnificat Handbook to them. They went home and called their friends Mary Mallette and Helen Ezzo and asked them to assist with the planning and implementation of a Magnificat. The four friends started calling other friends for assistance with the various committees needed to put on a Magnificat Breakfast. Word of the new ministry for women spread among the local community and Elsie Miller and Fran Wolfe decided to attend. Elsie and Fran arrived at the next planning meeting, thinking that it was the event. They offered their talents and the original service team for the St. Petersburg Magnificat was born.
The formation of the St. Petersburg Chapter was not as long as the Central Service team of New Orleans had planned. The Holy Spirit led our original service team and encouraged them and sent them the support and resources that they needed. The original service team of St. Petersburg was a group of faith-filled women whose belief in the promises of Christ overflowed into joy and action. They did not think about whether they had the talent, the connections, or the money to bring a new ministry to our area. They stepped out in faith and imitated the visitation as they brought Jesus to the catholic women in Pinellas County.
---