Welcome from Broward County, FL!
We welcome you to the webpage of Broward County FL — Handmaids of the Lord Chapter of Magnificat. These are exciting times that we live in and Magnificat was begun in 1981 for such as time as this. There are now over 100 chapters throughout the United States and its territories and in many foreign countries.
---
Magnificat of Broward Breakfast
Hosted by the Handmaids of the Lord Chapter of Broward County
Saturday, August 1, 2020
10:00am to 1:30pm
Open seating, please arrive early.
Location:
St. Bernard Catholic Church Parish Hall
8279 Sunset Strip
Sunrise, FL 33322
Guest Speaker:  Rose Litwin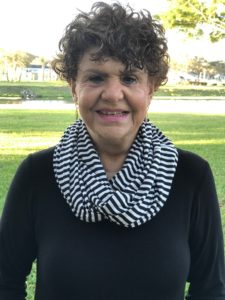 Rose Litwin is a mother of six children of a blended family and has been married for 45 years.  She received a Master's Degree in Hospital Administration after her youngest child went to school full time.  She likes to recall doing her homework with the kids.  At the end of her 25-year nursing career, Rose retired from the position of Vice President of a 500-bed acute care hospital in New Jersey and moved to Boca Raton in 2000.  Rose's retirement enabled her to complete a two-year Lay Ministry course with the Diocese of Miami.  Since then, she has been an active parishioner at San Isidro Church in Pompano Beach.  She served as head of Liturgy for several years and was also on the San Isidro Finance Committee.  Rose presently sits on the Pastoral council, serves in the Lectors ministry and is an EMHC.  She enjoyed being a member of the Diocesan Vocations Committee and had the privilege of sitting on the Board of Directors of St. John Vianney College Seminary for several years.  She remembers with great fondness many of the young students with who she still stays in touch and who now serve as holy priests in many different parts of the country.  She was also a member of one of the focus teams associated with the last Synod of the Archdiocese of Miami.  Rose likes to say, "I never knew how I could've found the time to work before my retirement!"  She contributes her many enjoyable and blessed experiences because of her extraordinary conversion through Jesus Christ.
_______________________________________________________________
We will all share together a wonderful breakfast with fellowship, praise and worship.
Prayer ministry will be available.
---
TICKETS
Limited Seating so request your reservation early!
Breakfast will be included!
To secure your reservation please register by July 25, 2020
Complete the form below and send to our Reservations Chairwoman


Seats per person $25.00 prior to July 25th or $30.00 after July 25th. Please register by mail.
No Reservations will be accepted at the door.  
Your check will serve as your receipt.
Upon arrival please check in at the Registration table and receive your name tag.
ADVANCED RESERVATIONS REQUIRED
Registration Form a must
Seating is Limited so please reserve your seat early!
Name ________________________________________________
Guest(s) Name ______________________________________________
Address ______________________________________________
City ___________________________ State ______ Zip __________
Phone # ____________________
Email (Please print clearly) ______________________________
Enclosed is $ ________________ for _______________ Number of Reservations.
Please Mail Reservation Form and check payable to "Magnificat of Broward County, FL" to:
Sharon Pfeifer
5833 NW 122 Terrace
Coral Springs, FL 33076
For Reservation/Registration Questions, please contact Sharon Pfeifer 407.756.7999.
Open seating, please arrive early.
---
FUTURE MEALS FOR OUR CHAPTER — 2020
November 7, 2020 – Monsignor Toups
---
Magnificat Day of Prayer
Please join us in our Rosary Blanket of Prayer on the 10th of every month, as we lift up our hearts to the Lord for the intentions of New Pentecost, Magnificat, Sanctity of Life, our Beloved Priests and Religious and Families.
---
SERVICE TEAM MEMBERS
Kathy Corona, Coordinator, 954-635-7458
Sharon Pfeifer, Secretary, 407-756-7999
Juliana Findley, Treasurer, 754-234-1847
TBD, Historian
Spiritual Advisor: Father John Fink
---
If you would like to help with a Ministry of Magnificat, or if you have a question or comment for Our Service Team, or if you would like to be on our Mailing list for future events, please contact Sharon Pfeifer at: Magnificatbrowardcounty@gmail.com
Our chapter's name is "The Handmaids of the Lord", because we are here to serve God's people.
Luke 1:37 "For Nothing is Impossible with God".
We are honored to be the 100th Chapter of The Magnificat Ministry for Catholic women.