Welcome from Northwest Iowa!
We welcome you to the webpage of Northwest Iowa Chapter: Mary, Undoer of Knots. These are exciting times that we live in and Magnificat was begun in 1981 for such a time as this. There are now over 100 chapters throughout the United States and its territories and in many foreign countries.
---
Magnificat Meal
-Special Event-
Tues., April 11
7:00 pm
Location:
Online with Zoom
Our Guest Speaker: Margaret Rose Realy, Obl OSB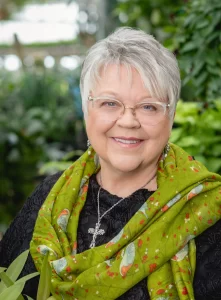 Margaret Rose Realy, Obl. OSB lives an eremitic life and is the author of Cultivating God's Garden through Lent, A Garden of Visible Prayer: Creating a Personal Sacred Space One Step at a Time, 2nd Edition, and A Catholic Gardener's Spiritual Almanac. A freelance writer with a Benedictine spirituality, Margaret has a master's degree in communications and is a Certified Greenhouse Grower, Advanced Master Gardener, liturgical garden consultant, and workshop/retreat leader.
---
Personal Prayer Ministry is available by the Magnificat Service Team.
Confessions will not be available at this event.
---
TICKETS for Magnificat Chat:
There is no charge for this event. Your donation is appreciated! RSVP by April 8, 2023.
To register, email us at magnificatnwia@gmail.com
You can make an online donation here or
use the following MAIL-IN REGISTRATION FORM
Please mail form and check payable to "Magnificat" to:
Michele Leiting
19546 Aspen Ave
Westside, IA 51467
Tickets for priests, deacons, religious brothers and sisters are complimentary, but reservations are required. Please contact a Magnificat Team Member.
---
UPCOMING MEALS FOR OUR CHAPTER
June 24 – Mary Trevino
September 23 – Retreat, Carroll, IA
November 18 – Speaker TBA
---
ROSARY BLANKET OF PRAYER
Remember our chapter's commitment to Eucharistic Adoration and to pray the Rosary on the 12th of each month for the intentions of Magnificat, Sanctity of Life, Marriage and Family, and World Peace.
---
OUR PRAYER GROUPS
Is God calling you to be in a Prayer Group? Jesus said "Wherever two or three are gathered in My Name, there I am in their midst." Ask about our current groups and those in formation!
---
SERVICE TEAM MEMBERS
Julie Storr, Coordinator, 712-335-4393
Deb Troshynski, Assistant Coordinator
Jada Hallberg, Secretary
Michele Leiting, Treasurer
Spiritual Advisor: Sr. Anne Marie Walsh, SOLT
---
Would you like to be a part of Magnificat of Northwest Iowa?  Want to be on our email list?  Contact us at magnificatnwia@gmail.com