Welcome from Bristol, CT
We welcome you to the webpage of Mother of Divine Mercy, Hartford County, Connecticut.  These are exciting times that we live in and Magnificat was begun in 1981 for such a time as this. There are now over 100 chapters throughout the United States and its territories and in many foreign countries.
---
Magnificat Prayer Breakfast
Hosted by the Mother of Divine Mercy Chapter of Magnificat
Saturday, April 13, 2019
9:00 am –12:00 pm
Doors open at 8:30am. We do not assign seats so arrive early.
Location:
DoubleTree by Hilton Hotel
42 Century Drive
Bristol, CT 06010
Guest Speaker: Anne Costa, Albany, NY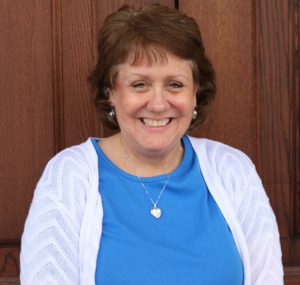 Mrs. Anne Costa is a wife, mother, proud grandmother and author of six books with another on the way in the Fall of 2019.  She is filled with the fire of the Holy Spirit to encourage, inspire and evangelize faithful, fallen away and yet to be Catholics. Anne has experienced the healing power of God's love to overcome an abusive and addicted past. She is a licensed master social worker, retreat leader and the founder of REVIVE Hope and Healing Ministries.
We do not assign seats so arrive early to check in at the Reservation Table and find seat(s) before the program begins.
Prayer teams are available following the meal.
Religious books and CD's may be available at the meal.
Since the day is designed to speak to the hearts of women, free of distractions, it is respectfully requested that young children not be in attendance.
TICKETS & RESERVATIONS
Tickets are $25 and must be purchased in advance to secure your reservation. No tickets will be sold at the door. Your check will serve as your receipt.
---
MAIL-IN RESERVATIONS
Click on, print and complete the form below (include the names and phone numbers of other ticket holders in your group). Reservations CANNOT be accepted after April 8, 2019.
Please click on this link to download and print a PDF for mailing in your registration.
Reservation Form PDF Download
Please Mail Reservation Form and check for $25 per person, payable to "Magnificat" to:
Magnificat
PO Box 1871
Bristol, CT 06010-1871
---
ONLINE RESERVATIONS
To purchase your ticket online, please fill in your name and phone number in the blanks below and then click on Pay Now button below and then submit your payment information.
---
DONATIONS
To donate to our Bristol Chapter, please use this PayPal link:
PLEASE NOTE:  When setting up your donation, if you want a receipt, you must click the box that states, "Share my mailing address with Magnificat".
UPCOMING MEALS FOR OUR CHAPTER — 2019
2019 Speakers  
April 13, 2019          Anne Costa
July 13, 2019           Donna Heckler
October 5, 2019       To Be Determined
ROSARY BLANKET OF PRAYER
Remember our chapter's commitment to Eucharistic Adoration and to pray the Rosary on the 15th of each month for the intentions of Magnificat, the Church, a New Pentecost, Sanctity of Life, Marriage and Family, and World Peace.
OUR PRAYER GROUPS
Is God calling you to be in a Prayer Group? Jesus said "Wherever two or three are gathered in My Name, there I am in their midst." Our prayer groups are open to all.
Internet Prayer Ministry
We are in discernment regarding initiating the Magnificat Internet Prayer Ministry.
Personal Prayer Ministry
Which prays with individuals following The Magnificat Breakfast.
Contact Carol Gignac at motherofdivinemercy999@yahoo.com
Intercessory Prayer Ministry
Meets on the first Wednesday of each month at 1:00 pm
Please contact Gloria Boisvert at 860-584-8803.
SERVICE TEAM MEMBERS
Janet Massa, Coordinator
Kathy Maguda, Co-Coordinator
To Be Announced, Secretary
Michelle Steck, Treasurer
Henrietta Zooleck, Historian
For more information about Magnificat, contact Janet Massa at 860-302-1349.
To be added to our Mailing List, send an email to
motherofdivinemercy999@yahoo.com
---
HISTORY of Mother of Divine Mercy
[Diocese of Hartford, Connecticut]
Est. 2005
Mother of Divine Mercy Magnificat Chapter was established October 1, 2005 on the Feast Day of the Blessed Mother and the Holy Rosary. It was licensed officially a chapter by the State of Connecticut on October 1, 2005. The first breakfast was held on October 7, 2006, the Feast Day of the Blessed Mother and the Holy Rosary at the Clarion Hotel, now known as the DoubleTree by Hilton Hotel. Gloria (Brophy) Boisvert is the Foundress of this chapter.
Mother of Divine Mercy Chapter held its last breakfast on July 14, 2018 at the DoubleTree by Hilton Hotel in Bristol, CT.