Welcome from Orange County CA!
We welcome you to the web page of Orange County CA Magnificat – Our Lady Queen of Peace Chapter. These are exciting times that we live in and Magnificat was begun in 1981 for such as time as this. There are now over 100 chapters throughout the United States and its territories and in many foreign countries.
---
Our Next Meal
Hosted by Our Lady Queen of Peace Chapter
Saturday, November 23, 2019
9:30 AM – 12:30 PM
Location:
Embassy Suites Anaheim-South
11767 Harbor Blvd
Garden Grove, CA 92840
Guest Speaker: Anne Hyatt
"Those Who Look to Him for Help Will Be Radiant with Joy!"   Psalm 34:5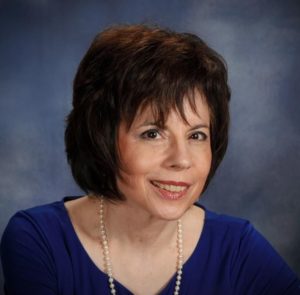 Magnificat is pleased to welcome our own Anne Hyatt.  For all who are blessed to know her, Anne is a most treasured gift, totally self-giving as a mother, nurse, Magnificat Service Team member, and beloved sister and friend.
Anne's inspiring story is one of many beautiful moments and memories amidst the trials, tragedies and even traumas of life.  The heartbreak of a divorce and family break up as a young girl left wounds that would follow her into her own marriage and family later in life.  But God's grace would prevail!
At 16, Anne experienced a great outpouring of the Holy Spirit which grew into a mature relationship with Our Lord.  This not only sustained her but enriched the lives of all those she loved and walked with through life.
"He has healed the wounds of a broken little girl.  In the midst of my darkest moments Jesus has shown me how uniting my sorrows to His holy cross can be transformative.  Out of suffering, he has given me the gift of great joy!"
Anne has over 42 years of experience as a RN specializing in Neonatal Intensive Care and Case Management.  She is a member of St. Anthony de Padua parish, and a devoted mother of her 27-year-old son Matthew.  Come and bring a friend to be blessed and inspired!
Prayer ministry available after the meal.
_________________________________________________
ADVANCED RESERVATIONS
$28 per person by mail – Must be postmarked by Nov. 18, 2019 
Reserved seating available for tables of 10 = $280.
$33 at the Door. 
Your check made payable to Magnificat is your receipt. Your name tag serves as your ticket and will be available at the door.
Donations are also accepted to assist others in attending our meal.
Seating is limited please register early!
Reservation questions contact Christine at 310/387-4247 or capappas3@gmail.com.
ADVANCED RESERVATIONS FORM
Send $28 per person by mail
Registration Form must be postmarked by Nov.18, 2019
Tickets will be sold at the door for $33.
Name ________________________________________________
Guest(s) Name ______________________________________________
Address ______________________________________________
City ___________________________ State ______ Zip __________
Phone # ____________________
Email (Please print clearly) ______________________________
Enclosed is $ ________________ for _______________ Number of Reservations.
I request financial help. ________
Enclosed donation of $ _____________ to help someone attend.
For Reservation/Registration Questions, please contact Christine at 310/387-4247 or capappas3@gmail.com.
Please Mail Reservation Form & $28.00 per person to:
Magnificat Ministry
P.O. Box 4381
Orange, CA  92863-4381
Limited seating please register early!
---
FUTURE MEALS FOR OUR CHAPTER — 2019 — 2020
November 23, 2019 – Anne Hyatt, OCMagnificat
February 29, 2020 – Fr. Donald Calloway, MIC
May 16, 2020 – To be announced
September 19, 2020 – To be announced
November 21, 2020 – To be announced
---
MAGNIFICAT DAY OF PRAYER
Please join Magnificat on our Day of Prayer, the 26th of each month, as we lift up our hearts to the Lord for the intentions of New Pentecost, Magnificat, Sanctity of Life, our Beloved Priests, Religious and Families.
---
SERVICE TEAM MEMBERS
Karen Moses, Coordinator, e-mail: kmoses3737@gmail.com
Dr. Elizabeth Kim, Co-coordinator; ekim3080@gmail.com
Theresa McWeeney, Secretary; tmcweeney7@aol.com
Anne Hyatt, Assistant Secretary; annehyatt5@gmail.com
Lori Loy, Treasurer; loriloy3@gmail.com
Spiritual Advisor:  Fr. Bao Thai, S. T. L.
---
If you would like to help with Magnificat ministry, have a question or comment for our Service Team, or if you would like to be on our Mailing list for future events, please contact Karen Moses, Coordinator. (714) 345-6561.
---
HISTORY of Orange Diocese "Queen of Peace" Magnificat Chapter
Est. 1992
A group of women attending the SCRC conference heard a priest speaking on Magnificat, A Ministry to Catholic women in 1991. Pat Rensing, Anita Williams, Billie Walter, and Barbara Clark were touched by the Holy Spirit to begin Magnificat in the Orange Diocese.  They eventually contacted Fr. Raymond Skonezny to seek the bishop's permission to begin a chapter. Kathleen Beckman was later added to the service team.
Bishop McFarland approved Magnificat for the Orange Diocese. The first OC Magnificat Prayer Breakfast took place at Holy Family Cathedral Parish Hall, Orange, CA in February 1992 with several hundred women attending a potluck style prayer breakfast with a ticket price of $2.00. The chapter continued to grow  as they held prayer breakfasts from parish to parish, eventually moving to a hotel to accomodate the growing ministry.
Since its inception, our chapter has hosted a quarterly Meal which continues to touch hearts. In the words of Mary's Magnificat, "the Almighty One has done great things" through this humble ministry.