Welcome from North County San Diego CA!
We welcome you to the webpage of North County San Diego CA Our Lady of Guadalupe Chapter. These are exciting times that we live in and Magnificat was begun in 1981 for such a time as this. There are now over 100 chapters throughout the United States and its territories and in many foreign countries.
---
Magnificat Meal
Hosted by Our Lady of Guadalupe Chapter
Saturday, April 24th
9:00 am to 11:30pm
(Mass – 8:00 am in the Church)
Location:
St. Mary's Parish Hall
1160 Broadway
Escondido, CA 92025
About Our Speaker: Karen Forrey
Karen Forrey went through the RCIA program and became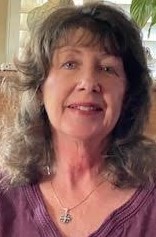 Catholic at the age of 42 as a result of a "single act of kindness"
she received during the darkest days of her life. Even though
she was raised in a loving, upper middle class conservative,
Republican, Episcopalian family, she proceeded down a path
of self destruction and sin starting at age 16 that would last for
23 years. Her guardian angel was very busy! She did not start
practicing her faith until she was living in a nightmare. What was
that "single act of kindness" that changed her life forever? Truly
God is merciful and answers prayers!
Karen lives in Escondido with her Catholic husband of 14
years. She has been involved in several different ministries
at several different parishes once she became Catholic. She
was Treasurer of our Magnificat Chapter for several years and
currently is President of one of the praesidiums of the Legion of
Mary at St. Mary Church.
Come hear her inspiring story of conversion and hear about all
the beautiful gifts the Lord gave her once she became Catholic
and practiced her faith.
---
Individual Prayer available after the meal.
Religious books and CD's are available at the meal.
Since the day is designed to speak to the hearts of women, free of distractions,
it is respectfully requested that young children not be in attendance.
---
TICKETS
---
Upcoming Meals for our Chapter – 2021-2022
7/31/2021 Deacon Steven Greco
10/23/2021  Diana Wehbe
2/5/2022  TBA
5/21/2022  TBA
8/13/2022  TBA
11/12/2022  TBA
---
ROSARY BLANKET OF PRAYER
Remember our chapter's commitment to Eucharistic Adoration and to pray the Rosary on the 25th of each month for the intentions of Magnificat, Sanctity of Life, Marriage and Family, and World Peace.
---
OUR PRAYER GROUPS
Is God calling you to be in a Prayer Group? Jesus said "Wherever two or three are gathered in My Name, there I am in their midst." Our prayer groups are open to all. For prayer group listing check out this link: SCRC.org
---
SERVICE TEAM MEMBERS
Cindy Rippee, Coordinator  858-354-1791
Lidia Rennix, Asst. Coordinator  760-271-7743
Gina McKenna, Secretary  619-890-3092
Mary Leeds, Treasurer   619- 248-5332
Mary Carey, Historian   760-489-5588
Spiritual Advisor, Father Pat Crowley, SS.CC.
---
If you would like to help with a Ministry of Magnificat, or if you have a question or comment for Our Service Team, or if you would like to be on our Mailing list for future events, please contact us at magnificat.northcounty@yahoo.com
---
HISTORY of North County San Diego Chapter of Magnificat
The North County San Diego, Our Lady of Guadalupe Chapter, began in the early 1990″s. It took over a year of dedicated, faith filled women, prayer and the inspiration of the Holy Spirit to begin the  chapter. The Chapter spun from the Central San Diego Chapter which is now inactive.