Welcome from North County San Diego CA!
We welcomeCA, North County San Diego you to the webpage of North County San Diego CA Our Lady of Guadalupe Chapter. These are exciting times that we live in and Magnificat was begun in 1981 for such a time as this. There are now over 100 chapters throughout the United States and its territories and in many foreign countries.
---
Magnificat Meal
Hosted by Our Lady of Guadalupe Chapter
Saturday, October 23rd
9:00 am to 12:00pm
(Mass – 8:00 am in the Church)
Location:
St. Mary's Parish Hall
1160 Broadway
Escondido, CA 92025
About Our Speaker: Janet Troy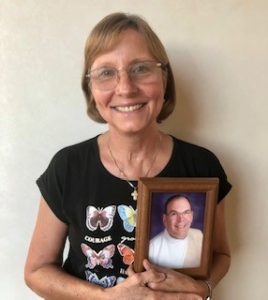 "Don't worry about anything. Instead, pray about everything, always asking with a thankful heart. And God's peace, which is beyond human understanding, will keep your hearts and minds safe in union with Christ Jesus." Philippians 4:6
Janet was born into a Catholic family. She was raised in New Jersey and attended Catholic elementary and high schools. In 1978, she married a US Marine, Bob Troy, and the couple moved to San Diego.
For the first 22 years of their marriage, Janet and Bob were blessed in many ways including the birth of their son and daughter. They built a home in Poway and were involved in school and sports activities with their children. They also became parishioners at St. Gabriel Church and participated in numerous parish activities.
In December 2000, Bob and Janet's world was turned upside down when Bob was diagnosed with terminal brain cancer. Bob was given 10 months to 2 years to live. The couple relied on the power of prayer to deal with this tragedy; as a result, a miracle healing occurred. Along with that healing came Bob's spiritual conversion and a calling to become a Deacon. Bob served as the spiritual advisor for Magnificat for several years.
Sixteen years after Bob and Janet had been told that Bob had no more than 2 years to live, our kind and generous Lord called him home.
Come and witness Janet's powerful testimony to prayer, hope, faith and love which helped shaped the lives of Janet and Bob and how God continues to provide a silver lining to every dark cloud.
---
ADVANCED RESERVATIONS:
TICKETS:
$25 per person (mail in)
$26 via Paypal or credit card
$28 after October 16th, 2021
REGISTRATION IS REQUIRED
RESERVATION FORM:
Please use this form for Mail-In Reservations ONLY. Complete the form below (include the names and phone numbers of other ticket holders in your group). Reservations by Mail must be postmarked by October 16th, 2021.
[print friendly]
Name ________________________________________________
Guest(s) Name ______________________________________________
Address ______________________________________________
City ___________________________ State ______ Zip __________
Phone # ____________________
Email (Please print clearly) ______________________________
Enclosed is $ ________________ for _______________ Number of Reservations.
Please Mail Reservation Form with check payable to "Magnificat" to:
Magnificat
c/o Lidia Rennix
1178 Orangewood Dr.
Escondido, CA 92025
magnificat.northcounty@yahoo.com
---
We cannot accept walk-ins.
Breakfast provided.
Please share this event with friends! To be added to our email list, text MAGNCSD to the number 22828 then respond with your email address and hit send.
---
To secure your reservation by phone/email contact:
Lidia Rennix
(760) 271-7743
---
Individual Prayer available after the meal.
Religious books and CD's are available at the meal.
Since the day is designed to speak to the hearts of women, free of distractions,
it is respectfully requested that young children not be in attendance.
---
Upcoming Meals for our Chapter – 2021-2022
2/5/2022  TBA
5/21/2022  TBA
8/13/2022  TBA
11/12/2022  TBA
---
ROSARY BLANKET OF PRAYER
Remember our chapter's commitment to Eucharistic Adoration and to pray the Rosary on the 25th of each month for the intentions of Magnificat, Sanctity of Life, Marriage and Family, and World Peace.
---
OUR PRAYER GROUPS
Is God calling you to be in a Prayer Group? Jesus said "Wherever two or three are gathered in My Name, there I am in their midst." Our prayer groups are open to all. For prayer group listing check out this link: SCRC.org
---
SERVICE TEAM MEMBERS
Cindy Rippee, Coordinator  858-354-1791
Lidia Rennix, Asst. Coordinator  760-271-7743
Gina McKenna, Secretary  619-890-3092
Mary Leeds, Treasurer   619- 248-5332
Mary Carey, Historian   760-489-5588
Spiritual Advisor, Father Pat Crowley, SS.CC.
---
If you would like to help with a Ministry of Magnificat, or if you have a question or comment for Our Service Team, or if you would like to be on our Mailing list for future events, please contact us at magnificat.northcounty@yahoo.com
---
HISTORY of North County San Diego Chapter of Magnificat
The North County San Diego, Our Lady of Guadalupe Chapter, began in the early 1990″s. It took over a year of dedicated, faith filled women, prayer and the inspiration of the Holy Spirit to begin the  chapter. The Chapter spun from the Central San Diego Chapter which is now inactive.