Welcome from North County San Diego CA!
We welcome you to the webpage of North County San Diego CA Our Lady of Guadalupe Chapter. These are exciting times that we live in and Magnificat was begun in 1981 for such a time as this. There are now over 100 chapters throughout the United States and its territories and in many foreign countries.
---
Due to the coronavirus, check here periodically for updated information regarding future Meals & Events
Magnificat Breakfast
Hosted by Our Lady of Guadalupe Chapter
CANCELLED
Saturday, April 25, 2020
9:00 am to 12:00pm
(Mass – 8:00 am in the Church)
Location:
St. Mary's Parish
1160 Broadway
Escondido, CA 92025
About Our Speaker: Deacon Steve Greco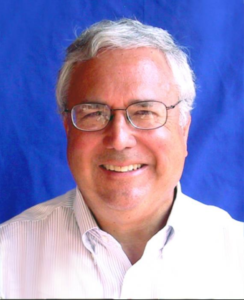 Deacon Steve Greco was ordained in the Diocese of Orange in May 2007 as a permanent deacon in the Catholic Church and is assigned to Saint Elizabeth Ann Seton parish in Irvine. Retiring after 35 years as a healthcare executive, Our Lord moved Deacon Steve to found Spirit Filled Hearts Ministry in order to serve and spread the good news of Jesus Christ! Deacon Steve gives talks and healing services throughout California and the United States in many parishes and Catholic conferences and on radio. He currently is host of a weekly radio show, "Empowered by the Spirit" heard on Relevant Radio, 930AM and 1000AM, Sundays at 12PM. Deacon Steve serves on the boards of SCRC, the Loyola Institute for Spirituality and the Diocese of Orange Diaconate Formation. He has been married to his wife Mary Anne for 45 years and they have three children and four grandchildren. He has published three books, 365 Days of Praise, Reflections on the Holy Spirit, Expect and Experience Miracles and Overcoming Adversity Through Miracles. Spirit Filled Hearts Ministry travels all over giving seminars, parish missions, and special events on topics such as "Life in the Spirit Seminars," "Empowered by the Spirit, Expect and "Experience Miracles."
---
Individual Prayer available after the meal.
Religious books and CD's are available at the meal.
Since the day is designed to speak to the hearts of women, free of distractions,
it is respectfully requested that young children not be in attendance.
---
TICKETS
Reservations to the Breakfast are $25 before April 18th;
After April 18th, reservations are $28.
Reservations for priests, deacons, religious brothers and sisters are complimentary
PAYPAL
To secure reservation(s) online using your credit/debit card:
To make reservations on-line for you and any guests, use this link:
To secure your reservation by phone/email contact:
Lidia Rennix
(760) 271-7743
magnificat.northcounty@yahoo.com
Please print and complete the form below and use this form for Mail In Reservations ONLY.


$25.00 per person before April 18; $28 after April 18th.
Name ________________________________________________
Guest(s) Name ______________________________________________
Address ______________________________________________
City ___________________________ State ______ Zip __________
Phone # ____________________
Email (Please print clearly) ______________________________
Enclosed is $ ________________ for _______________ Number of Reservations.
Please Mail Reservation Form, $25.00 per person, and send it with your check or money order made out to Magnificat to:
Magnificat Ministry
C/O Lidia Rennix
1178 Orangewood Dr.
Escondido, CA  92025
---
Upcoming Meals for our Chapter – 2020
April 25th  Deacon Steve Greco
---
ROSARY BLANKET OF PRAYER
Remember our chapter's commitment to Eucharistic Adoration and to pray the Rosary on the 25th of each month for the intentions of Magnificat, Sanctity of Life, Marriage and Family, and World Peace.
---
OUR PRAYER GROUPS
Is God calling you to be in a Prayer Group? Jesus said "Wherever two or three are gathered in My Name, there I am in their midst." Our prayer groups are open to all. For prayer group listing check out this link: SCRC.org
---
SERVICE TEAM MEMBERS
Mary Carey, Coordinator  760-489-5588
Lidia Rennix, Secretary    760-271-7743
Karen Forrey, Treasurer    619-300-7606
Cindy Rippee, Secretary    858-354-1791
Spiritual Advisor, Father Pat Crowley, SS.CC.
---
If you would like to help with a Ministry of Magnificat, or if you have a question or comment for Our Service Team, or if you would like to be on our Mailing list for future events, please contact us at magnificat.northcounty@yahoo.com
---
HISTORY of North County San Diego Chapter of Magnificat
The North County San Diego, Our Lady of Guadalupe Chapter, began in the early 1990″s. It took over a year of dedicated, faith filled women, prayer and the inspiration of the Holy Spirit to begin the  chapter. The Chapter spun from the Central San Diego Chapter. With over 100 parishes in the San Diego Diocese, it was necessary to have two chapters to to reach out to as many Catholic women as possible. So Happy we did!