Welcome from Tucson, AZ
We welcome you to the webpage of Tucson, Pima East Vicariate Chapter. These are exciting times that we live in and Magnificat was begun in 1981 for such as time as this. There are now over 100 chapters throughout the United States and its territories and in many foreign countries.
---
CANCELLED
DUE TO CORONAVIRUS CONCERNS
Magnificat Prayer Breakfast
Hosted by Tucson Pima East Vicariate Chapter
Saturday  –  April 4, 2020
10:00 a.m. – 12:15 p.m.
$17.00 per person
Location:
St Francis de Sales Church
1375 S Camino Seco
Tucson, Arizona
Guest Speaker:  Linda (Lin) Cross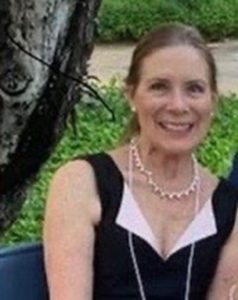 Lin walked her 1st Camino at age 66, the 2nd Camino at age 70, and visited the Holy Land when she was 74. While she won't go so far as to say the pilgrimage was "life-changing," many positive aspects have come into her life since then.
After returning from those three powerful journeys, she sees aging, and the foreseen challenges in life in a more prayerful way. In addition, once painfully shy, she now welcomes opportunities to speak to various organizations about her books and inspires others to write their autobiographies. "Everyone has a story," Lin says.
She will bring a short video presentation.
Magnificat Proclaims. Join us and see how God continues to transform inspiring speakers through His "lesson plans".
---
Personal Prayer ministry is available after the meal.
Religious books and CD's may be available at the meal.
Since the day is designed to speak to the hearts of women, free of distraction, it is respectively asked that children not attend.
---
TO PURCHASE YOUR TICKET:
Reservation fee for the prayer breakfast is $17.00. Contact Gloria Roberts, 520-237-7060. Please complete and mail the form below (include the names of the ladies that are included in your check).
Reservations for priests, deacons, religious brothers and sisters are complimentary, but reservations are required and this may be done by contacting Gloria Roberts.
Reservations must be made or postmarked no later than Tuesday, March 31, 2020. $17 per person by mail. No money accepted at the door.
For mail in reservations only submit the following form to:  Magnificat, 702 E. Blue Mesa Place, Vail, AZ 85641.
Name ________________________________________________
Guest(s) Name ______________________________________________
Address ______________________________________________
City ___________________________ State ______ Zip __________
Phone # ____________________
Email (Please print clearly) ______________________________
Enclosed is $ ________________ for _______________ Number of Reservations.
My donation to assist others in attending the Meal is included.  $ _____________.
---
For questions or reservations: call Gloria Roberts, (520) 237-7060.
Your check will serve as your receipt.
Your name tag serves as your ticket and it will be available at the door.
Open seating.
Diocesan Approval by Bishop Edward Weisenburger
Spiritual Director:  Fr. Abram Dono
---
Future Meals/Events for our Chapter:
APRIL 4 with speaker Lin Cross
JULY 11 with speaker Jaime Spicker
OCTOBER 3 with speaker Bishop Weisenburger
NOVEMBER 4 – 14 Pilgrimage to Italy and Amalfi Coast
---
ROSARY BLANKET OF PRAYER
Remember our chapter's commitment to Eucharistic Adoration and to pray the Rosary on the 20th of each month for the intentions of Magnificat, Sanctity of Life, Marriage and Family, and World Peace.
---
Service Team Members
Gloria M. Roberts, Coordinator
Maria Frisby, Secretary
Celina Phillips, Treasurer
Candy Thomas, Historian
Fr. Abram Dono, Spiritual Director
---
If you would like to help with a Ministry of Magnificat, or if you have a question or comment for our Service Team, or if you would like to be on our Mailing list for future events, please contact us at gmroberts@cox.net.
---
HISTORY of the Tucson Chapter
(Mother Chapter for the Diocese of Tucson)
In 1991, Tucson's Director of the Charismatic Renewal became aware of the Magnificat group in New Orleans.  He felt strongly that the women in his diocese should have the same opportunity for spiritual growth that this organization provided and began a search for spirit-filled women who would dedicate themselves to the pursuit of establishing a Chapter here.
A Team was formed led by Elizabeth Celenza and the 18th Chapter of Magnificat was officially licensed in October 1992.  Elizabeth served as Coordinator for 25 years.  The Chapter has been blessed with three different spiritual directors and many awe-inspiring speakers over the years who have ensured a very meaningful experience for those who have attended their Breakfasts.  In addition to the quarterly Breakfasts, the Tucson Chapter has sponsored Life in the Spirit seminars, Bible Studies and mini-retreats to enliven the spiritual lives of women.