Welcome from Phoenix, AZ.
We welcome you to the webpage of Mary, Cause of Our Joy Phoenix Arizona Chapter of Magnificat. These are exciting times that we live in and Magnificat was begun in 1981 for such a time as this. There are now over 100 chapters throughout the United States and its territories and in many foreign countries.
---
Magnificat Prayer Luncheon
Hosted by the Mary, Cause of Our Joy Chapter of Magnificat
Saturday, May 12, 2018
11:15am – 2:30pm
Doors open at 11:00am for open seating
Location:
St. Steven's Catholic Church
Parish Hall
24827 S Dobson Road
Sun Lakes, AZ 85248
Guest Speaker: Diane Duncan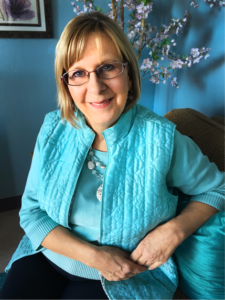 Diane Duncan grew up in Michigan and attended college at Utah State
University. She moved to Arizona with her husband Mike in 1980. They
relocated to Prescott Valley in 1997 where she began her pro-life work.
Diane coordinated the Tri-City Respect Life Ministry in the Prescott Area
for 8 years. She spearheaded a Rachel's Vineyard healing ministry team in
the Prescott Valley area in 2000 and has facilitated over 30 Rachel's
Vineyard retreats in Northern Arizona. She founded Life Connections
Pregnancy Resource Center in 2009 in which she now serves as the Director.
Diane is the mother of two adult children; Rachel who lives in Denver and
Nathan and his wife Amanda who live in North Phoenix. Diane has been a widow
since 2012; she was married to her husband Mike for 35 years. In 2007 she
was awarded the Women of the Year award by the Phoenix Council of
Catholic Women for her pro-life work in her community. Diane is a passionate
pro-life woman. She considers herself to be a spiritual mother to
many moms and babies.
---
We do not assign seats so arrive early to check in at the Reservation Table and find seat(s) before the program begins.
Personal Prayer ministry is available after the meal by the Magnificat Prayer Ministry and the Diocese of Phoenix CRM (Catholic Renewal Ministries) Prayer Teams.
Religious books and CD's are available for purchase after the meal.
Since the day is designed to speak to the hearts of women, free of distractions, it is respectfully requested that young children under the age of 14 not be in attendance.
---
Tickets
Tickets to the meal are $15.00 Your check will serve as your receipt and for all registrations,  we will have an electronic record of your purchase and your name tag at the door.
Ticket sales end Sunday, May 6, 2018 at midnight. 
No tickets are sold at the door.
Tickets for priests, deacons, religious brothers and sisters are complimentary, but reservations are required.
Contact our Treasurer, Holly Burke at (602) 298-7769.
If you are unable to afford a ticket but want to attend the meal, please e-mail Laurie Walsh at aa-ok@cox.net and arrangements will be made for your ticket.
ONLINE TICKETS
Tickets to the Prayer Breakfast are $15.00 +$1.82 secure site service fee and may be obtained by clicking on "Eventbrite" below:
Eventbrite
For Registration by Mail:
Please send your name, address, city, state, zip code, phone number, and email address (include the names and phone numbers of other ticket holders in your group) to:
Magnificat Tickets
c/o Holly Burke
6230 W Mary Jane Lane
Glendale, AZ 85306
Tickets are $15 and must be purchased in advance to secure your reservation. No tickets will be sold at the door. Your check will serve as your receipt.
RESERVATION FORM:
Please use this form for Mail-In Reservations ONLY. Complete the form below (include the names and phone numbers of other ticket holders in your group). Reservations CANNOT be accepted after September 4th.

$15.00 per person by mail; Registration Form must be postmarked by
May 6, 2018
to receive your confirmation. (check only)
Name ________________________________________________
Guest(s) Name ______________________________________________
Address ______________________________________________
City ___________________________ State ______ Zip __________
Phone # ____________________
Email (Please print clearly) ______________________________
I am available to serve as:
Table Hostess ___ Greeter/server ___ Decorations___ Prayer Ministry____
Enclosed is $ ________________ for _______________ Number of Reservations.
Please Mail Reservation Form and check for $15 per person, payable to "Magnificat" to:
Magnificat Tickets
c/o Holly Burke
6230 W Mary Jane Lane
Glendale, AZ 85306
---
UPCOMING MEALS FOR OUR CHAPTER — 2018
May 12, 2018 – Speaker Diane Duncan
September 1, 2018 – Bishop Thomas Olmsted
---
ROSARY BLANKET OF PRAYER
Remember our chapter's commitment to Eucharistic Adoration and to pray the Rosary on the 14th of each month for the intentions of Magnificat, Sanctity of Life, Marriage and Family, and World Peace.
---
OUR PRAYER GROUPS
Is God calling you to be in a Prayer Group? Jesus said "Wherever two or three are gathered in My Name, there I am in their midst." Our prayer groups are open to all.
Our diocesan prayer groups are open to all.  Please click link for info for the Diocese of Phoenix at this website Catholic Renewal Ministries
---
SERVICE TEAM MEMBERS
Laurie Walsh, Coordinator
Maureen Kight, Assistant Coordinator
Sharon Wnuk, Secretary
Holly Burke, Treasurer
Cathy Cato, Historian
---
If you would like to help with a Ministry of Magnificat, or if you have a question or comment for our Service Team, or if you would like to be on our Mailing list for future events, please contact Laurie Walsh at aa-ok@cox.net
To visit our Chapter's website, click here:   Mary Cause of our Joy
To visit our Facebook page, please click here: Phoenix Chapter Facebook Page
---
HISTORY of Mary, Cause of Our Joy Chapter
[Diocese of Phoenix, Arizona]
Est. 2010
The spark for the Phoenix Chapter of Magnificat came on the evening of September 19th, 2010. It all began when founding Coordinator, Laurie Walsh met Carolyn Wright who gave her a brochure at a Charismatic Conference in Phoenix.  Laurie had just retired and was at the conference specifically asking God, "Do you want me to start a ministry?" Within moments, Carolyn who was a total stranger up to that moment, was prompted by the Holy Spirit to hand Laurie the Magnificat Ministry brochure.
From that day on, Laurie, Holly Burke and Cathy Cato began holding discernment meetings in the Diocesan Offices in Phoenix. They completed all of the requirements to become a Chapter and during this time, many women came in and out of the meetings.  Just before the first meal, Mary called the two women, Maureen Kight and Sharon Wnuk, who would come aboard to complete the service team of five women.
The inaugural meal was held five years to the day after the meeting took place between Laurie Walsh and Carolyn Wright; Sept. 19, 2015.  Carolyn flew out from her chapter in Birmingham, AL to surprise the team and be in attendance. The first speaker was the regional representative, Barbara Serba, and spirits soared throughout the entire weekend.
Barbara purchased a beautiful statue of Our Lady of Fatima as a gift to the new chapter and under her patronage, wonderful things came to pass. With a turnout at the first meal of over 200 women, and over 300 at the most recent in May of 2017. The Advisory Team began to form.  Soon there were regular attendees who were signing up to work within the various committees.
While the early days were very challenging, the women were shown at every turn, that this work is the work of Our Blessed Mother. There were many miracles, signs and wonders along the journey.  The bond established within the team under the mantle of Our Lady Cause of Our Joy is a treasure that has grown stronger and sweeter over time.  A gradual but truly wonderful transformation takes place once one sets her hand to the plow in Mary's lovely garden.