Welcome from Conway, AR
We welcome you to the webpage of the Central Arkansas Jesus, Bread of Life Chapter of Magnificat. These are exciting times that we live in and Magnificat was begun in 1981 for such a time as this. There are now over 100 chapters throughout the United States and its territories and in many foreign countries.
---
Magnificat Prayer Breakfast
Hosted by Jesus Bread of Life Chapter
Saturday, March 9th 2019
10:00 a.m. to 1:00 p.m.
Doors open at 9:30 a.m.
Location:
St Joseph Catholic Church
Spritan Center
1115 College Ave.
Conway AR 72034
About our Guest Speaker: Terri Seiter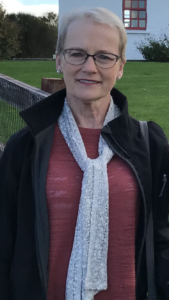 "Jesus Wept." John 11:3
TerriSeiter is a long time member of St. Joseph Parish in Conway. She taught at St. Joseph's School for 2 years and served as principal of the Primary School from 2000-2008. She and her husband Mark have been active in many parish activities including the St. Joseph Bazaar, Cursillo, stewardship committee, building and grounds committee, Woman-to-Woman and Walking With Purpose.
They have 3 children…Adam, Amy and Kara who all attended St. Joseph School. They also have a son and daughter-in-law, Dru and Jessica, as well as 1 granddaughter, Lillian (with another granddaughter due in February!)
Terri has encountered life in many shapes and sizes and comes to share her message of hope and encouragement as we all deal with the realities of life.
Joyful, and upbeat are the words one would use to describe Terri. A fighter against all odds and a woman of faith and courage, she has learned to deal with loss, health issues, and pain, yet has continued to have faith in God and continues to run the race and press on in the kingdom.
Although one of the shortest verses in the Bible, Terri's favorite verse is "Jesus wept" John 11:35
---
Personal Prayer ministry is available after the meal by the Magnificat Service Team.
Religious books and CD's are available at the meal.
Since the day is designed to speak to the hearts of women, free of distractions, it is respectfully requested that young children under the age of 14 not be in attendance.
---
TICKETS
Tickets must be purchased in advance. No tickets will be sold at the door.
TICKETS ARE AVAILABLE:
Online: Click on this link: October 27, 2018 Prayer Breakfast
Online payment is available for $16.00 (includes the convenience fee) using PayPal with a credit or debit card.  You do not need to have a PayPal account.  You may also purchase additional tickets for any guests you would like to bring to the meal.  When your transaction is complete you may print your online ticket from your computer.
E-Mail:magnificatcentralarkansas@gmail.com
Mail: Tickets by mail are $15.00 per person.
Send check payable to Magnificat, postmarked by March 5th to:
Doris Williams
3335 Turf Lane
Conway AR 72034
Tickets for priests, deacons, religious brothers and sisters are complimentary.
Please call Donna at 205-408-0308 or email magnificat0296@gmail.com
to reserve your ticket.
If you are unable to afford a ticket but want to attend the meal, please call Donna and arrangements will be made for a ticket to be sent to you.
---
RESERVATION FORM:
Please use this form for Mail-In Reservations ONLY. Complete the form below (include the names and phone numbers of other ticket holders in your group). Reservations CANNOT be accepted after October 22, 2018.
---

Registration Form must be postmarked by
March 5th 2019
to receive your confirmation.
 (cash/check only)
Name ________________________________________________
Guest(s) Name ______________________________________________
Address ______________________________________________
City ___________________________ State ______ Zip __________
Phone # ____________________
Email (Please print clearly) ______________________________
Enclosed is $ ________________ for _______________ Number of Reservations.
I am available to serve as:
Table Hostess ___ Greeter ___
Please Mail Reservation Form and check payable to "Magnificat" to:
Magnificat Tickets
5220 Crossings Parkway
Birmingham, AL 35242
---
UPCOMING MEALS FOR OUR CHAPTER — 2018 – 2019
October 27, 2018 —Breakfast at St. Elias Parish Hall   Speaker: Maria  Azula Kaczperski
January 26, 2019 —Luncheon at Our Lady of Sorrows Parish Hall   Speaker: TBA
---
ROSARY BLANKET OF PRAYER
Remember our chapter's commitment to Eucharistic Adoration and to pray the Rosary on the 2nd of each month for the intentions of Magnificat, Sanctity of Life, Marriage and Family, and World Peace.
---
OUR PRAYER GROUPS
Is God calling you to be in a Prayer Group? Jesus said "Wherever two or three are gathered in My Name, there I am in their midst." Our prayer groups are open to all.
Rejoice in the Lord Prayer Group
Meets Wednesdays at Our Lady of Sorrows Family Life Center Library at 1:30PM.
Contact Olga Coburn (205) 822-4366 or Janet Waters (205) 979-4196
St. Albert's Charismatic Prayer Group
Meets Thursdays at Our Lady of Sorrows Family Life Center in Room 103 at 7:00PM
Contact Ray Makofsky (205) 999-8947
Magnify the Lord Charismatic Prayer Group
Meets the 1st and 3rd Saturdays of the month at Our Lady of Sorrows Family Life Center Library
at 9:00 AM – 11:00AM.
Contact Lisa Henderson (205) 540-0213 or Donna Chmielarski (205) 408-0308
For more information about other Charismatic Prayer groups, visit Alabama Charismatic Prayer Groups
---
SERVICE TEAM MEMBERS
Debbie Eckert, Coordinator
Susan Denys, Assistant Coordinator
Sarah Thornton, Recording Secretary
Doris Williams, Treasurer
Candy Shultze, Historian
Olga Coburn, Service Team Member
Spiritual Advisor: Father John Marconi
---
If you would like to help with a Ministry of Magnificat, or if you have a question or comment for our Service Team,  or if you would like to be on our Mailing list for future events, please contact us at magnificatcentralarkansas@gmail.com
---
HISTORY of Jesus Bread of Life  Chapter of Magnificat
[For the Diocese of Little Rock in Arkansas]
In 2011, while attending daily Mass the Lord spoke to my heart that it was time to bring a Magnificat Chapter to Central Arkansas.This inspiration came from a seed that was planted after attending our Mother Chapter, Mary Ark of the Covenant's first meal many years earlier. As I prayed, the Lord gave me the names of the women whom he was calling to help start a new chapter. After calling the Central office and inquiring about the process, our group of women met and prayed and worked as we were guided by the Holy Spirit and the Central Service team. Through prayer, prayer and more prayer and discernment our chapter was named "Jesus Bread of Life". We were dedicated, hardworking and a bit frightened at times as to how all of our prayers would play out but after about a year and a half, we held our first meal and had around 250 wonderful women attend.
Serving on the service team has stretched us and caused growth in many new and wonderful ways. The bonds the we share as sisters are beautiful, strong and uplifting.The joy we experience as we meet new women and help them experience the love of God is beyond human words but awesome, exciting, wonderful, and grateful would be a good start to state how we feel. The love and sisterhood doesn't stop there! We have made friends from all over the world through this wonderful ministry we call Magnificat. We encourage you to be a part of all that Magnificat has to offer.
Magnificat – A Ministry to Catholic Women
The story of the Visitation recorded in Luke 1:39-56 provides the inspiration for Magnificat. This Visitation reveals Mary's disposition of humble service and selfless love for anyone who needs her help. Mary brought joy to her cousin, Elizabeth, because she brought Christ. She invites us to give ourselves happily to people around us and to simply share with them the happiness that overflows from our hearts. The women of Magnificat have experienced the joy of Mary and Elizabeth through a personal encounter with Jesus Christ and feel compelled to share it with their sisters.
Marilyn Quirk, the founding Coordinator of Magnificat in the Archdiocese of New Orleans in 1981, has said, "Mary's beautiful hymn of praise has become the song of many of us who have been involved in Magnificat, A Ministry to Catholic Women." Born of and nurtured by the Catholic Charismatic Renewal, Magnificat's primary mission is to evangelize and help Catholic women grow spiritually into holiness through the power of the Holy Spirit. At the heart of all Magnificat is PRAYER!
Carolyn Wright, the founding Coordinator of the Birmingham Magnificat Chapter, currently serves as a member of the Central Service Team's Communication Ministry Team and the Southeast Regional Team. Reflecting on the creation of the Birmingham Chapter, Carolyn exclaimed, "The formation of this chapter of Magnificat was nothing short of amazing! It is more than any of us ever imagined or hoped for! It has brought forth fruits of love for The Trinity and Our Lady, as well as support of the Church and her priests. Magnificat Women come together, not only as friends, but as sisters in the Lord."
Peter Ann Ryan, a close friend of Carolyn, became the first draftee in the discernment process concerning the Magnificat Ministry. She joyfully reminisces, "Over these twenty years, I am still astounded by the gifts of the Holy Spirit as He reveals His plan of love, encouragement and affection in the response of those coming to Magnificat. The awesome "coincidences" that occur between and among faith-filled women, prove the presence of a good and gracious God … touching and uplifting His children."
The first Magnificat Prayer Meal in Alabama was held at Our Lady of Lourdes Catholic Church in Birmingham on February 17, 1996 with Sister Briege McKenna, O.S.C. as the speaker. There were 500 women in attendance. Olga Coburn, who has been on the service team since its inception, also participated in this first meal. Using her gifts of leadership in the Charismatic Renewal, Olga was delegated by the Lord to give His word to the women at the Magnificat Meals. With a grateful heart, Olga proclaims that, "My joy is from being the Lord's instrument, especially in Magnificat, to pronounce His prophetic word to the women He has called to be present.  From the beginning He has blessed this ministry, which became manifested on that first breakfast with Sister Briege proclaiming His works and healing, including my right hand. Through His Mother, Mary, He continues to bless and use women to further His Kingdom."
Magnificat events are held four times a year on or near a feast of Our Lady. The program includes a shared meal, praise and worship led by music volunteers, a speaker who shares God's work in her life, intercessory prayer and the availability of the Sacrament of Reconciliation at the end of the gathering. Kathy MacInnis, current Coordinator of the Magnificat Central Service Team says, "At each meal, a woman gives her testimony of how the Lord God has touched her life in an extraordinary way with His grace. The women in attendance come to understand that what God has done for that speaker, He can also do for them. This is a source of freedom and empowerment!" This witness of God's action and mercy in the speaker's life focuses on hope in the midst of adversity and brings to life the scripture quote: "They conquered him by the blood of the Lamb and by the word of their testimony." Rev 12:11
The Service Team of Mary, Woman of Faith Chapter invites and welcomes the women of the Birmingham Diocese to come and experience Mary's Visitation to Elizabeth. Attend a Magnificat meal, a place where Jesus touches hearts. It is also a place that feels like "going home," where everyone is loved and accepted by other like-minded women looking to become closer to God.
On February 6, 2016, the Birmingham Chapter of Magnificat celebrated its 20th Anniversary at Our Lady of the Valley Social Hall in Birmingham with our spiritual advisor, Bishop Emeritus David E. Foley, as our speaker. Bishop Foley's love and devotion to the Blessed Mother is emphasized in the following prayer he has written, "O Mary, Mother of Christ and Mother of our Catholic Church, may all women of the world take you as their model of what it means to be a woman. May you, who are Woman of Faith, lead us by the power of the Spirit to a new evangelization of the world. Amen."
Since its humble beginning in New Orleans in 1981, Magnificat has become an international outreach to women that has touched thousands of lives. It has spread to 105 chapters encompassing the United States, the Caribbean Islands, Canada, Malta, Poland, Ireland, Dominica and Uganda.