Welcome from Cherokee Village, AR!
We welcome you to the webpage of Cherokee Village, AR Mary, Ark of the Covenant Chapter. These are exciting times that we live in and Magnificat was begun in 1981 for such as time as this. There are now over 100 chapters throughout the United States and its territories and in many foreign countries.
Magnificat Luncheon
Hosted by the Mary, Ark of the Covenant Chapter
Feb 11, 2023
LOCATION:
St Michael's Church
HWY 62/412
Cherokee Village, AR 72529
                                                OUR GUEST SPEAKER: Mary Trevino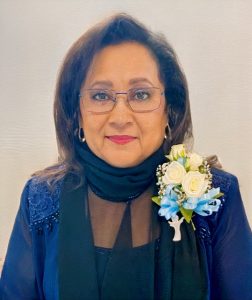 Mary Trevino lives in Denton, Texas. With her husband Manuel of 49 years, she has 4 children and 18 grandchildren. Mary has served the Catholic Church as Eucharistic Minister, Lector, Sacristan, Catechist, Prayer Group Leader, Confirmation Coordinator, and Parish Council, and has served on teams with Cursillo, ACTS, Marriage Encounter and a member of Catholic Daughters of the Americas Salve Regina Court #2611.
Mary is currently the Coordinator of "Our Lady of the Most Blessed Sacrament" Grapevine, Texas Chapter. Mary has been a member of Magnificat, A Ministry to Catholic Women, since 1999 and has served in various positions such as, for the Grapevine Chapter: Music Ministry, Hostesses leader, Prayer Ministry, and Secretary. For Region 3, she worked as Formation and CST Leadership Ministry Chair. Mary is currently holding the office of Leadership in Region 3.
Mary is also on the CST team filming for Life in the Spirit and now a new project, Growth in the Spirit, which will be presented in 2023. Come and hear how after receiving physical and spiritual healing during the Baptism of the Holy Spirit in 1995, God's grace has dramatically impacted Mary's Life.
---
Prayer teams are available following the meal.
Religious jewelry, books, and CDs may be available to purchase at the meal.
Since the day is designed to speak to the hearts of women, free of distractions, it is respectfully requested that young children not be in attendance.
TICKETS & RESERVATIONS
Register Now – $15
MAIL-IN RESERVATIONS
Click on, print and complete the form below (include the names and phone numbers of other ticket holders in your group). Reservations CAN NOT be accepted after Feb. 3, 2023
Please Mail Reservation Form with a self-addressed stamped envelope and check for $15 per person, payable to "Magnificat" to:
Magnificat Tickets
c/o Lori Templet
140 McCormick Rd
Hardy, AR 72542
Tickets for priests, deacons, religious brothers, and sisters are complimentary, but reservations are required and this may be done by contacting our Co-coordinator, Lori Templet (870) 856-2261
If you are unable to afford a ticket but want to attend the meal, please call Lori Templet (870) 856-2261 or email her at ltemplet2507@yahoo.com and arrangements will be made for you to attend.
For questions regarding the meal or tickets please contact Lori Templet (870) 856-2261 at St. Michaels Catholic Church (870) 257-2850.
Receipts
Your check will serve as your receipt.
No tickets are sold at the door.
---
OUR UPCOMING MEALS IN 2023
TBA
---
ROSARY BLANKET OF PRAYER
Remember our chapter's commitment to pray the Rosary on the 15th of each month, joining our sisters in Magnificat for the intentions of a New Pentecost, the Church, Magnificat, Sanctity of Life, Marriage and Family, and World Peace.
We pray the rosary as a group at St. James Church at 10:00 on the 2nd and 4th Mondays praying for the same intentions.
---
OUR PRAYER GROUPS
Is God calling you to be in a Prayer Group? Jesus said, "Wherever two or three are gathered in My Name, there I am in their midst." Our prayer groups are open to all.
Personal Prayer Ministry
which prays with individuals following The Magnificat Breakfast.
---
SERVICE TEAM MEMBERS
Lori Templet, Coordinator
Kimmberly Epperson, Assistant Coordinator
Jordan Rupert, Recording Secretary
"Vacant", Treasurer
Kathy Gagne, Historian
Fr. Norbert Rappold, Spiritual Advisor
If you would like to help with a Ministry of Magnificat or if you have a question or comment for our Service Team, or if you would like to be on our Mailing list for future events, please contact Lori Templet at ltemplet2507@yahoo.com.
---
HISTORY of Mary, Ark of the Covenant Chapter of Magnificat