Welcome from Kenosha-Racine, Wisconsin!
We welcome you to Mary, Mary Servant of the Lord Chapter's webpage. These are exciting times that we live in and Magnificat was begun in 1981 for such a time as this. There are now over 100 chapters throughout the United States and its territories and in many foreign countries.
---
Welcome to Our Next Meal!
Hosted by the Mary, Mary Servant of the Lord Chapter of Magnificat
Saturday, February 10, 2018
9:00 AM – 12:00 PM
Please arrive 15 minutes early.
Location:
Infusino's Banquet Hall
3201 Rapids Drive
Racine, WI 53404
Guest Speaker: Suzanne Fournier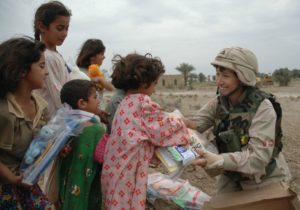 "Then I heard the voice of the Lord saying, "Whom shall I send? And who will go for us?" And I said, "Here am I. Send me!" Isaiah 6:8
Suzanne Fournier is a newly published author. Her memoirs, "Life After Diapers," is her journey from a stay-at-home mother with seven children into the workforce at the age of forty.
Suzanne started as an entry level administration clerk and navigated through professional and education challenges while moving her family to advance her career and support her family. She retired as the director of public affairs and communication for the U. S. Army Corps of Engineers Headquarters in Washington, D.C.
While working in Cincinnati, she volunteered to serve eight months in Iraq to communicate the reconstruction mission of the United States Army Corps of Engineers to the Iraq, American and International audiences. She is known for blogging as "Grandma in Iraq" on the Cincinnati Enquirer homepage.
Suzanne was recently featured on Shalom Catholic World TV's program called, Triumph, the Catholic Herald (Archdiocese of Milwaukee) and the Kenosha News
Suzanne and her husband, Gil, are members of St. Anne's Parish and reside in Kenosha, Wisconsin. In addition to seven children, their family has expanded to include 25 grandchildren.
You won't want to miss Suzanne's beautiful testimony. Mark your calendars for Feb 10, 2018.
---
Personal Prayer ministry is available after the meal.
Religious books and CD's may be available at the meal.
Since the day is designed to speak to the hearts of women, free of distractions, it is respectfully requested that young children not be in attendance.
---
TICKETS
Please use this form for Mail-In Reservations ONLY


$12.00 
per person by mail; Registration Form must be received by
Feb 5, 2018 
to receive your ticket by mail. (cash/check only)
Name ________________________________________________
Guest(s) Name ______________________________________________
Address ______________________________________________
City ___________________________ State ______ Zip __________
Phone # ____________________
Email (Please print clearly) ______________________________
Enclosed is $ ________________ for _______________ Number of Reservations.
Please Mail Reservation Form and check for $12 per person, payable to "Magnificat Kenosha" and a self-addressed stamped envelope to:
Nancy York
7120 20th Ave.
Kenosha, WI 53143
262.652.0708
---
UPCOMING MEALS FOR OUR CHAPTER — 2018
May 12: Speaker TBA
August 11:  Speaker TBA
November 10:  Speaker TBA
---
ROSARY BLANKET OF PRAYER
Remember our chapter's commitment to Eucharistic Adoration and to pray the Rosary on the 9th of each month for the intentions of Magnificat, Sanctity of Life, Marriage and Family, and World Peace.
---
OUR PRAYER GROUPS
Is God calling you to be in a Prayer Group? Jesus said "Wherever two or three are gathered in My Name, there I am in their midst." Our prayer groups are open to all.
---
For information, please call the Service Team:
SERVICE TEAM MEMBERS
Rose Nelson, Coordinator
Donna Rossi, Co-coordinator, Communications
Sue Lippert, Co-coordinator, Book Sales                       Nancy York, Co-coordinator, Ticket Sales
Judy Kohlmeier, Secretary
Kathy Uhl, Historian
---
HISTORY of Our Mary, Mary Servant of the Lord Chapter
[in the Archdiocese of Milwaukee, Wisconsin]
Many of us who attended "Women's Aglow" meetings, attended a Magnificat Meal in West Bend, WI a few times.  We were very impressed with it all!  All catholic Women coming together in different stages of their spiritual life to grow spiritually!  Ten of us got together to pray about if there was a need for a Magnificat Chapter in Kenosha/Racine area.  On June 1, 2004 we all agreed it was needed.  We had 7 more prayer meetings to pray and got in touch with the Central Service Team.  On January 5, 2005 we became a Magnificat Chapter!
History of  Our Chapter