Welcome from Grapevine, TX!
We welcome you to the webpage of the Grapevine,TX Our Lady of the Blessed Sacrament. These are exciting times that we live in and Magnificat was begun in 1981 for such a time as this. There are now over 100 chapters throughout the United States and its territories and in many foreign countries.
---
You are invited to a Magnificat Prayer Breakfast
Sponsored by Our Lady of the Blessed Sacrament Chapter
October 1, 2016
9:00 a.m. – 12:00 p.m.
Please arrive early.
Location:
Hilton Garden Inn
2701 Lake Vista Drive
Lewisville, Texas 75067
972.459.4600
About Our Speaker: Fr. Robert Cruz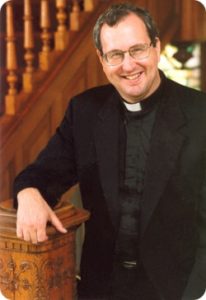 Fr. Robert-Joel Cruz was ordained in 1996 in the Diocese of Houma-Thibodaux, LA, where he is currently Pastor of Sacred Heart Parish in Montegut, LA. He is the Founder of both Pax Christi Healing Ministry and Guatemala Missions, Inc.
He has published several articles and recently published a new book entitled, A Collection of Prayers and Other Supplications: Healing, Deliverance and Liberation.
His personal objectives are:
To help the People of God in their Spirituality and prayer life;
To deepen one's commitment to God and to the Holy Catholic Church;
To rediscover God's love and mercy; To continue to trust in God;
To help one in his/her quest in the meaning and purpose of life;
To help to live for God freely and to live ultimately for God.
Father is full of energy and enthusiasm and along with his obligations to his parish he offers: Spiritual Direction Counseling Retreats: Silent Directed Retreat, Preached Retreat, Parish Retreat Parish Mission/Retreat (Advent, Lent, others) Healing Mass and Services Spiritual Warfare Deliverance Prayer of Liberation Directing Guided Meditations.
All for the greater glory of God!
---
Magnificat Prayer Teams will be available for your personal intentions after the breakfast.
Confessions will be available at the end of the meal.
Religious books and CD's are available for purchase after the meal. Feel free to browse tables for the purchase of religious items.
Since the day is designed to speak to the hearts of women,  free of distractions,  it is respectfully requested that young children not be in attendance.
---
TICKETS
Tickets to the Prayer Breakfast are $20.00. Tickets may be purchased from Catholic Bookstores in your area, or from our ticket chairwoman, Chris Delmolino, 817-925-4542.
TICKETS AVAILABLE AT THESE LOCATIONS:
Coppell: Little Angels Catholic Store 600 E. Sandy Lake Rd, Ste 108 972-304-5200
Farmers Branch: Catholic Art & Gifts 2761 Val wood Pkwy 972-934-3553
Ft. Worth: Saint Anthony's (new location) Wedgewood Shopping Center, 5312 Trail Lake 817-924-7221
Colleyville: Good Shepherd Catholic Community Church 817.421.1387
PREPAID TICKETS available by mail.
RESERVED SEATINGis available only with advance purchase of 10 tickets (ten seats per table). Please call Chris at 817-925-4542 to reserve your table. CUT OFF DATE for tickets is: September 27, 2016.
Tickets for priests, deacons, religious brothers and sisters are complimentary, but reservations are required and this may be done by contacting our ticket chairwoman, Chris Delmolino, 817-925-4542.
Ticket sales end September 27, 2016.
No tickets are sold at the door.
Please use this form for Mail-In Reservations ONLY. Complete the form below (include the names and phone numbers of other ticket holders in your group).


$20.00 per person by mail; Registration Form must be
postmarked by September 27, 2016
to receive your confirmation.  (money order or check only)
Name ________________________________________________
Guest(s) Name ______________________________________________
Address ______________________________________________
City ___________________________ State ______ Zip __________
Phone # ____________________
Email (Please print clearly) ______________________________
Enclosed is $ ________________ for _______________ Number of Reservations.
Please Mail Reservation Form and check for $20 per person, payable to "Magnificat" to:
Magnificat Tickets
Chris Delmolino
4209 Brookhollow Drive
Colleyville, TX 76034
Call Chris at: 817-925-4542
---
UPCOMING MEALS FOR OUR CHAPTER — 2017
October 21, 2017 Kathleen Beckman
---
ROSARY BLANKET OF PRAYER
Remember our chapter's commitment to Eucharistic Adoration and to pray the Rosary on the 23rd of each month for the intentions of Magnificat, Sanctity of Life, Marriage and Family, and World Peace.
---
OUR PRAYER GROUPS
Is God calling you to be in a Prayer Group? Jesus said "Wherever two or three are gathered in My Name, there I am in their midst." Our prayer groups are open to all.
Monday Morning Prayer Group
Meeting September-May: 10:00 a.m. —12 noon
St. Francis of Assisi Catholic Church
Grapevine, TX
Monday Evening Prayer Group
Meeting Year-Round: 7:00 p.m. -9:00 p.m.
St. Ann's Catholic Parish
Coppell, TX
Wednesday Evening Prayer Group
Meeting Year-Round: 7:00 p.m.-9:00 p.m.
St. Michael's Catholic Church Chapel
Bedford, TX
Tuesday Evening Prayer Group
St. Mark Prayer Group 7:00 pm – 8:30 p.m.
Argyle,TX
Thursday Evening Holy Spirit Prayer Group
Meeting Year Round: 7:00 p.m. —8:30 p.m.
St. Gabriel the Archangel
McKinney, TX
Christian Community of God's Delight
Meeting Year Round: Sundays at 4:00 p.m.
Mt. St. Michael
Dallas, TX
Sunday Evening Prayer Group
Meeting Year Round: 2nd and 4th Sunday at 7:00 p.m.
Immaculate Conception
Denton, TX
Thursday Evening Holy Fire Prayer Group
7:00 – 9:00 p.m.
St. Elizabeth Ann Seton
Keller, TX
---
SERVICE TEAM MEMBERS
Gloria Keiderling, Coordinator
Anita Delagarza, Assistant Coordinator
Mary Trevino, Recording Secretary
Donna Garlock, Treasurer
Mary Ann Stacy, Historian
Spiritual Adviser: Rev. John Pancheco
JOIN US!
---
HISTORY of Our Lady of the Blessed Sacrament Chapter of Magnificat
[for the Diocese of Fort Worth, Texas]
Coming soon!