Welcome from Buffalo, NY!
We welcome you to the web page of the Gentle Woman, Mother of Mercy, Buffalo, N.Y. Chapter. These are exciting times that we live in and Magnificat was begun in 1981 for such a time as this. There are now over 100 chapters throughout the United States and its territories and in many foreign countries.
---
Magnificat Prayer Breakfast
Hosted by the Gentle Woman, Mother of Mercy, Buffalo, N.Y. Chapter of Magnificat
Saturday, June 16, 2018
9:45 am – 12:30 pm
(registration opens at 9:15 am)
Location:
Millennium Hotel
2040 Walden Av
Cheektowaga, NY 14225
Guest Speaker: Marangely Gonzales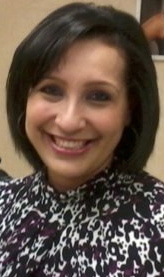 Marangely is a renowned Catholic Charismatic speaker with a lively and inspiring message – stand up and live your life more fully in The Spirit as a daughter of The King and Do Not be afraid of the crosses of this world any longer. God is Love and Goodness, and He is with you! Mangie will share her journey of healing and will leave you encouraged and excited to go back to your life to be God's Light in the world and live the Christian life more fully with power, love, and hope.
"Behold, I stand at the door and knock."  Revelations 3:20
---
Since the day is designed to speak to the hearts of women, free of distraction, it is respectfully requested that young children not be in attendance. Also please be aware that subject matter may not be suitable for children.
---
TICKETS
Registration by mail received by June 6, 2018
Registration Fee: Mail – $15,  ($20 if after June 6th)



NO REGISTRATIONS WILL BE TAKEN AT THE DOOR.
Name ________________________________________________
Guest(s) Name ______________________________________________
Address ______________________________________________
City ___________________________ State ______ Zip __________
Phone # ____________________
Email (Please print clearly) ______________________________
Enclosed is $ ________________ for _______________ Number of Reservations.
Please send this printed, completed form and a check payable to:
Magnificat-Buffalo
c/o Ellie Worley
190 Ridgewood Drive
Amherst, NY 14226
Registration Information: Ellie Worley @ 716.632.0646
Email: magnificat.buffalo.1996@gmail.com
www.facebook.com/magnificatbuffalo
---
UPCOMING EVENTS FOR OUR CHAPTER — 2018
Saturday, September 15, 2018
Prayer Breakfast – Guest Speaker:  Regina Simon
Saturday, December 8, 2018
Prayer Breakfast – Guest Speaker:  Amanda Torrelli
---
ROSARY BLANKET OF PRAYER
Remember our chapter's commitment to Eucharistic Adoration and to pray the Rosary on the 8th of each month for the intentions of Magnificat, Sanctity of Life, Marriage and Family, and World Peace.
---
OUR PRAYER GROUPS:
---
SERVICE TEAM MEMBERS:
Father Eugene Ulrich, Spiritual Advisor
Mary Kay Schaub, Coordinator
Cindy Watson, Asst. Coordinator
Christine Holden, Treasurer
Liz McCormick, Corresponding Secretary
Darlene Gorski, Recording Secretary
Judy Swain, Historian
---
If you would like to help with a Ministry of Magnificat, or if you have a question or comment for Our Service Team, or if you would like to be on our Mailing list for future events, please contact: Email: magnificat.buffalo.1996@gmail.com or Call: Cindy Watson @ 716.773.5976
---
HISTORY of the Gentle Woman Mother of Mercy Chapter of Magnificat
[for the Diocese of Buffalo, New York]
Approved by Bishop Henry J. Mansell, the Gentle Woman, Mother of Mercy Chapter began in November 1995 with Holy Mass celebrated by Msgr. Leonard Biniszkiewicz, the Chapter's first Spiritual Advisor. The first Breakfast was held Dec. 7,1996 with Rebecca Conaty as guest speaker and was led by the first Service Team consisting of Beryl Kinney, Coordinator,(deceased) Carol Throm (deceased,) Shirley Rinow , Cecilia Stack, (deceased) and Maura Nolan.
Maura Nolan later became the Second Coordinator of the Buffalo Chapter when Beryl Kinney moved on to become the Regional Coordinator.