Welcome from Kearney, NE.
We welcome you to the webpage of Mary, Full of Grace, Kearney Nebraska Chapter of Magnificat. These are exciting times that we live in and Magnificat was begun in 1981 for such a time as this. There are now over 100 chapters throughout the United States and its territories and in many foreign countries.
---
Magnificat Prayer Breakfast
Hosted by the Mary, Full of Grace Chapter of Magnificat
Saturday, October 28, 2017
10:00 am – noon
We are serving a special "Tea Luncheon" to commemorate the 10th Anniversary of our chapter
Location:
Ramada Inn Kearney
301 2nd Ave
Kearney, NE 68847
Guest Speaker: Ann Sucha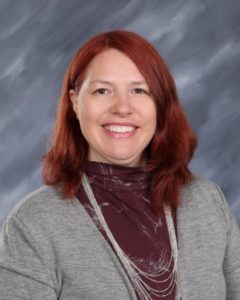 Ann is the wife of Paul and mother to Marlaena and James. Her family is her greatest joy and gift from God. They reside in Ann's childhood home, North of Kearney, which is the former St Mary's Prairie Center Rectory. She holds degrees in Theology, and Theater and Journalism from Creighton University, and received her teaching certificate from University of Nebraska, Kearney. Currently she is teaching theology at Kearney Catholic High School, and has previously been a Youth Minister and a Day Care Provider. Ann really enjoys teaching theology because, as she tells her students, she "gets to talk about Jesus all day". Her favorite Bible verse is James 4:8 "Draw near to God and He will draw near to you" and her favorite hymn is "Here I Am, Lord". Her witness testimony is titled "I Choose Grace."
---
We do not assign seats so arrive early to check in at the Reservation Table and find seat(s) before the program begins.
Prayer support is available following the meal.
Since the day is designed to speak to the hearts of women, free of distractions, it is respectfully requested that young children not be in attendance.
---
TICKETS
Tickets are $15 (students are $10) and may be purchased in advance.
RESERVATION FORM:
Please use this form for Mail-In Reservations ONLY. Complete the form below (include the names and phone numbers of other ticket holders in your group). Reservations CANNOT be accepted after October 23.


Adults $15.00 / students $10.00 by mail; Registration Form must be postmarked by
October 23, 2017
to receive your confirmation. (check only)
Name ________________________________________________
Guest(s) Name ______________________________________________
Address ______________________________________________
City ___________________________ State ______ Zip __________
Phone # ____________________
Email (Please print clearly) ______________________________
Enclosed is $ ________________ for _______________ Number of Reservations.
Please Mail Reservation Form and check, payable to "Magnificat" to:
Marlene Rasmussen
3415 W 70th St
Kearney, NE 68845
---
NEXT MEAL FOR OUR CHAPTER
February 3, 2018 — Speaker: Pending
---
ROSARY
Remember our chapter's commitment to pray the Rosary on the 2nd and 4th Monday of each month at St. James Church at 10am for the intentions of Magnificat, Sanctity of Life, Marriage and Family, and World Peace.
---
OUR PRAYER GROUPS
Is God calling you to be in a Prayer Group? Jesus said "Wherever two or three are gathered in My Name, there I am in their midst." Our prayer groups are open to all.
Internet Prayer Ministry
the newly initiated Magnificat Internet Prayer Ministry.
Contact Teresa Sorensen at tsorensen55@yahoo.com
Personal Prayer Ministry
which prays with individuals following The Magnificat Breakfast.
Contact Jan Liebig at liebigjan@yahoo.com
---
SERVICE TEAM MEMBERS
Teresa Sorensen, Coordinator
Rebecca Lillyman, Asst. Coordinator
Cindy Mack, Secretary
Marlene Rasmussen, Treasurer
Jan Liebig, Historian
For more information about Magnificat or to be added to the mailing list, contact Teresa Sorensen at 308-234-1661.
CLICK HERE to visit our Chapter's website.
---
HISTORY of Mary, Full of Grace Chapter
[Diocese of Grand Island, Nebraska]
Est. 2007
The Mary, Full of Grace Chapter of Magnificat grew out of the hearts of the women in Kearney. Janey Dubas, one of our foundresses, was serving as the President of "Aglow International" women's group in Nebraska, an ecumenical organization focused on fellowship between different faiths. She, along with Kay Wheeler of Ogalala, felt a desire for this same spirit among the Catholic women in our community. In 2001, with permission to proceed from Fr. Torpey, they set out on a new adventure. But things were put on hold in 2002 when Janey was diagnosed with breast cancer. The LORD asked her to offer up her suffering for the success of the new women's group. During this time another women entered the journey, Jean Ross. Together, through prayer and faith sharing, they chose to contact the Magnificat Central Service Team. After several years of work, the chapter was finally able to complete the legal paperwork and was incorporated as the Mary, Full of Grace Magnificat Chapter. We were blessed to install officers at Mass on July 13, 2007, and to serve our first meal on Dec 15 that same year.
Our first officers were:
Coordinator: Janey Dubas
Assistant Coordinator: Jean Ross
Secretary: Jill Stump
Historian: Eileen Dakan
Treasurer: Margaret Messbarger
Spiritual Director: Fr Ted Nekoliczak
Our LORD has blessed us with 10 years of service to the wonderful women of the Kearney area. We give thanks, and ask that He bless us with many more years of service.