Welcome from Marrero, Louisiana!
We welcome you to the webpage of the West Bank (Marrero) Chapter of Magnificat! These are exciting times that we live in and Magnificat was begun in 1981 for such a time as this. There are now over 100 chapters throughout the United States and its territories and in many foreign countries.
---
Magnificat Prayer Breakfast
By the West Bank (Marrero) Chapter of Magnificat
August 19, 2017
9:30 AM – 12:00 PM
Please arrive 15 minutes early. Open seating
Location:
Timberlane Country Club
1 Timberlane Dr.
Gretna La. 70056
About Our Speaker: Michele Berger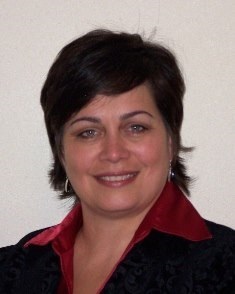 Michele has been married to Daniel Sr. for 30+ years and they have three children Daniel Jr, Virginia and Frank.  Virginia and her husband, Byron, have given Michele and Daniel three grandchildren, Josilyn, Abigail and Sebastian, who have brought great joy to their lives.  Michele is a cradle Catholic and lifelong resident of the West Bank except for a few months in Fort Worth after Hurricane Katrina.  As a member of the Center of Jesus The Lord Worshipping Community in New Orleans, Michele is also a member of the Covenant Community, Children's Ministry and Lector.
Michele enjoys a rewarding career as a Family Readiness Officer(FRO) with Force Headquarters Group of Marine Forces Reserve, where she travels extensively inside the four corners of the U.S.  As a FRO she assists the Marines and family members in finding skills and resources to remain resilient and mitigate the challenges of the military lifestyle.  In her former job as a Family Readiness Trainer for Marine Forces Reserve she trained groups of Marines and family members as large as 700 on a variety of topics including Deployment Readiness, Anger Management, Family Care and Communication to name a few.
Michele enjoys music, travelling, reading, art, hiking, spending time with family, loving on her grandchildren, meeting new people and spreading the joy of the Lord.
Come join us as Michele shares what God has done in her life.
---
Personal Prayer ministry is available after the meal.
Religious books and CD's may be available at the meal.
Since the day is designed to speak to the hearts of women, free of distractions, it is respectfully requested that young children not be in attendance.
---
TICKETS
Tickets to the prayer breakfast are $20.00 and may be obtained from our ticket chairwoman, Lauren McGinnis.(504) 263-2474 or Diane Ribondo (504) 913-4903
Tickets for priests, deacons, religious brothers and sisters are complimentary, but reservations are required and this may be done by contacting Lauren McGinnis. 
Tickets are also available from:
Westbank Religious Supply House, Phone (504) 341-6558 or
Mary's Helpers, Phone (504) 348-7729
Members of the Service Team of Magnificat also have tickets for sale.
Your check will serve as your receipt.
Ticket sales end Monday, August 14,, 2017.
No tickets are sold at the door.
Please use this form for Mail-In Reservations ONLY. Complete the form below (include the names and phone numbers of other ticket holders in your group).


$20.00 per person by mail;
Registration Form must be postmarked by August 10, 2017
(check or money order only)  Ticket will be held at the door.
Name ________________________________________________
Guest(s) Name ______________________________________________
Address ______________________________________________
City ___________________________ State ______ Zip __________
Phone # ____________________
Email (Please print clearly) ______________________________
Enclosed is $ ________________ for _______________ Number of Reservations.
Please Mail Reservation Form and check for $20 per person, payable to "Magnificat" to:
Magnificat Westbank Chapter
C/O Lauren McGinnis
3829 Lake Huron Drive
Harvey, LA 70058
(504) 263-2474
---
UPCOMING MEALS FOR OUR CHAPTER — 2017-2018
December 09, 2017 – Judy Landrieu Klein
February 17, 2018 – Casey Sprehe
May 12, 2018 – Kitty Cleveland
September 8, 2018 – Denny Charbonnet
December 8, 2018 – Sr. Dulce Maria
---
ROSARY BLANKET OF PRAYER
Remember our chapter's commitment to Eucharistic Adoration and to pray the Rosary on the 2nd of each month for the intentions of Magnificat, Sanctity of Life, Marriage and Family, and World Peace.
---
OUR PRAYER GROUPS
Is God calling you to be in a Prayer Group? Jesus said "Wherever two or three are gathered in My Name, there I am in their midst." Our prayer groups are open to all.
Catholic Charismatic Renewal Westbank Prayer Meeting & Mass
Prayer Meeting on the 2nd & 4th Wednesdays at
Infant Jesus of Prague Church
700 Maple Ave
Harvey, LA
7:30PM. Rosary is prayed at 7:00PM.
Reconcilation available before Mass.
Mass starts at 8:10PM with Prayer Ministry and Refreshments after Mass.
For information:
Bill Hegmann (504) 723-7129
Diane Ribando (504) 913-4903 or
email: ccrwbpg@gmail.com
Center of Jesus the Lord Catholic Charismatic Worship Community at Our Lady of Good Counsel Church
1307 Louisiana Ave
New Orleans, LA 70115
Tuesdays: Prayer Meeting 10:30AM, Mass at 11:00AM, Prayer Ministry after Mass.
1st Friday: Prayer Meeting 7:30PM, Mass at 8:00PM, Prayer Ministry after Mass.
Sundays: Praise and Worship 10:15AM, Mass at 10:30AM, Prayer Ministry after Mass.
For information call (504) 529-1636
email: office@centerofjesusthelord.org
or website:www.centerofjesusthelord.org
CCRNO – Catholic Charismatic Renewal New Orleans Prayer Meeting & Mass 
Prayer Meeting on Wednesdays at 7:30PM at
St Benilde Catholic Church
1901 Division St
Metairie, LA.
Mass follows Prayer Meeting with Prayer Ministry after Mass.
For information call (504) 828-1368 or website: www.ccrno.org
---
SERVICE TEAM MEMBERS
Diane Ribando, Coordinator
Diane "Dee" Caskey, Asst-Coordinator
Katie Liljeberg, Secretary/Historian
Lauren McGinnis, Treasurer
TBA, Historian
Spiritual Advisor: Fr. Frank Carabello
---
If you would like to help with a Ministry of Magnificat, or if you have a question or comment for Our Service Team, or if you would like to be on our Mailing list for future events, please contact us at magnificat.westbank@gmail.com
---
HISTORY of Westbank LA Chapter of Magnificat
[for the Diocese of New Orleans, LA]
(add HISTORY)