Welcome from Baton Rouge, LA!
We welcome you to the webpage of the Baton Rouge, LA St Elizabeth of the Visitation Chapter. These are exciting times that we live in and Magnificat was begun in 1981 for such a time as this. There are now over 100 chapters throughout the United States and its territories and in many foreign countries.
---
You are invited to a Magnificat Prayer Breakfast
Sponsored by the St. Elizabeth of the Visitation Chapter
September 16, 2017
9am – noon
Doors open at 8:15 a.m. for open seating. Please arrive early.
Location:
Oak Lodge Reception Center
2834 South Sherwood Forest Blvd.
Baton Rouge, LA 70816
About Our Speaker: Fr. Johnson Kuriappilly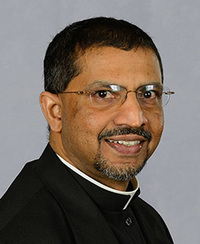 Fr. Johnson is currently serving as a chaplain at Our Lady of the Lake Regional Medical Center. He professes his love of every moment of his ministry to the sick and the suffering, and delights daily Mass goers when he celebrates Mass with such reverence and love of the Eucharist.
Fr. Johnson joined the Seminary after high school, and did his studies in Philosophy and Theology in the Seminary for 11 years. He received a Bachelor in Philosophy and a Bachelor in Theology. He was ordained for the diocese in Kerala, India on May 8, 1990, and served in that diocese for 9 years before coming to the US in June 1999.
Fr. Johnson joined the Diocese of Bismarck in 2005. He served in the diocese of Bismarck, North Dakota till 2015. He became a US Citizen in 2010, and celebrated his Silver Jubilee of ordination in 2015. In that same year he launched a non-profit organization to help the poor who cannot afford a good house to live in. (More information can be found at: http://www.projectisaiah25.com)
Fr. Johnson says he has always had a special devotion to Mother Mary, who is his heavenly mother. Being born and brought up in a catholic family, he says he always stayed close to his Mother who consoles and comforts him and strengthens him as he serves the Church as a priest of her Son who is the High Priest. He has pilgrimage to most of the major Marian Places, like Lourdes, Fatima, Medjugorje. One day he hopes to go to Guadalupe!
In 2014, Fr. Johnson did a Sabbatical in the Holy Land, spending three months at Tantur Ecumenical Institute under Notre Dame University, near Bethlehem.
Fr. Johnson says he loves to read. He especially loves to read theological and philosophical books. He loves photography and to paint as an artist (but unable to paint much because of lack of time). He loves to cook which is very therapeutic for him after work hours to relax and wind down the days of work!
Fr. Johnson is very gifted and anointed in his preaching's. He opens the door or brings forth a deeper understanding and analogy of the Word of God and encourages each one of us to a holier walk with our Lord even with all our weaknesses. Bring pencil and paper because there will be things you will want to write down to reflect on. We will all be blessed in hearings Fr. Johnson testimony, reflections and teachings.
---
Personal Prayer ministry is available upon request after the meal.
Logo items and books are available for purchase.
Since the day is designed to speak to the hearts of women, free of distractions, it is respectfully requested that young children under the age of 14 not be in attendance.
---
TICKETS
Tickets to the Prayer Luncheon are $22.00.
Tickets for priests, deacons, religious brothers and sisters are complimentary, but reservations are required and this may be done online at brmagnifiat@yahoo.com.
Ticket sales end Tuesday, September 12, 2017.
No tickets are sold at the door.
Please use this form for Mail-In Reservations ONLY.


Registration Form must be postmarked by September 8th, 2017.  (check or money order only) Your check serves as your receipt. Your ticket will be at the door.
Name ________________________________________________
Guest(s) Name ______________________________________________
Address ______________________________________________
City ___________________________ State ______ Zip __________
Phone # ____________________
Email (Please print clearly) ______________________________
Enclosed is $ ________________ for _______________ Number of Reservations.
Please Mail Reservation Form, and a check for $22.00 per person payable to Magnificat to:
Kathy Simoneaux
Magnificat
9650 Victory Lane
Denham Springs, LA 70726-5858
---
UPCOMING MEALS FOR OUR CHAPTER — 2017/ 2018
December 1, 2017– Speaker: Patti Mansfield
February 17, 2018– Speaker: Sr. Tracey Dugas
April 14, 2018– Speaker: Sheila Forseca
---
ROSARY BLANKET OF PRAYER
Remember our chapter's commitment to Eucharistic Adoration and to pray the Rosary on the 5th of each month for the intentions of Magnificat, Sanctity of Life, Marriage and Family, and World Peace.
---
OUR PRAYER GROUPS
Is God calling you to be in a Prayer Group? Jesus said "Wherever two or three are gathered in My Name, there I am in their midst." Our prayer groups are open to all.
Magnificat Monthly Eucharistic Holy Hour 
First Thursday of each month In Our Lady of Mercy's Adoration Chapel
starting at 11:00 am followed by noon Mass.
Magnificat Morning of Prayer
Thursday week before the prayer breakfast at
Our Lady of Mercy Parish Activity Center
9:30-12 noon.
---
SERVICE TEAM MEMBERS
Gwen Gillis, Coordinator/ Secretary
TBA-  Assistant Coordinator
Kathy Simoneaux, Treasurer
Lisa Keyes, Historian
Spiritual Advisor: Fr. Al Davidson
---
If you would like to help with a Ministry of Magnificat, or if you have a question or comment for our Service Team, or if you would like to be on our Mailing list for future events, please contact us at brmagnificat@yahoo.com
---
HISTORY of St. Elizabeth of the Visitation Chapter
[Baton Rouge, LA]