Welcome from Lexington, KY.
We welcome you to the webpage of Mary's Garden Lexington, Kentucky Chapter of Magnificat. These are exciting times that we live in and Magnificat was begun in 1981 for such a time as this. There are now over 100 chapters throughout the United States and its territories and in many foreign countries.
---
Magnificat Prayer Breakfast
Hosted by the Mary's Garden Lexington Chapter of Magnificat
Saturday, November 11, 2017
9:00 am – noon
There will be an optional Mass at 8:00 am at St. Leo Parish
Versailles, KY
Everyone is Welcomed
Breakfast Location:
Saint Leo Parish Hall
295 Huntertown Road
Versailles, KY 40383
Guest Speaker: Debora Neil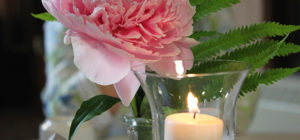 Deborah Neil served in the United States Navy. She is from a family of 5 children in Kalamazoo Michigan where she attended many years of Catholic School.  Today, she works in Lexington and is very active in her home Parish at Winchester.  This beautiful woman of God is also the full time care giver of her saintly mother. Deborah serves with joy, smile and peace, but it all came with life struggles and challenges.
Leaving family and home at age 18, Deborah longed for her family and stability.  She eventually joined the Military and married an Army man she met through SCUBA diving in Hawaii.  However, the military family culture did not support her faith and lacked the stability she craves. Every 2 years or less she had to move with the military, coping with different quarters, jobs, people and all that goes with that. Eventually, she succumbed to clinical depression and later sought medical assistance after the birth of her beloved daughter. But it was not until the Lord intervened and came to her rescue that she was completely healed and set free.  In her own words, "What I needed was reconciliation and forgiveness. A return to the family of God, joy, peace of heart, and celebration of all God's gifts."
Whatever your crosses and quest, Come and hear the saving grace of our Lord Jesus Christ in the personal testimony of God's work in the life of this amazing woman of God and never be the same.
---
We do not assign seats so arrive early to check in at the Reservation Table and find seat(s) before the program begins.
Prayer teams are available following the meal.
Religious materials including CD's of past talks, will be available at our Product table.
---
RESERVATIONS
To make your reservation send a $12.00 check payable to "Magnificat" early in advance before 11/8/2017 and mail to:
DeeDee Simon
1641 Linstead Dr.
Lexington, KY 40504.  
 Bring a food item per your last name:
 A-F:  Fruit (cut up and ready to serve)
G-M: Casseroles/meat items/cheese items
N-Z: Breads, bagels, mini-muffins, doughnuts
You may also pay at the door. However once the Hall reaches its capacity reservations will no more be accepted. So mail in your reservation early.
Questions? Contact Nkechi Amadife at gloryandpraise20@hotmail.com or call her at (859)879-9433 or e-mail Pat Hunt at pwhunt27@aol.com.
______________________________________________________
UPCOMING MEALS FOR OUR CHAPTER — 2018
February 24 – Speaker: Nancy Molan, M.D
April 28 – Speaker: TBA
August 25th – Speaker : TBA
November 10th – Speaker: TBA
---
ROSARY BLANKET OF PRAYER
Remember our chapter's commitment to Eucharistic Adoration and to pray the Rosary on the 27th of each month for the intentions of Magnificat, Sanctity of Life, Marriage and Family, and World Peace.
---
OUR PRAYER GROUPS
Is God calling you to be in a Prayer Group? Jesus said "Wherever two or three are gathered in My Name, there I am in their midst." Our prayer groups are open to all.
Intercessory Prayer: 
Contact Laura Westbrook at lauralkw@twc.com
Prayer On Telephone Line
Contact Sue Sopala at 859.539.1655
5:00pm – 9:pm
Personal Prayer Ministry
which prays with individuals following The Magnificat Breakfast.
Contact Donna Goodman at donnadgoodman@hotmail.com.
Rosary Prayer Ministry
meets on Thursday at 6:30 pm
Christ the King Cathedral. Lexington.
Contact Leader at- Email will be posted soon.
---
SERVICE TEAM MEMBERS
Nkechi Amadife, Coordinator
Pat Hunt, Asst. Coordinator
Sue Sopala, Interim Secretary
Laura Westbrook, Treasurer
TBA, Historian
Spiritual Adviser – Fr. Steve Roberts.
For more information about Magnificat, contact Nkechi Amadife at gloryandpraise20@hotmail.com or call her landline at 859-879-9433.
To be added to our Mailing List, send an email to Nkechi Amadife
---
HISTORY of Mary's Garden Chapter, Lexington Diocese, KY
[Diocese of Lexington, KY]
Est. – in the 1990s
Lexington Magnificat Chapter was established in the 1990s.  A complete history is forthcoming.