Welcome from Palm Beach, FL!
We welcome you to Christ Our Light Chapter's webpage. These are exciting times that we live in and Magnificat was begun in 1981 for such a time as this. There are now over 100 chapters throughout the United States and its territories and in many foreign countries.
---
Our Next Meal
Hosted by Christ Our Light Chapter
Saturday, August 12, 2017
10:00am til 1:00pm
Open seating, please arrive early.
Location:
Hilton Palm Beach Airport
150 Australian Avenue
West Palm Beach 33406
About Our Speaker: Most Reverend Bishop Gerald M. Barbarito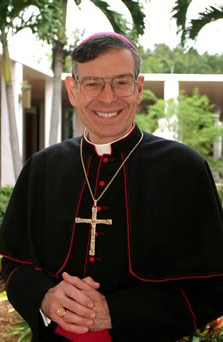 The Most Reverend Gerald M. Barbarito was appointed on July 1, 2003, by His Holiness Pope John Paul II to become fifth Bishop of the Diocese of Palm Beach. In a Eucharistic Liturgy of Installation at the Cathedral of Saint Ignatius Loyola on August 28, 2003, Bishop Barbarito became the spiritual leader of a Catholic population of more than 250,000 Catholics that worship in 53 parishes and missions in Palm Beach, Martin, St. Lucie, Indian River, and Okeechobee counties.
Born in Brooklyn, New York, January 4, 1950, Bishop Barbarito was ordained to the presbyterate by Brooklyn Bishop Francis J. Mugavero of St. Francis of Assisi, Astoria, on January 31, 1976. After ordination, he was assigned to St. Helen Church in Howard Beach, Queens. He remained there until 1981 when Bishop Mugavero appointed him Assistant Chancellor of the Diocese of Brooklyn. He held that position for one year, and then attended Catholic University of America in Washington, D.C., for two years, where he earned a Licentiate in Canon Law. He served as master of ceremonies for Auxiliary Bishop Joseph P. Denning from 1984 to 1990. He was named Vice Chancellor of the Diocese of Brooklyn in 1984 and remained in that position until 1992, when Bishop Thomas V. Daily, Bishop of Brooklyn, appointed him his Episcopal Secretary.
Since ordination in 1994, Bishop Barbarito has served as a member of the United States Conference of Catholic Bishops (USCCB) Committee on the Relationship between Eastern and Latin Rite Catholic Churches, the Canonical Affairs Committee, and the Committee for the Protection of Children and Young People.
---
TICKETS
Tickets to the prayer breakfast are $25 and may be obtained from our treasurer if postmarked one week prior to the event, or $30 at the door.
Please use this form for Mail-In Reservations ONLY. (cash/check only)


Name ________________________________________________
Guest(s) Name ______________________________________________
Address ______________________________________________
City ___________________________ State ______ Zip __________
Phone # ____________________
Email (Please print clearly) ______________________________
Enclosed is $ ________________ for _______________ Number of Reservations.
Please Mail Reservation Form and check payable to "Magnificat" to:
Cindy Sheldon
3038 30th Court
Jupiter, FL  33477
Priests and religious may attend as our guests, but their reservations should be made two weeks prior to the event date by calling Cindy at (561) 797-2647.
---
UPCOMING MEALS FOR OUR CHAPTER — 2017
---
ROSARY BLANKET OF PRAYER
Remember our chapter's commitment to Eucharistic Adoration and to pray the Rosary on the 2nd of each month for the intentions of Magnificat, Sanctity of Life, Marriage and Family, and World Peace.
---
OUR PRAYER GROUPS
Is God calling you to be in a Prayer Group? Jesus said "Wherever two or three are gathered in My Name, there I am in their midst." Our prayer groups are open to all.
Our Rosary Prayer Groups
Magnificat Prayer Meetings
Join your Magnificat sisters for a time of intercessory prayer on the last Thursday of each month at 7:00 pm. If you are interested in joining us, please contact Cathy Dorsey at 561-493-8833 or magnificatwpb@comcast.net.
Stay informed of upcoming events by requesting the latest electronic newsletter. Simply send an email with subject line "Newsletter" to magnificatwpb@comcast.net and you will be added to our mailing list.
---
SERVICE TEAM MEMBERS
Peggy Rowe-Linn, Coordinator
Cathy Dorsey, Assistant Coordinator
Jaimee Perez, Secretary/Historian
Cindy Sheldon, Treasurer
Fr. Rick George, Spiritual Advisor/Advisory Team
---
If you would like to help with a Ministry of Magnificat, or if you have a question or comment for Our Service Team, or if you would like to be on our Mailing list for future events, please contact Donna Holmstrom, Coordinator at magnificatwpb@comcast.net.
---
HISTORY of Christ Our Light Chapter of Magnificat</h2
[for the Diocese of Palm Beach]
MAGNIFICAT was begun by a group of Catholic women from the Archdiocese of New Orleans who observed a need among Catholic women for a faith-sharing experience in a relaxed social setting. With the encouragement of Archbishop Philip M. Hannan and Bishop Stanley J. Ott, its first function, a prayer breakfast, took place on October 7, 1981.
MAGNIFICAT is a private association of the Christian faithful, whose statutes were originally approved by the Archdiocese of New Orleans and are in accord with the norm of Canon 305.2 of the 1983 Code of Canon Law. While MAGNIFICAT began under the auspices of the Archdiocese of New Orleans and was first incorporated in the State of Louisiana, each local chapter functions with permission of the local ordinary and is incorporated in its respective state.
It was born out of the Catholic Charismatic Renewal and has been nurtured by it.