Welcome from Palm Beach, FL!
We welcome you to Christ Our Light Chapter's webpage. These are exciting times that we live in and Magnificat was begun in 1981 for such a time as this. There are now over 100 chapters throughout the United States and its territories and in many foreign countries.
---
Our Next Meal
Hosted by Christ Our Light Chapter
Saturday, September 15, 2018
10:00am til 1:00pm
Open seating, please arrive early.
Location:
Hilton Palm Beach Airport
150 Australian Avenue
West Palm Beach 33406
About Our Speaker:  Amy Del Valle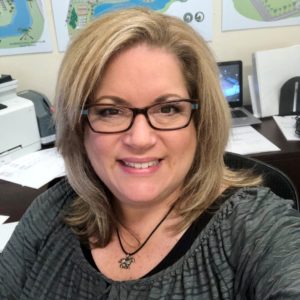 Amy is very passionate about praising and worshiping the Lord and helping others to become passionate about the Lord. Originally from New York, Amy was born into a culturally Jewish family and grew up in a very Italian neighborhood. Her family celebrated the Jewish holidays more out of tradition than religious observance, more often than not, the family had no idea what the Holy day meant. It was a time for family gatherings and good food. Amy found herself going to Mass and to "CCD" now known as Faith Formation with her Italian girlfriends. She spent so much time with her Italian "family" that at times she felt she was actually Italian. These experiences growing up opened a desire to learn more about Jesus and the Church he established. After several failed attempts to join RCIA, Amy found herself at the Lutheran Church, where she was baptized in 1999. A year or so later, she found herself still yearning for more in her faith journey. Amy enrolled in RCIA in 2000 at St. Therese and formally entered into full communion with the Church at the Easter Vigil of 2001. Amy now claims to be a "Complete Jew." She is an active member of Saint Therese de Lisieux Church in Wellington where she shares her passion for music in the Music ministry. She absolutely loves contemporary Christian music. Amy also assists with the RCIA program and is active within the Cursillo movement of the Diocese.
Amy has been married to Deacon Pete for over 25 years. They have two daughters, Ashley 24 and Brianna 21. Amy is extremely proud and blessed to have the family she has. She never thought she would be so blessed to have such a peaceful, loving family. Amy is part of a blended family. She has two siblings that share total DNA with her, one step-brother, and a baby brother from her mother's second marriage. Amy has a very nurturing, protective manner with her siblings as well as her own children.
Amy currently is the Executive Assistant to the CFO of Palm Beach International Equestrian Center (PBIEC) in Wellington. It is an extremely fast-paced work environment with many challenges. Amy totally loves it. She has found a way to bring her Christian values into the workplace. It seems like she has become the spiritual advisor for the office. She sees her workplace as a ministry in the service of God's people and sees her life as very well rounded and balanced between her profession, her faith and her vast wonderful mentors and friends.
TICKETS
Tickets to the prayer breakfast are $25 and may be obtained from our treasurer if postmarked one week prior to the event, or $30 at the door.
Please use this form for Mail-In Reservations ONLY. (cash/check only)


Name ________________________________________________
Guest(s) Name ______________________________________________
Address ______________________________________________
City ___________________________ State ______ Zip __________
Phone # ____________________
Email (Please print clearly) ______________________________
Enclosed is $ ________________ for _______________ Number of Reservations.
Please Mail Reservation Form and check payable to "Magnificat" to:
Cindy Sheldon
3038 30th Court
Jupiter, FL  33477
Priests and religious may attend as our guests, but their reservations should be made two weeks prior to the event date by calling Cindy at (561) 797-2647.
---
UPCOMING MEALS FOR OUR CHAPTER — 2018
---
ROSARY BLANKET OF PRAYER
Remember our chapter's commitment to Eucharistic Adoration and to pray the Rosary on the 2nd of each month for the intentions of Magnificat, Sanctity of Life, Marriage and Family, and World Peace.
---
OUR PRAYER GROUPS
Is God calling you to be in a Prayer Group? Jesus said, "Wherever two or three are gathered in My Name, there I am in their midst." Our prayer groups are open to all.
Our Rosary Prayer Groups
Magnificat Prayer Meetings
Join your Magnificat sisters for a time of intercessory prayer on the last Thursday of each month at 7:00 pm. If you are interested in joining us, please contact Cathy Dorsey at 561-493-8833 or magnificatwpb@comcast.net.
Stay informed of upcoming events by requesting the latest electronic newsletter. Simply send an email with subject line "Newsletter" to magnificatwpb@comcast.net and you will be added to our mailing list.
---
SERVICE TEAM MEMBERS
Peggy Rowe-Linn, Coordinator
Cathy Dorsey, Assistant Coordinator
Jaimee Perez, Historian
Cindy Sheldon, Treasurer
Deanna Bartalini, Secretary
Fr. Rick George, Spiritual Advisor/Advisory Team
---
If you would like to help with a Ministry of Magnificat, or if you have a question or comment for Our Service Team, or if you would like to be on our Mailing list for future events, please contact Peggy Rowe-Linn, Coordinator at magnificatwpb@comcast.net.
---
HISTORY of Christ Our Light Chapter of Magnificat
Magnificat Palm Beach Chapter, Inc., the Christ Our Light chapter was formed on July 17, 2003, by its original coordinator, Dr. Carol Razza.  The original team also featured Kate Battafarano, assistant coordinator, Marcia Kurtz, secretary and Britta Neinast as treasurer.  The first Magnificat meal was held at the Airport Hilton in West Palm Beach, Florida, with over 400 in attendance. 
The first faith witness was Babsie Bleasdell who spoke of the power of the Holy Spirit working in her life.  After Dr. Razza stepped down, Donna Holmstrom became the coordinator.  After Donna's appointment as Regional Representative to the Finance team, the current coordinator began serving. There have been four meals every year since its inception. 
One of the many talents this variety of women, who have given their fiat to Magnificat, has is writing.  The team focuses on publishing written reflections during Advent, Lent and during special holy days throughout the year, all designed to bring women closer to Christ.  Some of these reflections have been picked up by the central service team and published in their newsletters.  This chapter strives to be a model chapter for the world.