Welcome from Fort Myers, FL.
We welcome you to the web page of Mother of Mercy, Fort Myers, FL Chapter of Magnificat. These are exciting times that we live in and Magnificat began in 1981 for such a time as this. There are now over 100 chapters throughout the United States and its territories and in many foreign countries.
---
Magnificat Prayer Breakfasts
Hosted by Mother of Mercy, Fort Myers, FL Chapter of Magnificat
Location:
Holiday Inn Airport
at Gulf Coast Town Center
9931 Interstate Commerce Dr
Fort Myers, Florida 33913
Saturday, August 25, 2018
9:30 am – 12:30 pm
Doors open at 9 am. We do not assign seats, so please arrive early.
Guest Speaker: Sr. Grace Marie, SCTJM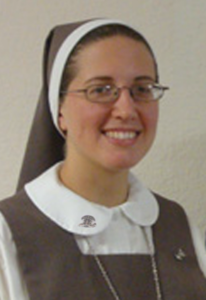 Sr. Grace Marie Heinrich, SCTJM, was born in upstate New York and spent most of her childhood until she graduated high school in Marion, Iowa. She attended Creighton University where she had the blessing of studying in Rome for a semester. During this semester she encountered the love of the Lord in a deeper way and as her relationship with Him deepened, she heard the call to religious life. During her last year of college, she continued to discern what the Lord desired from her and after graduation in 2008, she entered with the religious institute of the Servants of the Pierced Hearts of Jesus and Mary. She made her first profession of vows on July 11, 2011, and currently serves her religious community working with young women who are discerning their vocation to religious life and their candidates and postulants.
Saturday, October 20, 2018
9:30 am – 12:30 pm
Doors open at 9 am. We do not assign seats, so please arrive early.
Guest Speaker: Johnnette B. Williams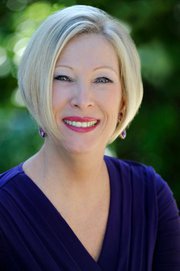 Johnnette B. Williams is Founder and President of Living His Life Abundantly® International, Inc., a Catholic evangelization apostolate with outreaches in television, radio, print, and internet communications. She is also Founder of Women of Grace®, a Catholic apostolate for Christian women that features a number of outreaches including conferences, curricula, study groups, and more. Johnnette is the host of the Women of Grace television program and Women of Grace Live, a one-hour, call-in radio talk show, which both air internationally on EWTN. Johnnette is also a popular conference, retreat, and seminar presenter, and is the author of several books including Full of Grace: Women and the Abundant Life, on which the Foundational Study Series for Women of Grace is based, in addition to newly released books, Graceful Living: Meditations to Help You Grow Closer to God Day by Day and The Rosary: Your Weapon for Spiritual Warfare. Johnnette was married to her husband, Anthony, for nearly 34 years and became widowed in 2007. After 11 years of widowhood, Johnnette married in 2018 to Mr. Jack Williams. She is the mother of three adult children, two living, and two adult children through marriage, and has nine grandchildren.
---
We do not assign seats, so please arrive early to check in at the Reservation Table and find seat(s) before the program begins.
Religious books and CD's as well as speaker testimonies will be available for sale at the meal.
Since the day is designed to speak to the hearts of women, free of distractions, it is respectfully requested that young children not be in attendance.  Babysitting is not provided.

---
TICKETS
Tickets are $20 and must be purchased in advance to secure your reservation. No tickets will be sold at the door.
You may order tickets online now for our August 25th and October 20th meals through our website at: www.magnificatfortmyers.org
You may also order tickets by mailing a check along with the reservation form found below.  Your check will serve as your receipt.
RESERVATION FORM:
Please use this form for Mail-In Reservations ONLY. Complete the form below (include the names and phone numbers of other ticket holders in your group).

$20 per person PER MEAL by mail;
Registration Form for August 25th MUST be received by August 18, 2018.
Registration Form for October 20th MUST be received by October 13, 2018.
PLEASE INDICATE WHICH TICKETS YOU ARE REQUESTING (Aug. and/or Oct.)
Name ______________________________________________
Guest(s) Name ______________________________________________
Address ______________________________________________
City _________________ State ______  Zip __________
Phone # ____________________
Email (Please print clearly) ______________________________
I am available to serve as:
Table Hostess ___ Greeter ___
Enclosed is $ ________________ for _______________ Number of Reservations.
Please Mail Reservation Form and check for $20 per person, payable to "Magnificat Fort Myers" to:
Joanne Tarantino
7768 Jewel Lane #102
Naples, FL 34109
239-200-8592
For further information or questions call Dr. Sue Ellen Nolan at 248-330-7276.
---
UPCOMING MEALS FOR OUR CHAPTER — 2019
January 26th Speaker: Fr. Eric Scanlan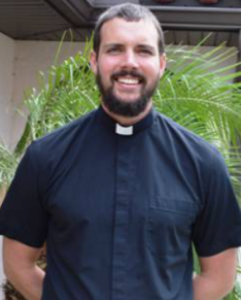 Father Scanlan was ordained to the priesthood in 2013 by Bishop Frank J. Dewane.  He currently serves as Director of the Office of Vocations for the Diocese of Venice, FL and as Parochial Vicar at St. Mary, Star of the Sea Parish on Longboat Key.  Fr. Scanlan is the son of Brian and Veronique Scanlan of Ave Maria, FL. He is the oldest of 11 children.
March 30th Speaker: Fr. Frank Pavone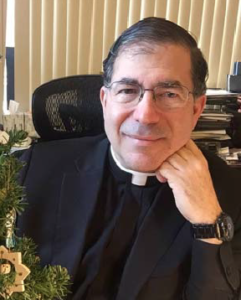 FR. FRANK PAVONE is one of the most prominent pro‐life leaders in the world. Originally from New York, he was ordained in 1988 by Cardinal John O'Connor. In 1993 he requested permission to devote his entire life and ministry to ending abortion. Since then, he has served fulltime in pro‐life leadership with his bishop's permission. He is the National Director of Priests for Life, the largest pro‐life ministry in the Catholic Church. He is also the President of the National Pro‐life Religious Council, and the National Pastoral Director of the Silent No More Awareness Campaign and of Rachel's Vineyard, the world's largest ministry of healing after abortion. He travels throughout the country, to an average of four states every week, preaching and teaching against abortion. He produces programs regularly for religious and secular radio and television networks. He was asked by Mother Teresa to speak in India on the life issues, and has addressed the pro‐life caucus of the United States House of Representatives. The Vatican appointed him to the Pontifical Academy for Life and to the Pontifical Council for the Family, which coordinates the pro‐life activities of the Catholic Church. He was present at the bedside of Terri Schiavo as she was dying and was an outspoken advocate for her life. He was invited by members of the Class of 2009 at Notre Dame to lead an alternate commencement ceremony for those students who refused to attend the ceremony in which President Obama was honored. Fr. Frank was invited by members of Congress to preach at the prayer service they had in the Capitol just prior to the vote on health care reform. He received the "Proudly Pro‐life Award" by the National Right to Life Committee, and numerous other pro‐life awards and honorary doctorates. His work has been praised by Presidents, Popes, and countless citizens. He is the author of four books, Ending Abortion, Not Just Fighting It; Pro‐life Reflections for Every Day; Abolishing Abortion, and Proclaiming the Message of Life. Norma McCorvey, the "Jane Roe" of the Supreme Court's Roe vs. Wade abortion decision, called Fr. Frank "the catalyst that brought me into the Catholic Church."
ROSARY BLANKET OF PRAYER
Remember our chapter's commitment to Eucharistic Adoration and to pray the Rosary on the 8th of each month for the intentions of Magnificat, Sanctity of Life, Marriage and Family, and World Peace.
---
OUR PRAYER GROUPS
Magnificat Internet Prayer Ministry:
Nancy Izydorczak
Send prayer requests to nancyizzy@embarqmail.com
---
SERVICE TEAM MEMBERS
Dr. Sue Ellen Nolan, Coordinator
Felice Gerwitz, Co-Assistant Coordinator
Cristina Martinez, Co-Assistant Coordinator
Peg Mengle, Treasurer
Mary Zitnik, Secretary & Music Chairwoman
For more information about Magnificat, contact Dr. Sue Ellen Nolan at 248-330-7276.
To be added to our Mailing List, send an email to Nancy Izydorczak at nancyizzy@embarqmail.com or call Sue Ellen Nolan at 248-330-7276.
CLICK HERE to visit our Chapter's website.
---
HISTORY of Mother of Mercy Chapter
[Diocese of Venice, FL]
Est. December 16, 2004
2000
Our Lord definitely had a plan for this Chapter before its beginning! He set independent events in motion several years before the founding of the Chapter. Margaret Adams, Fernande Benjamin, Virginia Mc Hugh and several others in Southwest Florida were praying weekly for a Marian, Charismatic ministry to start in the Diocese. Mary Zitnik, a vocalist and composer from Chicago, had written a praise song version of the Blessed Mother's Magnificat before moving to the area in 2000 and she became the music minister at Bob and Cristina Martinez's "Jesus is Lord" Prayer Group in Ft. Myers.
2002
Gerry Mader and Marilyn Quirk had served simultaneously on the National Service Committee Advisory Council for several years where Lois Ann Mader was introduced to Marilyn. Em Weiss, Lay Spiritual Director for the Catholic Charismatic Renewal had inquired about Magnificat. When Marilyn learned that Lois Ann was moving to Florida in the fall of 2002 she casually said, "I want you to form a Magnificat chapter when you move there." All this took place as a prelude to Mother of Mercy Chapter.
2003
After moving to Ft. Myers, the Maders were asked to serve on the Diocese of Venice Charismatic Service Team, since both had formal experience serving the Renewal. Lois Ann met with Beryl Kinney, Eastern Regional Rep for Magnificat who wintered in Florida. They invited Em Weiss to a meeting with Mimi Reilly, Bishop Nevins' representative, to speak about forming a chapter. They were given the go-ahead to form a Discernment Team. The Central Service Team confirmed Em Weiss' appointment of Lois Ann Mader as Contact Person for the beginning of a Magnificat chapter in the Diocese of Venice.
Beryl provided Lois Ann with the names of several area women to invite to serve on the Discernment Team. Before calling, she prayed and heard, "You will have to dig deep but you will find jewels." She made many calls with no positive response.
Meanwhile, the Maders became active members of "Jesus is Lord" Prayer Group, where they met Cristina Martinez, Mary Zitnik and Margaret Adams, long-time member of the group. One evening, Mary felt led to share her Magnificat and Lois Ann recognized this as a go-ahead sign from God. She then asked Cristina, Margaret, and Mary to join the Discernment Team. They agreed and were encouraged to invite others to seek God's direction.
Our Lord's plan to form this SWFL chapter was truly multinational. The Discernment Team came to include Lois Ann Mader, Mary Zitnik, and Virginia McHugh from the USA, Cristina Martinez from Chile, Margaret Adams from Bermuda, Rosalia Brunco from Italy, Fernande Benjamin from Canada, and Ann Doherty from Scotland. The Regional Representative was Olga Myers who provided encouragement and assistance. As the group met, in addition to studying the Magnificat Constitution and By-Laws at each weekly meeting, one member was asked to share her personal walk with Jesus and this bonded the women. They dubbed themselves, "Super Glue Sisters." Six of them attended the International Magnificat Conference in New Orleans, LA in September 2003; upon returning, they decided to form a chapter in the diocese.
2004
While waiting for Bishop Nevins' approval in April, Fr. Jack Smyth, a Redemptorist priest, was asked to meet the Team and to consider becoming the Chapter's Spiritual Advisor. Much to the Team's amazement, he asked what he could do to assist in forming the chapter and mentioned that he had dinner with the bishop every Sunday night. Within two weeks, the bishop granted his permission to move forward and appointed Fr. Jack Spiritual Advisor. In June, Em Weiss lead the Team in discerning who would serve on the first official Service Team and in what roles. Lois Ann Mader was named Coordinator. Cristina Martinez and Margaret Adams were to serve as Co-Assistant Coordinators. Fernande Benjamin became Treasurer, Mary Zitnik was named Secretary and Anne Dougherty became Historian. Rosalia Brunco and Virginia McHugh agreed to become regular intercessors. In discerning a name for the Chapter, all but one brought the name "Mother of Mercy;" once again God's inspiration was clear.
On August 22, a letter was sent to Bishop Nevins, asking him to review the Magnificat Constitution. The Chapter received approval on October 7, (The Feast of Our Lady of the Rosary). Then, off went the official letter to the CST (Central Service Team) to request the Chapter License, which was granted on November 11. Mother of Mercy Chapter was officially incorporated in the state of Florida on December 16, 2004.
2005
Aware of the finances and volunteers needed to host a Meal, the Service Team sponsored a Commissioning Mass followed by an informational coffee about Magnificat on January 22, at Church of the Resurrection of Our Lord in Ft. Myers. Approximately 200 women who were baptized in the Spirit were invited; 100 women came, some became ministry Chairwomen. Fr. Jack Smyth offered the Mass. The first Magnificat Breakfast was held on April 23, at the Holiday Inn Plaza in Ft. Myers. Beryl Kinney was the first speaker.
The "Super Glue Sisters" continued to serve as the Service Team for several years. As Team members have stepped down, Mother of Mercy Chapter has been continually blessed with godly women to serve in their place. This Ft. Myers, Florida Chapter continually seeks to praise and serve God and encourage women to forge lasting relationships with Our Lord, Our Lady and each other, led by the Holy Spirit, under the patronage of Mary, Mother of Mercy.