Welcome from Denver, Colorado
Welcome to the webpage of the Denver, Our Lady of the Blessed Sacrament, Chapter. These are exciting times that we live in and Magnificat was begun in 1981 for such a time as this. There are now over 100 chapters throughout the United States and its territories and in many foreign countries.
---
You are invited to attend a Magnificat Luncheon
Sponsored by Our Lady of the Blessed Sacrament Chapter
Sunday November 5, 2017
1 – 4 PM
Location:
Pinehurst Country Club
6255 West Quincy Avenue
Denver, CO 80235
About Our Speaker: Barbara Matzker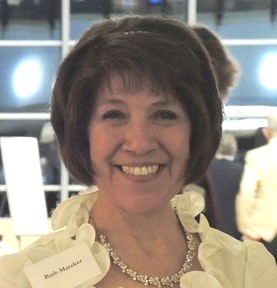 Barb is a native of Colorado Springs, where she lives with her husband, Deacon Chuck Matzker.  They have four sons, a daughter and thirteen wonderful grandchildren.   Barb and Deacon Chuck have been active in the Catholic Charismatic Renewal for over 30 years.  They conduct teachings together on a variety of topics to include Life in the Spirit Seminars, The Gifts and Charisms of the Holy Spirit and Prayer Group Leadership.  "Fanning the Flame of Pentecost" in the hearts of God's people is central to their call.  Barb and Deacon Chuck served on the Advisory Council to the National Service Committee of the Catholic Charismatic Renewal for nine years and are on the Pastoral Team of the Holy Apostles Charismatic Prayer Community.  Barb recently retired as the Executive Assistant for the Chief Administrative Officer at St. Francis Medical Center in Colorado Springs and now volunteers as a cuddler in the Neonatal Intensive Care Unit at St. Francis.
Barb's message to us – Hope in Desert – is based on the Bible Verse:   Therefore I am now going to allure her; I will lead her into the wilderness and speak tenderly to her.  There I will give her back her vineyards, and will make the Valley of Achor a door of hope.  Hosea 2:14-15
---
Since the day is designed to speak to the hearts of women, free of distractions, it is respectfully requested that young children not be in attendance.
---
TICKETS
Please print off and use this form for Mail In Reservations.
No Reservations are accepted at the door.


The Cost of reservations is
$30.00 per person
(Checks Only Please!)
Your Reservation Form must be postmarked
before October 30, 2017
Name ________________________________________________
Guest(s) Name ______________________________________________
Address ______________________________________________
City ___________________________ State ______ Zip __________
Phone # ____________________
Email (Please print clearly) ______________________________
Enclosed is $ ________________ for _______________ Number of Reservations.
Please Mail Reservation Form and check payable to "Magnificat Denver Chapter" to:
Magnificat Denver Chapter
c/o Therese Wolf
6009 South Garland Way
Littleton, CO 80123-3421
---
UPCOMING MEALS FOR OUR CHAPTER — 2017
---
ROSARY BLANKET OF PRAYER
Remember our chapter's commitment to Eucharistic Adoration and to pray the Rosary on the 4th of each month for the intentions of Magnificat, Sanctity of Life, Marriage and Family, and World Peace.
---
SERVICE TEAM MEMBERS
Celia Kulbe, Coordinator
Ruth Ann Dempsey, Assistant Coordinator
Therese Wolf, Recording Secretary
Mary Beth Bonacci, Treasurer
Marion Budz, Historian
Fr. John Therese, Spiritual Advisor
---
Comments or Questions?? Please contact us at magnificatofdenver@gmail.com