Welcome from Palm Desert, CA
We welcome you to the webpage of Palm Desert, CA, Our Lady's Desert Roses Chapter. These are exciting times that we live in and Magnificat was begun in 1981 for such as time as this. There are now over 100 chapters throughout the United States and its territories and in many foreign countries.
---
Magnificat Meal
Our Lady's Desert Roses, Palm Desert Chapter
Saturday, June 2, 2018
9:30am – 12:30pm
Open seating. Plan to arrive about 9:00 am.
Location:
Indian Wells Country Club
46000 Club Drive
Indian Wells, CA 92210
Guest Speaker:  Deacon David Hockwalt

Born in Cleveland, Ohio and raised in Washington, DC, David was the product of a
middle-class Catholic family. He attended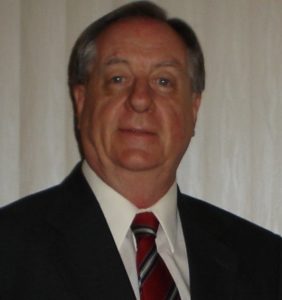 Catholic grade school, high school and college.  He was an altar boy and choir boy. You'd think with all that "saintly" upbringing he'd be firmly set on the straight and narrow path.  But then came the 70's and … well, so much for the "path".  A broken marriage and single parenting pulled the rug out from under him.
A career change took him to Dallas, Texas and eventually to California.  Along the way, his Catholic faith took a beating.  Not that he stopped believing; he just stopped practicing.  As we all know, out of sight, out of mind. But amid the uncertainty and upheavals of his journey, God kept pouring out his providence, even if David didn't realize it. Then one day God chose to intervene in a very direct and powerful way, and David's life changed dramatically.  That's the rest of the story and you'll hear it on June 2nd.
---
---
Personal Prayer ministry is available after the meal.
Religious books and CD's may be available at the meal.
Since the day is designed to speak to the hearts of women, free of distractions, it is respectfully requested that young children not be in attendance.
---
TO PURCHASE YOUR TICKET:
Cost: $28 per person if postmarked by 5\26\18. Use form below to mail in reservation.


All Clergy & Religious are Complimentary – Call (760) 902-7395 to confirm your attendance.
Please Print This Reservation Form and mail it with $28.00 per person to:
Magnificat
42-215 Washington St., Ste. A #403
Palm Desert, CA  92211
Name ________________________________________________
Guest(s) Name ______________________________________________
Address ______________________________________________
City ___________________________ State ______ Zip __________
Phone # ____________________
Email (Please print clearly) ______________________________
Enclosed is $ ________________ for _______________ Number of Reservations.
My donation to assist others in attending the Meal is included.  $ _____________
---
For questions or reservations: call Janice Shepherd 760-902-7395
Your check will serve as your receipt.
Your name tag serves as your ticket and it will be available at the door.
Open seating. Plan to arrive about 9:00 am.
Diocesan Approval by Bishop Gerald R. Barnes
Spiritual Director:  Fr. Michael Barry, SS.CC.
---
Future Meals for Our Chapter 2018
September 8 Speaker: Kitty Cleveland
December 8 Speaker: Maria Vadia
---
ROSARY BLANKET of PRAYER
Remember our chapter's commitment to Eucharistic Adoration and to pray the Rosary on the 10th of each month for the intentions of Magnificat, Sanctity of Life, Marriage and Family, and World Peace.
---
SERVICE TEAM MEMBERS
Angela Ponder, Coordinator
Noreen Fortier, Assistant Coordinator
Esther Guilin, Secretary
Marie King, Treasurer
Diane Eazell, Historian
Father Michael Berry, Spiritual Advisor
---
If you would like to help with a Ministry of Magnificat, or if you have a question or comment for our Service Team, or if you would like to be on our Mailing list for future events, please contact us at MagnificatPD@aol.com or visit our website at www.magnificatpalmdesert.org.
---
HISTORY of the Our Lady's Desert Roses Chapter
(Mother Chapter for the Diocese of San Bernardino)
On the Feast of the Visitation, May 31, 2003, five women gathered together to pray and discern the possibility of establishing a chapter of Magnificat in the Diocese of San Bernardino. Those in attendance sensed the Lord was placing this ministry upon their hearts. Although no public advertisements were made, the Lord continued  to expand what would soon become the chapter's first Advisory Team. This group continued to meet as women were personally invited to join the discernment efforts. Before long, close to fifty women were meeting monthly at the home of Donna Ross for praise, prayer, discernment and fellowship. Under the inspiration of the Holy Spirit, and the spiritual direction of Fr. Mike Barry, SS.CC., the women continued to pray, fast and sacrifice for the establishment of this beautiful ministry. On June 3, 2005, Our Lady's Desert Roses received formal approval from Bishop Gerald Barnes. On Saturday morning, October 15, 2005, the first Meal was held at the Desert Springs Marriott with over 500 women in attendance! Praise God!