Welcome from North County San Diego CA!
We welcome you to the webpage of North County San Diego CA Our Lady of Guadalupe Chapter. These are exciting times that we live in and Magnificat was begun in 1981 for such a time as this. There are now over 100 chapters throughout the United States and its territories and in many foreign countries.
---
Magnificat Breakfast
Hosted by Our Lady of Guadalupe Chapter
Saturday, April 14, 2018
9:00 am to 12:00pm
(Mass – 8:00 am in the Church)
Location:
St. Mary's Parish
1160 Broadway
Escondido, CA 92025
About Our Speaker: Hannah Butler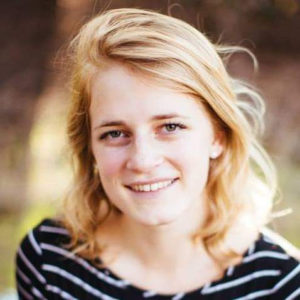 Hannah Butler is a recovering perfectionist who grew up in a culturally Catholic, blended family of 9 kids in southern California. In high school she began like all teenagers, asking big questions and – by the grace of God – turning to the Church for answers. Thanks to her parish youth group she attended a Steubenville conference, where she had her first experience of Eucharistic adoration. Mystified and intrigued, she sought more reading and reasoning her way deeper into Catholicism. Upon learning that a university had hosted that life-changing weekend, she visited the Franciscan University of Steubenville. Despite graduating as valedictorian of her high school with plans to become a Navy doctor, she decided to apply only to Franciscan and drop her premed major and ended up studying theology and Spanish. Through various ups and downs, considering a religious calling, doing foreign missionary work, she found herself developing both a prayer life and solid friendships rooted in Christ. She eventually returned to California where she met her husband Patrick. They currently live in Escondido with their two children. Hannah gives doctrinal, spiritual and human formation in the spirit of Opus Dei to women and girls in San Diego county and helps lead the Mom's Group at her parish. In all of this, she strives to be a witness to our Father God's loving presence, as she cooperates with the Holy Spirit to make heroic verse out of the prose of everyday life.
---
Individual Prayer available after the meal.
Religious books and CD's are available at the meal.
Since the day is designed to speak to the hearts of women, free of distractions,
it is respectfully requested that young children not be in attendance.
---
TICKETS
Reservations to the Breakfast are $25 before April 7th;
After April 7th, reservations are $30.
Reservations for priests, deacons, religious brothers and sisters are complimentary
PAYPAL
To secure reservation(s) online using your credit/debit card:
To make reservations on-line for you and any guests — use this link:
To secure your reservation by phone/email contact:
Lidia Rennix
(760) 271-7743
Please print and complete the form below and use this form for Mail In Reservations ONLY.


$25.00 per person before April 7th; $28 after April 7th.
Name ________________________________________________
Guest(s) Name ______________________________________________
Address ______________________________________________
City ___________________________ State ______ Zip __________
Phone # ____________________
Email (Please print clearly) ______________________________
Enclosed is $ ________________ for _______________ Number of Reservations.
Please Mail Reservation Form, $25.00 per person, and send it with your check or money order made out to Magnificat to:
Magnificat Ministry
C/O Lidia Rennix
2779 Jody Place
Escondido, CA  92027
---
Upcoming Meals for our Chapter – 2017
April 14, 2018: Hannah Butler
July 21, 2018: TBA
October 27, 2018: TBA
---
ROSARY BLANKET OF PRAYER
Remember our chapter's commitment to Eucharistic Adoration and to pray the Rosary on the 25th of each month for the intentions of Magnificat, Sanctity of Life, Marriage and Family, and World Peace.
---
OUR PRAYER GROUPS
Is God calling you to be in a Prayer Group? Jesus said "Wherever two or three are gathered in My Name, there I am in their midst." Our prayer groups are open to all. For prayer group listing check out this link: SCRC.org
---
SERVICE TEAM MEMBERS
Mary Carey, Coordinator
Lidia Rennix, Secretary
Karen Forrey, Treasurer
Spiritual Advisor, Fr. John Struzzo
---
If you would like to help with a Ministry of Magnificat, or if you have a question or comment for Our Service Team, or if you would like to be on our Mailing list for future events, please contact us at Magnificat North County San Diego Chapter.
---
HISTORY of North County San Diego Chapter of Magnificat
The North County San Diego, Our Lady of Guadalupe Chapter, began in the early 1990″s. It took over a year of dedicated, faith filled women, prayer and the inspiration of the Holy Spirit to begin the  chapter. The Chapter spun from the Central San Diego Chapter. With over 100 parishes in the San Diego Diocese, it was necessary to have two chapters to to reach out to as many Catholic women as possible. So Happy we did!