The highest governing body of Magnificat is known as the Central Service Team (CST).
The CST fosters unity among the local chapters and service teams. While allowing for legitimate diversity, the team in union with the bishops of the dioceses to which Magnificat has spread, preserves the integrity of the Magnificat ministry. It also coordinates the expansion of Magnificat by enabling the affiliation of new local chapters, establishing policies and procedures while providing direction and leadership to the entire membership.
Kathy MacInnis, Coordinator
Diane Bates, Assistant Coordinator
Donna Ross, Assistant Coordinator
Kim Rodriguez-Torres, Treasurer
Mary Wilson, Secretary/Historian
Sara Ford, CST Member
Spiritual Advisor
Fr. Kevin Scallon, C.M.— CST Spiritual Advisor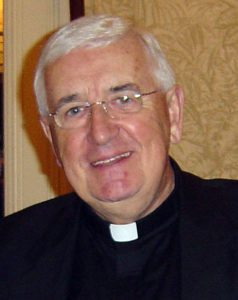 Father Kevin is the International Spiritual Advisor for Magnificat, A Ministry to Catholic Women. He is a Priest of the Vincentian Community who was born in Ireland. Following his ordination in 1961, he ministered in England for three years and in Nigeria for six years.  In 1970, after graduating from Catholic University of America, he was appointed as Spiritual Director at All Hallows Seminary in Dublin, Ireland. In 1976, Fr. Kevin started the "Intercession for Priests" in Dublin, a month-long retreat where priests could come to pray for the spiritual renewal of the priesthood. In 1982, he was appointed director of missions and retreats for the Vincentian Community. In 1985, he began fulltime ministry to priests with Sister Briege McKenna, O.S.C. They have been working as a team ministering to priests all over the world, with a focus on priests in the developing world. He is the author of the book, I Will Come Myself. In 2011, Father Kevin celebrated the Golden Jubilee of his ordination.
Fr. Kevin Scallon, our CST Spiritual Advisor for the past 16 years, will be retiring from this role on October 4, 2017. We are very grateful to Fr. Kevin for his prayers and wisdom, for the Masses he said for Magnificat's intentions each week, for his inspiring Newsletter articles, wonderful Irish humor and too many other contributions to list! We can never thank him enough for his love and dedication to the ministry from the beginning, over 35 years ago!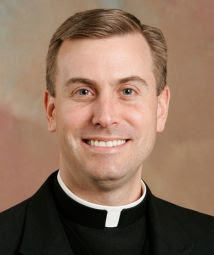 After much prayer and discernment, the CST offered the position to Msgr. David Toups, Rector and President of the St. Vincent de Paul Seminary in Boynton Beach, FL. Msgr. Toups whole-heartedly accepted the invitation to become our new CST Spiritual Advisor and will assume this role on October 5, 2017, the opening of the Magnificat Conference.
We praise God for both of these holy & generous priests and ask that you keep them in your prayers.